difficulty
Moderate - Challenging
Overview
Japan Yoga & Hiking
Renew your spirit with our Yoga & Hiking adventure in Japan. Discover the beautiful Kiso Valley and sections of the historical Nakasendo Way.
Japan's Nakasendo Way – or Central Mountain Route – was one of five major routes established by the Shogunate (Military Dictator) during the Edo period (1603–1868). The entire route is 533km long and has 69 post towns, which were set up to feed and accommodate the feudal lords, samurai and merchant travellers. The ancient way passes through the Kiso Valley wedged between two of Japan's sacred mountains (Mt Ontake 3067m and Mt Komagatake 2956m) and is one of Japan's most breathtaking and scenic areas.
Your daily walks will take you on ancient stone paths known as ishidatami, passed hidden waterfalls, through stunning cedar and cypress forests and passed numerous wayside shrines. Stay overnight in traditional ryokans, enjoy the wonderful, well-preserved ancient villages and taste the local delights of the  Kiso Valley and Gifu Prefecture.
To complement your daily explorations on foot, we offer energising and restorative yoga and meditation sessions. Led by an experienced, certified yoga teacher, our daily practice aims to grow a deeper sense of inner health, providing you with techniques to help you balance your mind and body.  We invite you to escape the chaotic schedules of life and find rejuvenation through these spiritually engaging sessions.
Yoga and meditation sessions are suitable for people of all levels. Our day hikes require a good level of general fitness.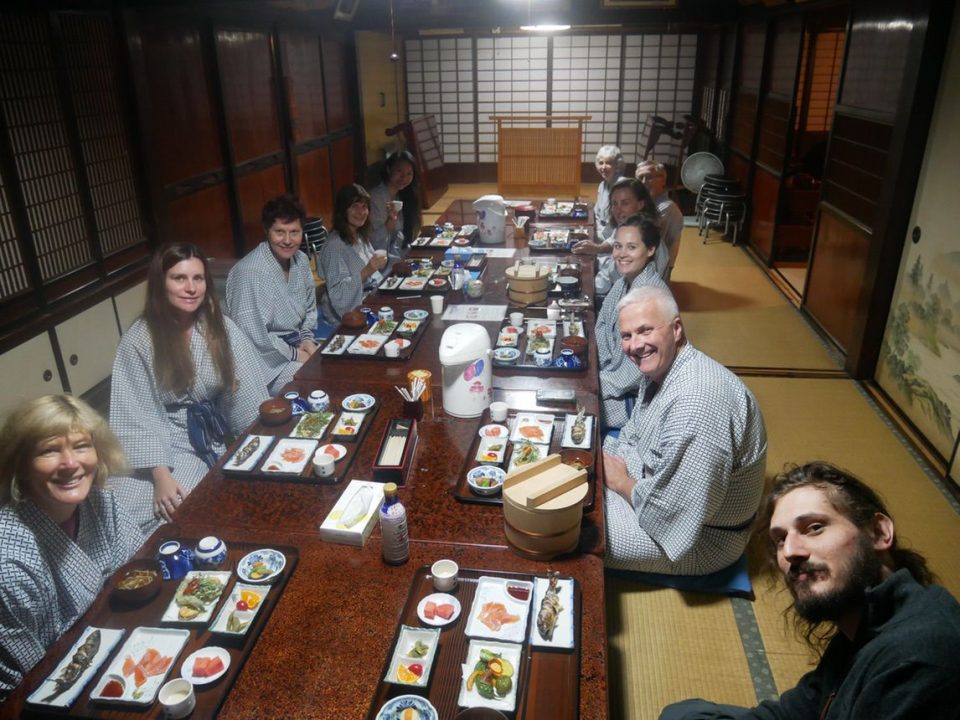 Highlights
Get Ready For
Delve into the sacred tradition of yoga while reconnecting with nature
Guided Shinrin- yoku (forest bathing) session
Simple beauty and elegance of Japanese style accommodation
Japanese cooking class
Visit Nakatsugawa, Magome, Tsumago, Kiso-Fukushima and Narai
Savour exquisite and delicately presented traditional Japanese dishes
Follow in the footsteps of the Tokugawa Shogun and the samurai during the Edo period (1603–1868)
Yoga Classes
Your teacher
Each day we'll be taking a class with our local teacher, Mika Saito, who travels with the group and will lead us through a practice that will ground us and prepare for the beautiful walking along the Nakasendo way. Mika is a certified yoga teacher, gaining qualifications first in India then Japan. She has an outgoing, friendly personality and looks forward to welcoming you to her Japanese homeland and sharing her yoga experience and her knowledge of the local culture and traditions. Classes include:
Sun salutations to warm the body
Asana (body movements)
Pranayama (breath awareness/exercises)
Meditation
Self-reflection
Inclusions
What's included?
Included
2 nights in traditional Japanese accommodation
3 nights countryside Onsen Hotel (traditional Japanese style rooms, ensuite facilities)
5 breakfasts, 1 lunch, 5 dinners
Guided walking along the Nakasendo Way
Daily yoga and meditation sessions
Guided Shinrin-yoku session
Cooking class
Luggage transfers while on tour
Qualified and experienced yoga teacher
Local transport while on the tour
Yoga mat bag
Local and Australian emergency contacts
Excluded
Flights
Yoga mat (please bring your own from home)
Transport to/from the tour
Travel insurance
Beverages other than water at meals
Expenses and items of a personal nature
Lunches (with the exception of Day 4)
Exclusive Guide
get inspired
Ready to step back in time and discover a centuries-old road through the mountains of central Japan? The Nakasendo Way is a stunning 94km journey from Mitake to Narai. Steeped in history, much of this walk weaves through the picturesque Kiso Valley. The 'post towns' strung out along the route give an enticing and authentic glimpse into Japan's past.
There is so much to discover on this route! Find out more in our comprehensive destination guide – it's bursting with inspiration, travel essentials, practical information and more!
   
Customer Testimonials
This trip exceeded all my expectations. The yoga component was exceptional value. Conducted by two expertly qualified, inspirational instructors, it was truly the icing on the cake and the perfect ingredient to prepare and reward our bodies for each days walk. Our local guide led, advised and informed us on history and customs and also facilitated our transport between towns when needed. It was perfect on every level and a most rewarding challenge, physically and spiritually.
Rosemary Squire, Mt Martha (VIC) – October 2019
   
Customer Testimonials
Our walk was everything we could have hoped for. The local accommodation and food were exceptional. The immersion in local culture fabulous and the mixture of trails through small villages, forests and farmland kept us stimulated and intrigued. What a wonderful experience. Thank you RAW Travel.
Kim Elise Brodie, Bulimba (QLD) – April 2019
   
Customer Testimonials
We had such a great trip. The itinerary was perfect – with a mixture of forest walking, exploring villages and open farmland. The accommodation was excellent and the meals a real highlight. The planning by RAW Travel was excellent – thanks so much. An exceptional experience overall.
Jennifer Bryant, Cape Otway (VIC) – June 2019
Similar Walks
Yoga Hiking & Japan
TRIP date selection
when would you like to travel?
Please select your preferred dates for on-demand trips or select a scheduled date for group departures. If you have booked a self-guided trip please understand that because your trip date is on demand and we must check availability of all properties on your chosen dates before it can be fully confirmed