difficulty
Challenging - Strenuous
Overview
The Autumn Trip
Experience walking the Kumano Kodo in autumn. The beautiful, changing colours are a highlight for people on this trek.
Our popular group, self-guided departures are a great option for those who are travelling solo or enjoy the company and support of other like-minded travellers
The Kumano Kodo is a journey through a thousand years of Buddhist history and offers a window into traditional Japan that contrasts strongly with its hyper modern cities. The Kumano Kodo's rugged, forested mountains, quiet rural valleys, rivers and waterfalls provide a spectacular backdrop for hikers. Arriving at your destination each day the traditional local guesthouses offer reviving onsens and wonderful local food. Hiking the Kumano Kodo really is a great immersion into Japanese culture.
This self-guided walking trip combines the freedom and flexibility of a self-guided trek with the support and company of other like-minded travellers. Travelling on your own? No trouble. We will pair you up with another solo traveller of the same gender on a twin share basis.

We are Japan experts! As the first Australian walking company to offer the Kumano Kodo in 2013, we are the most established operator on this trail and have the best local contacts, advice and resources.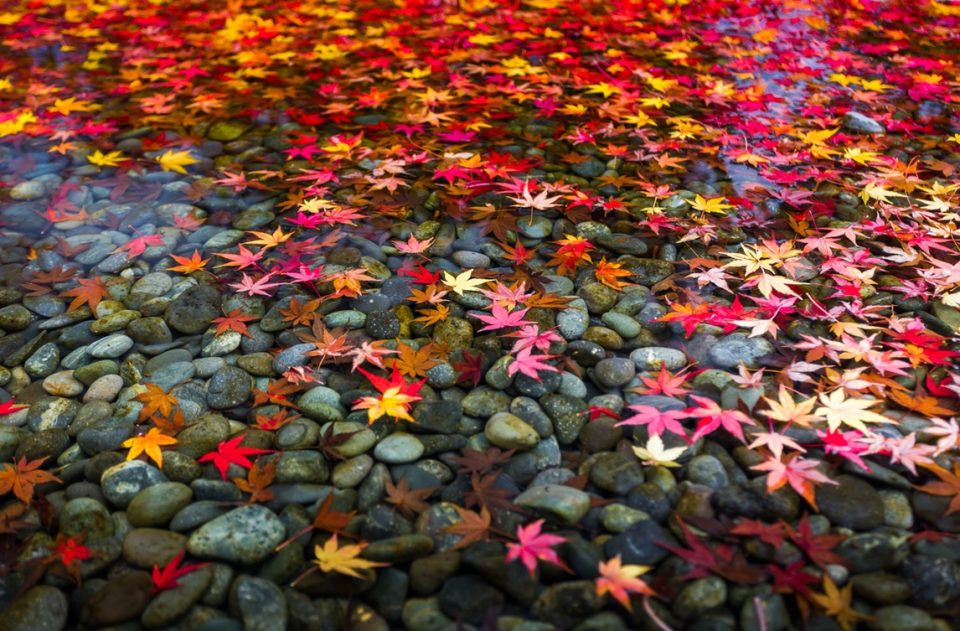 Highlights
Get Ready For
Beautiful, changing colours are a highlight for people on this trek
A great option for solo travellers
Enjoy delicious handmade Japanese food with fresh local ingredient
Traditional guesthouses with lots of character and friendly host
Soak in an onsen to soothe your muscles (and spirit!) after a day of walking
CLIENT EXPERIENCES
ON THE TRAIL
Join RAW Travellers Robyn and Jan as they walk the Kumano Kodo in Japan to find out what they've enjoyed the most on this iconic walking trail.
READ: 'A Sacred Journey', Jetstar Magazine 
Journalist Jayne D'Arcy discovers her inner pilgrim along the Kumano Kodo trail.
Inclusions
What's included?
Included
1 night in Kii-Tanabe (twin share, ensuite)
4 nights in traditional Japanese guesthouses (twin share, shared bathroom)
2 nights in an onsen village in a traditional ryokan (twin share, ensuite)
Daily meals included as listed in the itinerary
Luggage transfers on all trekking days
Briefing in Kii-Tanabe at the start of your walk
RAW Travel's exclusive interactive navigation app
Pre-departure pack including Kumano Kodo guidebook, luggage tags and RAW Travel buff (1 pack per 2 clients travelling together)
Excluded
Local bus tickets
Train tickets to/from trail
Flights to/from destination
Travel insurance
Beverages other than water at meals
Expenses and items of a personal nature
Kumano resources
Finding your way
We have researched and published our own Kumano Kodo Guidebook based on the experiences of many years of running trips here and have supplemented this with our Navigation App. Designed to help you navigate easily on the trail, it shows your location in real-time without any internet connection needed. The App has many great features; it shows you weather forecasts localised for each of your overnight stops, and information on the location of each night's accommodation. There are important reminders, safety information, videos, and emergency contact information for your route. It also has a unique audio feature that can tell you about places and points of interest as you approach them on the trail.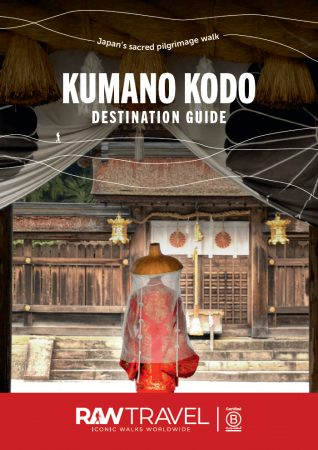 Exclusive Guide
get inspired
Japan's ancient Kumano Kodo trails are nestled in the verdant mountains of the southern part of the beautiful Kii Peninsula, just south of Osaka. This lush and rugged area has been considered the abode of the gods and worshipped for centuries.
Our destination guide is bursting with all you need to know about walking the sacred Nakahechi pilgrimage route, the most popular and accessible of all the routes. You'll love the peacefulness and tranquillity of the trail, the food (so elegant and refined!), the onsens (a cherished Japanese ritual), and the traditional family run guesthouses, full of character and charm.
   
Customer Testimonials
We loved walking along 1000-year-old paths that had previously been followed by emperors, princesses, monks, nuns and poets. The forest is very peaceful and a beautiful part of Japan. It has the most beautiful old trees and it is very green with moss on rocks everywhere. There are several markers along the track, which were interesting to read. We saw monkeys, deer and lots of birds that we weren't expecting and even though we were quite remote we would bump into follow travellers at rest spots along the way. Everyone we met was lovely and we really enjoyed interacting with the locals who also were walking the track. We would share lollies even though very limited English was spoken. Part of the walk is called "Pass over clouds" and some days we felt like we were in the sky with the most amazing views across the peaks. Every day we enjoyed different things, we loved it. And for the record I'm not that active but the walk is very doable, just go at your own pace.
Leanne Lester, Numurkah (VIC) – March 2019
   
Customer Testimonials
RAW Travel were tremendous to deal with. Information was sent out in stages, which meant we didn't get lost in a pile of paperwork. We were even advised, in a timely manner, about a suitable training program. Any questions or concerns were promptly and accurately answered. The trip notes were accurate with regard to walk times and points of interest. The accommodation was really quirky, a nice change from the big hotel chains. The onsens were a highlight and some of our dinners fantastic. Would organise another walk through RAW again. I thought they were particularly good value, even as a single traveller.
Louise McMahon, Traralgon (VIC) – October 2018
   
Customer Testimonials
Absolutely loved the Kumano Kodo. Beautiful, mystical, challenging and renewing. The nature and scenery are breathtaking. I walked the trail solo and felt confident to navigate and manage on my own. The accommodation and food were excellent. Nothing better than an outdoor onsen after a long day walking!
Felicity Hale, Clovelly (NSW) – June 2018
   
Customer Testimonials
Fabulous service once again by RAW. All accommodation was authentic, as was the Japanese style breakfasts. Our accommodation hosts were fun, welcoming and generous. The little bento box lunches lovingly presented by our hosts were a real highlight of the days hiking schedule and dinner at night – simply amazing array of traditional dishes.
Kellie-Anne Briggs, Rutherglen (VIC) – November 2019
   
Customer Testimonials
RAW Travel did an excellent job of pre-trip planning/dissemination of information. Mark and Chris were quick to respond to all questions and concerns and made me feel well-prepared for the journey. The accommodations, meals and luggage transfers went seamlessly. The accommodations and meals were excellent, and most hosts worked very hard to accommodate vegetarian diets (there were 3 of us on the trip and we always had plenty to eat). The hike was spectacular, and the maps and guidebook provided were excellent resources along the route. Our group of 8 quickly became friends. It was an absolutely fantastic experience. Thanks RAW!
Deborah Shuster, Portland (US) – October 2019
   
Customer Testimonials
We feel so privileged to have been able to undertake this hike with the support of RAW Travel. From our first enquiry, Chris was passionate and responsive. We would definitely like to plan another hike with RAW Travel.
Joyce French, Glen Iris (VIC) – October 2019
   
Customer Testimonials
I just loved the experience of walking in Japan, especially walking the Kumano Kodo; it was a personal challenge of mine; and it was wonderful to stay in traditional accommodation.
Gail Bell, Elwood (VIC) – May 2019
   
Customer Testimonials
The Kumano Kodo walk was sensational! It was tough at times but the experience was worth it. Beautiful scenery and fauna. Loved the shrines along the way. At our accommodation, our Japanese hosts could not do enough for us. Food was traditional – being very healthy. With the combination of walking and eating healthily we lost weight.
Suzanne Aidone, Port Melbourne (VIC) – May 2019
   
Customer Testimonials
This was the most amazing walk. Walking through the mountains as you do with the most incredible scenery and the sense of calm in the old forests with the ancient stone paths. A truly spiritual experience. The guesthouses were fabulous and what a way to experience traditional Japanese culture. Everyone was so helpful and respectful and we couldn't have had a better experience. Our most favourite was guesthouse Mui, as the host and hostess were so charming.
Fiona Ireland, Malvern (VIC) – April 2019
   
Customer Testimonials
What a sensational experience! From meeting and staying with locals who could not be any more helpful to the captivating scenery with historical antidotes to break up the walk all along the way. It gave us a full appreciation of the history of the walk. And the onsen at the end of the day made it easier to back it up the following day!
Neroli Scott, Seddon (VIC) – March 2019
TRIP date selection
when would you like to travel?
Please select your preferred dates for on-demand trips or select a scheduled date for group departures. If you have booked a self-guided trip please understand that because your trip date is on demand and we must check availability of all properties on your chosen dates before it can be fully confirmed