Overview
Nakahechi & Kohechi Routes
This is our most comprehensive Kumano Kodo option for those who enjoy a challenging hike | Gain a great understanding of this ancient pilgrimage trail | Hike the full length of both the Nakahechi and Kohechi trails | Journey along the Kumano-gawa river in a traditional boat | Stay in a Buddhist monastery in Koyasan
This walk is for experienced hikers who are comfortable hiking long distances with some steep ascents and descents. It's perfect for those who would like more walking days; enjoying beautiful panoramic views; visiting Buddhist temples and Shinto shrines, and a good challenge for your Kumano Kodo experience,
The first 3 days are the same as our regular Kumano Kodo, along the Nakahechi route but then you'll journey to the coast by traditional boat before hiking the last 2 days of the Nakahechi trail back to Hongu. You'll then venture north on the mountainous Kohechi Trail with its four passes over 1000m in elevation, before arriving in Koyasan.
Visit all 3 shrines of the 'Kumano Sanzan': Kumano Hongu Taisha, Kumano Hayatama Taisha and Kumano Nachi Taisha. Traditionally, all paths led to Hongu and with this itinerary, you will be walking the sections from Nachisan through to Hongu in the direction that was walked in the past. Your time on the Kumano Kodo also includes Koyasan, home to 115 temples on a venerated Buddhist mountain, the chance to stay in an active Buddhist temple or 'Shukubo'. If you'd like further hiking you may also enjoy exploring the Women's Pilgrimage trail in Koyasan.
** Please note: this trek option is offered for a minimum of 2 people travelling together only due to the remoteness of the Kohechi Trail.

We are Japan experts! As the first Australian walking company to offer the Kumano Kodo in 2013, we are the most established operator on this trail and have the best local contacts, advice and resources.
Highlights
Get Ready For
A wonderful challenging hike through the rugged forested mountains
Hike the full length of both the Nakahechi and Kohechi routes
Journey along the Kumano-gawa river in a traditional boat
Stay in a Buddhist monastery in Koyasan

Delicious fresh local food and onsen culture
History
Over 1000 years
The trails of the Kumano Kodo are a series of ancient pilgrimage routes, dating back over 1000 years, in Japan's beautiful Kii Peninsula, an area also strongly associated with nature worship. At one time Japan's Imperial family and former emperors made the pilgrimage trips from Kyoto to the shrines of Kumano, one of Japan's most sacred sites. The Kumano Kodo's rugged, forested mountains, quiet rural valleys, rivers and waterfalls provide a spectacular backdrop for hikers. Arriving at our destination each day, the traditional local guesthouses offer reviving onsens and wonderful local food.
Inclusions
What's included?
Included
1 night in Kii-Tanabe (twin share, ensuite)
5 nights in traditional Japanese guesthouses (twin share, shared bathroom)
2 nights in an onsen village in a traditional ryokan (twin share, ensuite)
1 night in an onsen village in a hotel with traditional Japanese rooms (twin share, half bath)
2 nights in a Buddhist monastery in Koyasan (twin share, shared bathroom)
Daily meals included as listed in the itinerary
Luggage transfers on the Kumano Kodo on all trekking days and day 4
Briefing in Kii-Tanabe at the start of your walk
Traditional boat ride from Hongu area to Shingu
Pre-departure pack including Kumano Kodo guidebook, detailed notes, luggage tags and RAW Travel buff (1 pack for 2 people travelling together)
RAW Travel's exclusive interactive navigation app
Excluded
Local bus tickets
Train tickets to/from Kii-Tanabe and Koyasan
Flights to/from destination
Travel insurance
Beverages other than water at meals
Expenses and items of a personal nature
Single supplement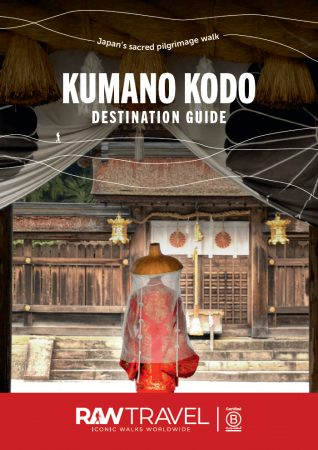 Exclusive Guide
GET INSPIRED
Japan's ancient Kumano Kodo trails are nestled in the verdant mountains of the southern part of the beautiful Kii Peninsula, just south of Osaka. This lush and rugged area has been considered the abode of the gods and worshipped for centuries.
Our destination guide is bursting with all you need to know about walking the sacred Nakahechi pilgrimage route, the most popular and accessible of all the routes. You'll love the peacefulness and tranquillity of the trail, the food (so elegant and refined!), the onsens (a cherished Japanese ritual), and the traditional family run guesthouses, full of character and charm.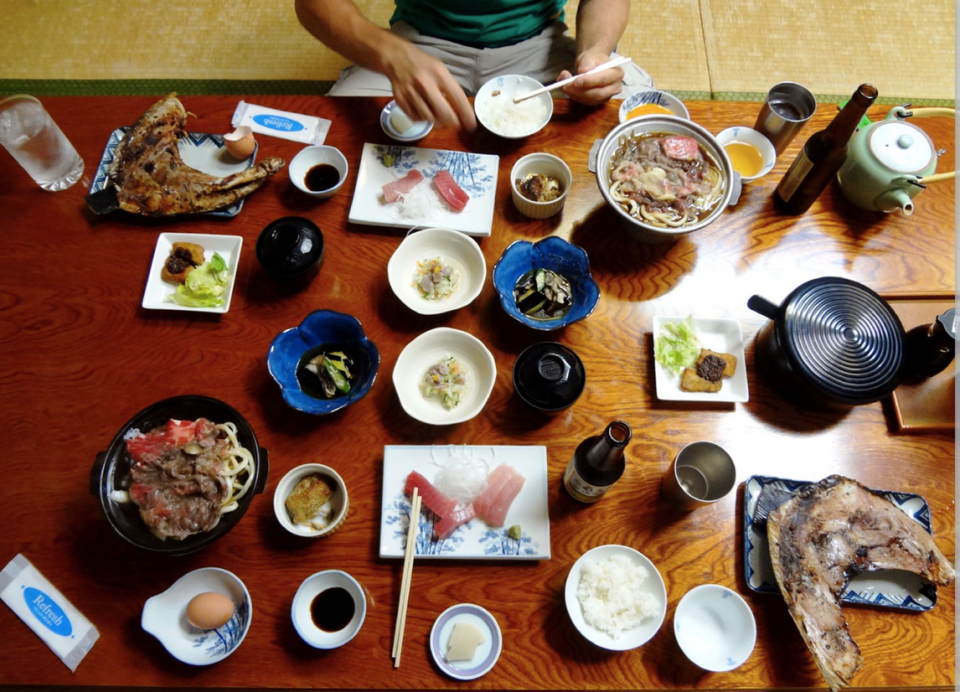 Customer Testimonials
Wonderful experience and beautiful walk. Enjoyed the Japanese style accommodation and loved that they were all so different. Really well-organised trip and everything went incredibly smoothly. The pre-tour information was incredible and covered absolutely everything.
Kate Baldry (Wallendbeen, NSW)
   
Customer Testimonials
It was extraordinary and a wonderful experience. The walk on the Nakahechi trail was spectacular. Enjoyed the varied and interesting accommodation, beautiful food and generosity of the Japanese people. Exceptional service and information. I will be highly recommending you to friends and family.
Kim Robinson (St Kilda, VIC)
   
Customer Testimonials
Your app and info was very thorough and paired with the briefing info made the self-guided walk easy to navigate. The food and hospitality was definitely a highlight and the peacefulness of walking through the forest and coming across shrines etc was amazing.
Alison Taylor (Auckland, NZ)
   
Customer Testimonials
The whole experience was wonderful. Walking in the forest with interesting people. The immersion in Japanese culture and history along the trail and towns. The traditional accommodation with friendly and welcoming hosts. The fabulous food and onsen.
Raquel Gabiola (Canberra, ACT)
TRIP date selection
when would you like to travel?
Please select your preferred dates for on-demand trips or select a scheduled date for group departures. If you have booked a self-guided trip please understand that because your trip date is on demand and we must check availability of all properties on your chosen dates before it can be fully confirmed