difficulty
Challenging - Strenuous
Overview
The 7 Day Trail
Our most popular Kumano Kodo trek | Includes the full length of the Nakahechi trail | Stay in traditional accommodation | Enjoy wonderful insights into life in rural Japan and the spiritual history of this path and region
The trails of Kumano Kodo are a series of ancient pilgrimage routes, dating back over 1000 years, in Japan's beautiful Kii Peninsula, an area also strongly associated with nature worship. At one time Japan's Imperial family and former Emperors made the pilgrimage trips from Kyoto to the shrines of Kumano, one of Japan's most sacred sites.
The Kumano Kodo is a journey through a thousand years of Buddhist history and offers a window into traditional Japan that contrasts strongly with its hyper modern cities. The Kumano Kodo's rugged, forested mountains, quiet rural valleys, rivers and waterfalls provide a spectacular backdrop for hikers. The seasonal contrasts of cherry blossom in the spring and rich autumn foliage inject wonderful colour along the hiking route. Arriving at your destination each day the traditional local guesthouses offer reviving onsens and wonderful local food. Hiking the Kumano Kodo really is a great immersion into Japanese culture.

We are Japan experts! As the first Australian walking company to offer the Kumano Kodo in 2013, we are the most established operator on this trail and have the best local contacts, advice and resources.
Highlights
Get Ready For
Walk the full length of the Nakahechi trail
Soak in an onsen to soothe your muscles (and spirit!)
Delicious handmade Japanese food with fresh local ingredients
Traditional guesthouses with lots of character and friendly hosts
Gain insights into life in rural Japan and the spiritual history of this path and region
Client Experiences
On the Trail
Join RAW Travellers Robyn and Jan as they walk the Kumano Kodo in Japan to find out what they've enjoyed the most on this iconic walking trail.
READ: 'A Sacred Journey', Jetstar Magazine
Journalist Jayne D'Arcy discovers her inner pilgrim along the Kumano Kodo trail.
Inclusions
What's included?
Included
1 night in Kii-Tanabe (twin share, shared bathroom)
5 nights in traditional Japanese guesthouses (twin share, shared bathroom)
Daily meals included as listed in the itinerary
Luggage transfers on the Kumano Kodo on all trekking days
Briefing in Kii-Tanabe at the start of your walk
RAW Travel's exclusive interactive navigation app
Pre-departure pack including Kumano Kodo guidebook, luggage tags and RAW Travel buff (1 pack per 2 clients travelling together)
Excluded
Local bus tickets
Train tickets to/from trail
Flights to/from destination
Travel insurance
Single supplement
Beverages other than water at meals
Expenses and items of a personal nature
Kumano resources
Finding your way
We have researched and published our own Kumano Kodo Guidebook based on the experiences of many years of running trips here ( we were the first Australian Company to offer the Kumano Kodo) and have now supplemented this with our Walking app, designed to help you navigate easily on the trail showing your location in real-time without any internet connection needed. The app has many great features; it shows you weather forecasts localized for each of your overnight stops, and information on the location of each night's accommodation. There are important reminders, safety information, videos, and emergency contact information for your route. It also has a unique audio feature that can tell you about places and points of interest as you approach them on the trail.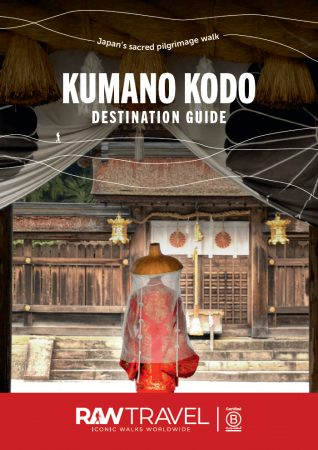 Exclusive Guide
get inspired
Our destination guide is bursting with all you need to know about walking the sacred Nakahechi pilgrimage route, the most popular and accessible of all the routes. You'll love the peacefulness and tranquillity of the trail, the food (so elegant and refined!), the onsens (a cherished Japanese ritual), and the traditional family run guesthouses, full of character and charm.
   
Customer Testimonials
The Kumano Kodo walk was sensational! It was tough at times but the experience was worth it. Beautiful scenery and fauna. Loved the shrines along the way. At our accommodation, our Japanese hosts could not do enough for us.
SUZANNE AIDONE (VIC) MAY 2019
JOHN AND ANTONELLA MIHALINAC (VIC) APRIL 2019
   
Customer Testimonials
Everything was well organised. All the information we needed. Food and accommodations wonderful and our luggage miraculously showed up every day at our new location. A 10/10 to RAW Travel. Would definitely recommend to anyone, especially if you're traveling to and trekking in a new land.
JEANNE CARETTE REYNOLDS (USA) MAY 2019
BLAIR LUCAS (VIC) APRIL 2019
Excellent. Everything went perfectly. Guest houses were wonderful and the whole experience was exceptional. Food, accommodation and baggage transfers were all spot on.
MICHELLE JOINER (VIC) MARCH 2019
We loved the scenery within the forests, out to the mountains and the spiritual centres along the way. Also, we loved the challenge of the walk itself, and the interesting people we met over the days of hiking.
HELEN OVERMYER (NSW) MAY 2019
We wanted a unique experience and that's exactly what we got. Our itinerary was thorough and well thought out. We loved the local food and staying in the guest houses. The hike itself was challenging but beautiful with varied terrain. We are sold on RAW Travel and will be going on other RAW Travel tours in the future.
MELISSA NIP (HAWAII) APRIL 2019
   
Customer Testimonials
We had an amazing time! We could not fault the arrangements of RAW Travel. Of particular note was the 'on the ground briefing' and provision of extensive up to date information on the walk, detours, buses and options to shorten our walk. And our accommodation hosts were delightful and the meals they provided were amazing.
Anne Sanderson, St Kilda East (VIC) – November 2019
   
Customer Testimonials
We have all arrived home safely from our Kumano Kodo walk in Japan and want you to know how it exceeded our expectations and how much we all loved it. The RAW team have done an outstanding job of making the walk relaxing and a fun experience while soaking up the Japanese culture and way of life. We really had some funny moments when we forgot the rules and quickly reminded one another of our mistake. Each place we stayed was comfortable and clean. The food was delicious and so beautifully presented we just had to take a photograph at each meal. The bus timetables and routes were spot on. We are very proud to say that we walked all of the days in less than the minimum time and we were blessed with dry weather – except on our rest day which was perfect sleeping in weather. The walk was challenging without being unachievable and there were plenty of picturesque spots to stop along the way. The history of the route was well explained with signposts and informative boards on the track. We would certainly use RAW Travel for our next walking adventure and will recommend you to our fellow walking friends.
Leanne Roberts-Thomson, New Lambton (NSW) – November 2019
   
Customer Testimonials
This was a fantastic trip that was well organised. The walk was challenging but at the end extremely rewarding, which will give us lasting memories. I loved the authentic Japanese guesthouses, the bento boxes and the much needed onsen experiences after hours of hiking.
Hyun Beth Kang, Camperdown (NSW) – October 2019
   
Customer Testimonials
The trip was amazing. We loved the walk. The most beautiful area and the places we stayed at were incredible. You were right – the first nights were exceptional. The food was first class. We went to a Michelin star restaurant in Kyoto but the food at the chef's house was almost as good. All the dinners in the smaller places were great as were the breakfasts and lunches. The Fire festival was better than I expected. We were so lucky to be there then. The parade and drumming were a once in a lifetime experience. The weather was hot and humid but we only had one day of heavy rain. The chef's wife took us on a 10-minute drive that saved us 2 hours. She was so sweet, dressing the women in kimonos for the night. Thank you so much for your help, Chris. The trip was so much fun and the area so beautiful! The people are truly exceptional. Can't wait to go back!
Mark O'Sullivan, Hampton (VIC) – August 2019
TRIP date selection
when would you like to travel?
Please select your preferred dates for on-demand trips or select a scheduled date for group departures. If you have booked a self-guided trip please understand that because your trip date is on demand and we must check availability of all properties on your chosen dates before it can be fully confirmed