difficulty
Challenging - Strenuous
Overview
Koyasan and Kumano Kodo
You will begin your journey in the mountaintop village of Koyasan – an important destination for pilgrims on the Kumano Kodo | Continue on to hike the full length of the Nakahechi Trail
The trails of Kumano Kodo are a series of ancient pilgrimage routes over Japan's beautiful Kii Peninsula, an area also strongly associated with nature worship. The Kumano Kodo's rugged, forested mountains, quiet rural valleys, rivers and waterfalls provide a spectacular backdrop for hikers. The seasonal contrasts of cherry blossom in the spring and rich autumn foliage inject wonderful colour along the hiking route. Arriving at your destination each day the traditional local guesthouses offer reviving onsens and wonderful local food.
On this trip we combine the Kumano Kodo with a visit to Koyasan, home to 115 temples on a venerated Buddhist mountain and a chance to stay in an active Buddhist monastery.

We are Japan experts! As the first Australian walking company to offer the Kumano Kodo in 2013, we are the most established operator on this trail and have the best local contacts, advice and resources.
Highlights
Get Ready For
Beautiful nature walking through rugged, forested mountains, quiet rural valleys and alongside rivers.

Visit temples, shrines and traditional gardens
Stay at a Japanese Buddhist temple
Learn about traditional daily rituals, join a spiritual ceremony
CLIENT EXPERIENCES
ON THE TRAIL
Join RAW Travellers Robyn and Jan as they walk the Kumano Kodo in Japan to find out what they've enjoyed the most on this iconic walking trail.
READ: 'A Sacred Journey', Jetstar Magazine
Journalist Jayne D'Arcy discovers her inner pilgrim along the Kumano Kodo trail.
Inclusions
What's included?
Included
2 nights in a Buddhist monastery in Koyasan (twin share, shared bathroom)
1 night in Kii-Tanabe (twin share, shared bathroom)
5 nights in traditional Japanese guesthouses (twin share, shared bathroom)
Daily meals included as listed in the itinerary
Luggage transfers on the Kumano Kodo on all trekking days
Briefing in Kii-Tanabe at the start of your walk
Bus ticket from Koyasan to Kii-Tanabe*
RAW Travel's exclusive interactive navigation app
Pre-departure pack including Kumano Kodo guidebook, luggage tags and RAW Travel buff (1 pack for 2 people travelling together)
*Important The Koyasan to Kumano Kodo access bus doesn't operate from 1 December to 31 March. Please discuss the alternative option with your destination expert.
Excluded
Local bus tickets (except Koyasan to Kii-Tanabe)
Train tickets
Flights to/from destination
Travel insurance
Single supplement
Beverages other than water at meals
Expenses and items of a personal nature
Kumano resources
Finding your way
We have researched and published our own Kumano Kodo Guidebook based on the experiences of many years of running trips here ( we were the first Australian Company to offer the Kumano Kodo) and have now supplemented this with our Walking app, designed to help you navigate easily on the trail showing your location in real-time without any internet connection needed. The app has many great features; it shows you weather forecasts localized for each of your overnight stops, and information on the location of each night's accommodation. There are important reminders, safety information, videos, and emergency contact information for your route. It also has a unique audio feature that can tell you about places and points of interest as you approach them on the trail.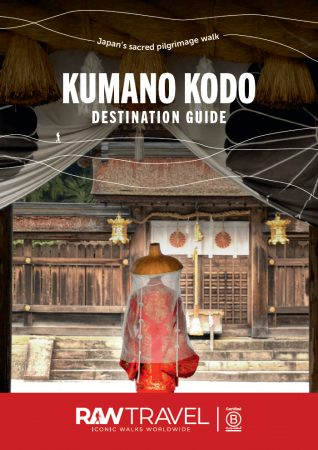 Exclusive Guide
GET INSPIRED
Japan's ancient Kumano Kodo trails are nestled in the verdant mountains of the southern part of the beautiful Kii Peninsula, just south of Osaka. This lush and rugged area has been considered the abode of the gods and worshipped for centuries.
Our destination guide is bursting with all you need to know about walking the sacred Nakahechi pilgrimage route, the most popular and accessible of all the routes. You'll love the peacefulness and tranquillity of the trail, the food (so elegant and refined!), the onsens (a cherished Japanese ritual), and the traditional family run guesthouses, full of character and charm.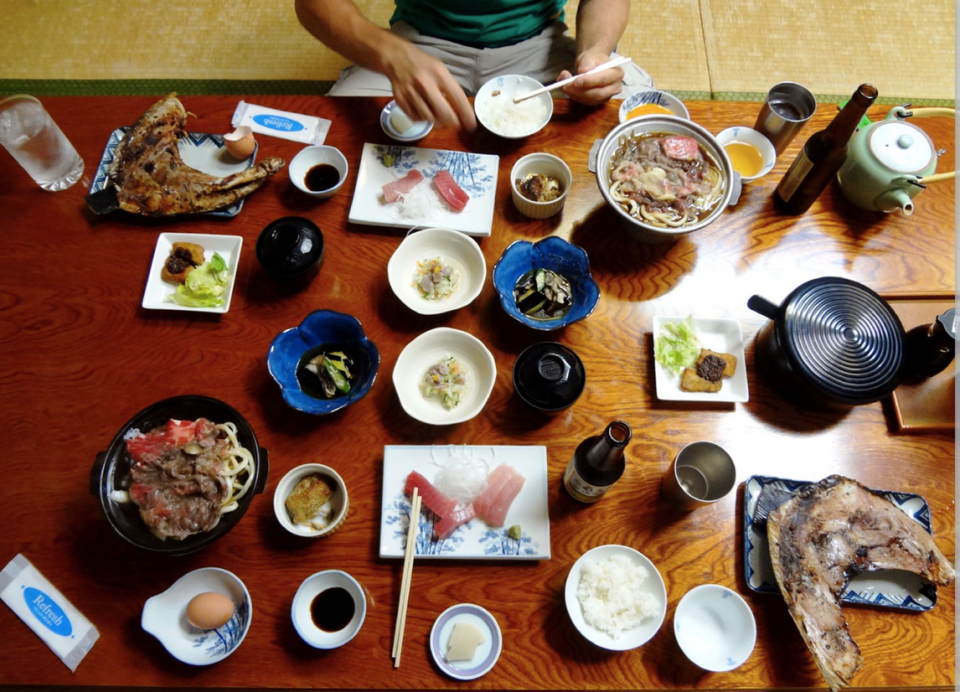 Customer Testimonials
I just wanted to send you an email to thank you for everything. The trip was absolutely amazing, my husband has not stopped raving about it and we both agree it's the best travel experience we have had. The hike was incredible, the house stays were beautiful and the food delicious. We just can't thank you enough – we are so glad we decided to book with RAW Travel, it was just so easy and stress free. Next to the Camino!
Elizabeth Wilde, Hamersley (WA) – October 2019
   
Customer Testimonials
A fantastic and well-organised trek. The trail is rugged but very beautiful. I'm absolutely delighted that I chose to do it, and that I chose to do it with RAW Travel. All of the accommodation was well chosen and the luggage transfers went like clockwork. The instructions I was given were very clear and I was able to get from place to place without any issues despite not speaking Japanese.
Matthew John Sayles, Balmain (NSW) – October 2018
   
Customer Testimonials
The experience of walking the Kumano Kodo was fantastic. So different from the Camino but so beautiful and unique as well. The warm hospitality, the food, the onsens at the end of each day made it such a special walk. It's definitely challenging but if you train and go adequately prepared then it's a really great trek. And gaining my dual pilgrim status was well worth the effort!
Kelly Hawkins, Auckland (New Zealand) – November 2018
   
Customer Testimonials
I undertook this trip with my daughter and we found it very easy to navigate our way. The hotel in Kyoto was very conveniently located across the road from the main train station. We both loved Kyoto. It took us four trains, a cable car and a bus to get to our accommodation in Koyasan but it was so worth the effort. Also, the cherry blossoms were in full bloom whereas they had finished in Kyoto. We had a great 4 days of hiking on the Kumano Kodo and enjoyed our rest day in the middle near Hongu. We didn't get lost; it's very easy to find your way. Poles for me were essential even without it being wet. We were extremely lucky to have no rain, the weather was glorious. You do need to train or at least have a good level of fitness to do this trek. On one of our walking days we didn't see another person. Walking in the forest was beautiful. We saw one bright coloured snake. And quite a few hornets which frightened my daughter but didn't worry me. We had no mishaps, loved the accommodation, food, onsens and the Japanese bathhouses were interesting. Highly recommend this trip and so pleased we did it. Thank you RAW Travel for ensuring everything went smoothly for us
Sandra Bowmer, Miranda (NSW) – April 2018
   
Customer Testimonials
Excellent itinerary enabling us to experience the old, new and beautiful of the Kansai region. Kyoto, Koyasan Nara and the Kumano Kodo trail cover a wide range of incredible cultural experiences, cuisine, history and landscapes. The accommodation on the hike was an authentic provincial Japanese experience with very friendly hosts and great food. The trip notes were perfect for a self-guided tour. We never had any problems with the logistics of the trip thanks to the notes. I highly recommend this trip for people who are keen to have a broad Japan experience.
Andrew Miller, Brighton (VIC) – November 2017
   
Customer Testimonials
RAW Travel provided exactly the right level of support for an amazing trip. The personal contact with the RAW team during the planning stage and at the briefing night prepared us well. The recommended itinerary that included Kyoto, Koyasan and Kumano Kodo was perfect! The quality of the resources (guidebooks etc.) was exceptional and made the self-guide experience just perfect. Thank you!
Wayne Forrest, Oatlands (NSW) – October 2017
   
Customer Testimonials
Such an incredible experience and a real privilege to be exposed to both contemporary Japan and traditional Japanese culture – often in a very intimate way when invited into the family home. The RAW Travel itinerary was perfectly paced – like a slow immersion taking us further from everyday reality…everything a holiday should be. The trekking was breathtaking, challenging and very satisfying. Thank you Leanne for the thought and care which obviously went into the planning of this special experience.
Annette Tsindos, Hawthorn, VIC – July 2017
   
Customer Testimonials
We had a great time in Japan. Everything worked perfectly. We had a transit night in Osaka followed by two days in Hiroshima to hang out at the peace park and a day trip to the island and walk up Mt Misen. Then to Kyoto – we loved it. Koyasan was a highlight. We got a local guide to take us on a 3-hour hike around the hills and we did the evening cemetery tour. Then off on the walk – got mostly good weather and really enjoyed both the walk and the rest day. All the accommodation was fine – each different and very welcoming. Final night at an odd but I suspect very Japanese huge hotel in Ki Katsura – it had a great onsen outside overlooking the sea and nice coffee shop near the ferry. Everywhere we stayed we had great food and I mean really great. The lunches for the walk were also really good. A great holiday and we would not have found those places and had those experiences ourselves. Thanks for your help.
Frances Diver & Gaye McCulloch, VIC – April 2017
   
Customer Testimonials
I loved it all. To experience such an ancient tradition as the Kumano Kodo trek was a privilege, with the local cuisine a bonus. Koyasan was an absolute gem – who would think that half a day in a cemetery could be so engrossing! And the temple cuisine – absolutely stunning. Kyoto at peak cherry blossom time was stunning and I loved the way the Japanese people enjoyed this special time. I loved the Japanese people – so kind, courteous and helpful.
Barbara Madden, WA – April 2017
   
Customer Testimonials
We have just enjoyed the Kumano Kodo walk and found that the organisation that RAW Travel put in place was top notch, not a single hiccup. The travel notes for the public transport were very helpful, and the public transport was an art form. The Japanese people were the ultimate helpful and charming hosts (we had not learnt Japanese prior to going, but  we will rectify this next time). The walk was heaven: early spring when the maple trees are bare and the plum and cherry blossoms are just beginning along the way – perfect. We were glad we spent 2 nights in Koyasan prior to the walk – there was so much to see, and it was snowing and beautiful there; warmer further south where the walk began.
May Tompson, Dunbible, NSW – March 2017
   
Customer Testimonials
My husband and I adored every moment of the trip: from cultural Kyoto to meditative Koyasan to the sacred Kumano Kodo. All aspects of the trip, from accommodation, meals, JR passes and the detailed maps and track notes made an action-packed trip to Japan very enjoyable. Many thanks to the RAW Travel team for your diligent research and clear directions!
Heidi Auman, TAS – October 2016
   
Customer Testimonials
We had a lovely time in Japan. Thank you very much for the arrangements you made for us. All of the accommodations were very good. Luggage transfers went without a hiccup. Variations to our itinerary due to an accident ahead on the trail in one instance and then the typhoon were expertly handled during our travel. We loved the Japanese guesthouses and our hosts at each were delightful.  The Kumano Kodo walk was fantastic. There were very few other pilgrims, so we had the trail pretty much to ourselves most of the time, apart from the odd snake. We were very very happy with the service we have received from RAW Travel and would not hesitate to recommend your to other travellers.
Tony and Jennifer Waters, Kingscliff, NSW – July 2015
   
Customer Testimonials
The Kumano Kodo walk you organised for us was excellent. The walk itself was at times difficult and steep but we were fit and had no problems. We were mainly alone on the track only once meeting a large group of "real pilgrims" dressed in traditional Buddhist clothing.  At that point we had been enjoying walking in 1000 year old footprints and steps worn to glide under our feet, the Buddhist group made us feel that we had actually gone back 1000 years in time.
William Filson & Lilian Chan, Sydney – March 2015
TRIP date selection
when would you like to travel?
Please select your preferred dates for on-demand trips or select a scheduled date for group departures. If you have booked a self-guided trip please understand that because your trip date is on demand and we must check availability of all properties on your chosen dates before it can be fully confirmed