Overview
The Extended Trip
This itinerary offers a challenging and comprehensive journey along the Kumano Kodo | Hike the full length of the Nakahechi route | Enjoy a day on the challenging Kohechi route | Journey along the Kumano-gawa river in a traditional boat | Experience the life of a monk by staying in a Buddhist monastery in Koyasan
This is an extended walk for those who would like to add more kilometres, views, temples and challenge to their Kumano Kodo experience. The first three days are the same as our regular Kumano Kodo walk but then we journey to the coast and do the last two days in reverse and extend the trip for a day from Kumano Hongu to Totsukawa Onsen. We finish on a high, crossing a 1114m pass (higher than the regular route) and visiting the remote settlement of Totsukawa Onsen. This itinerary enables clients to visit all three shrines of the 'Kumano Sanzan': Kumano Hongu Taisha, Kumano Hayatama Taisha and Kumano Nachi Taisha. Traditionally, all paths led to Hongu. On this itinerary, you will be walking the sections from Nachisan through to Hongu in the direction that was walked in the past.
The trails of the Kumano Kodo are a series of ancient pilgrimage routes, dating back over 1000 years, in Japan's beautiful Kii Peninsula, an area also strongly associated with nature worship. At one time Japan's Imperial family and former emperors made the pilgrimage trips from Kyoto to the shrines of Kumano, one of Japan's most sacred sites. We also combine the Kumano Kodo with time in Koyasan, home to 115 temples on a venerated Buddhist mountain and a chance to stay in an active Buddhist monastery.

We are Japan experts! As the first Australian walking company to offer the Kumano Kodo in 2013, we are the most established operator on this trail and have the best local contacts, advice and resources.
Highlights
Get Ready For
Hike the full length of the Nakahechi route
Enjoy a day on the challenging Kohechi route
Journey along the Kumano-gawa river in a traditional boat
Experience the life of a monk by staying in a Buddhist monastery
CLIENT EXPERIENCES
On The Trail
Join RAW Travellers Robyn and Jan as they walk the Kumano Kodo ( main route) in Japan to find out what they've enjoyed the most on this iconic walking trail.
READ: 'A Sacred Journey', Jetstar Magazine
Journalist Jayne D'Arcy discovers her inner pilgrim along the Kumano Kodo trail.
Inclusions
What's included
Included
1 night in Kii-Tanabe (twin share, shared bathroom)
6 nights in traditional Japanese guesthouses (twin share, shared bathroom)
2 nights in a Buddhist monastery in Koyasan (twin share, shared bathroom)
Daily meals included as listed in the itinerary
Luggage transfers on all trekking days and from Totsukawa Onsen to Koyasan
Briefing in Kii-Tanabe at the start of your walk
RAW Travel's exclusive interactive navigation app
Pre-departure pack including Kumano Kodo guidebook, luggage tags and RAW Travel buff (1 pack per 2 clients travelling together)
Traditional boat ride from Hongu area to Shingu
Excluded
Local bus tickets
Train tickets to/from the trail and Koyasan
Flights to/from destination
Travel insurance
Single supplement
Beverages other than water at meals
Expenses and items of a personal nature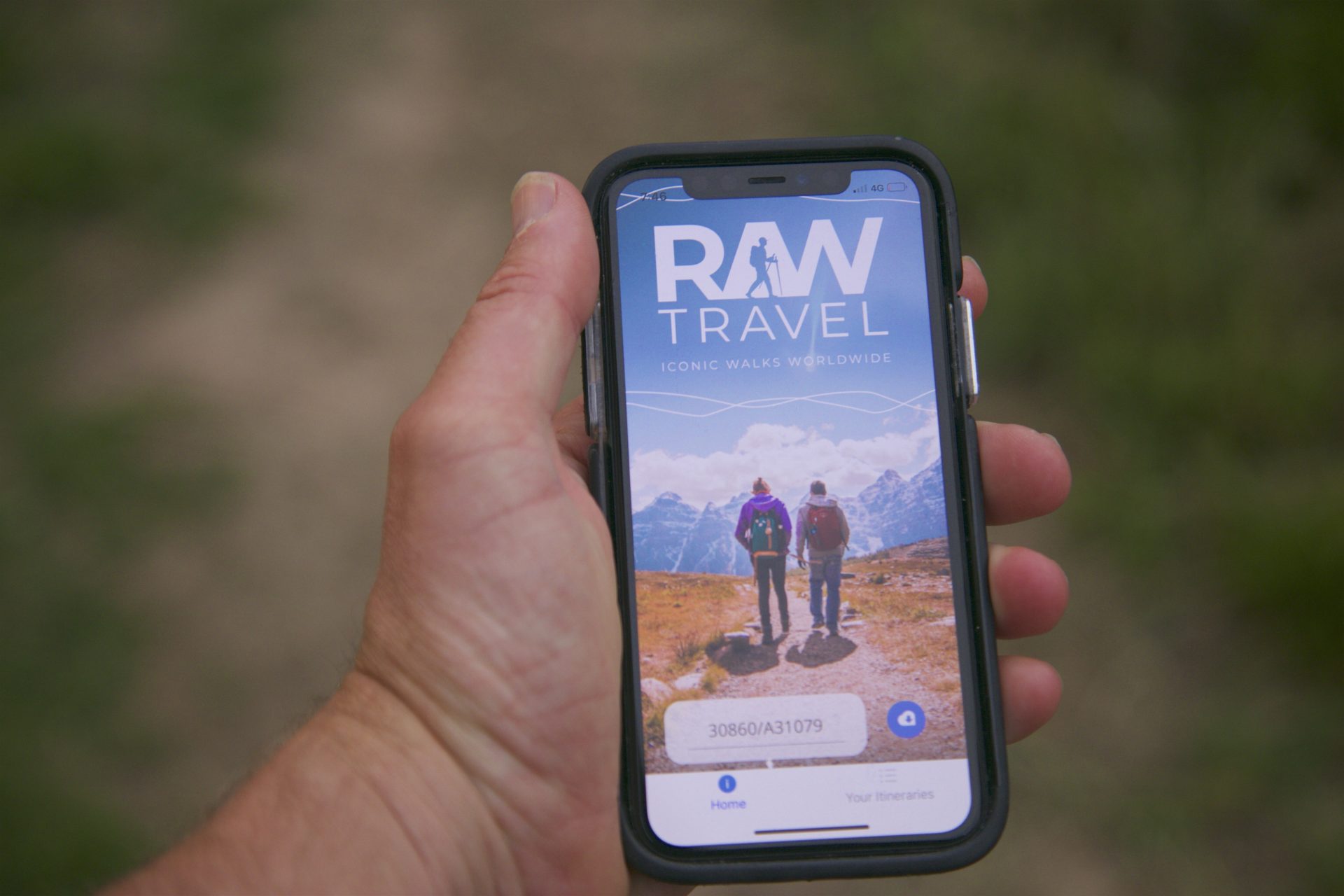 Walking app
Finding your way
Our unique RAW Travel walking app has been designed to help you navigate easily on the Kumano Kodo. Simply download your map with the unique link we send you and you'll be able to follow your route with ease, showing your location in real-time without any internet connection needed or referring to cumbersome pages of notes. The app has many great features; it shows the location of each night's accommodation, and weather forecasts localised for each of your overnight stops. There is information on how and where to catch the trains you need, as well as important reminders, safety information, videos and emergency contact information. The unique audio feature can tell you about places and points of interest as you approach them on the trail.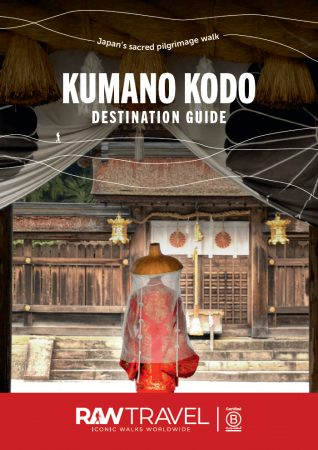 Exclusive Guide
GET INSPIRED
Japan's ancient Kumano Kodo trails are nestled in the verdant mountains of the southern part of the beautiful Kii Peninsula, just south of Osaka. This lush and rugged area has been considered the abode of the Gods and worshipped for centuries.
Our destination guide is bursting with all you need to know about walking the sacred Nakahechi pilgrimage route, the most popular and accessible of all the routes. You'll love the peacefulness and tranquillity of the trail, the food (so elegant and refined!), the onsens (a cherished Japanese ritual), and the traditional family-run guesthouses, full of character and charm.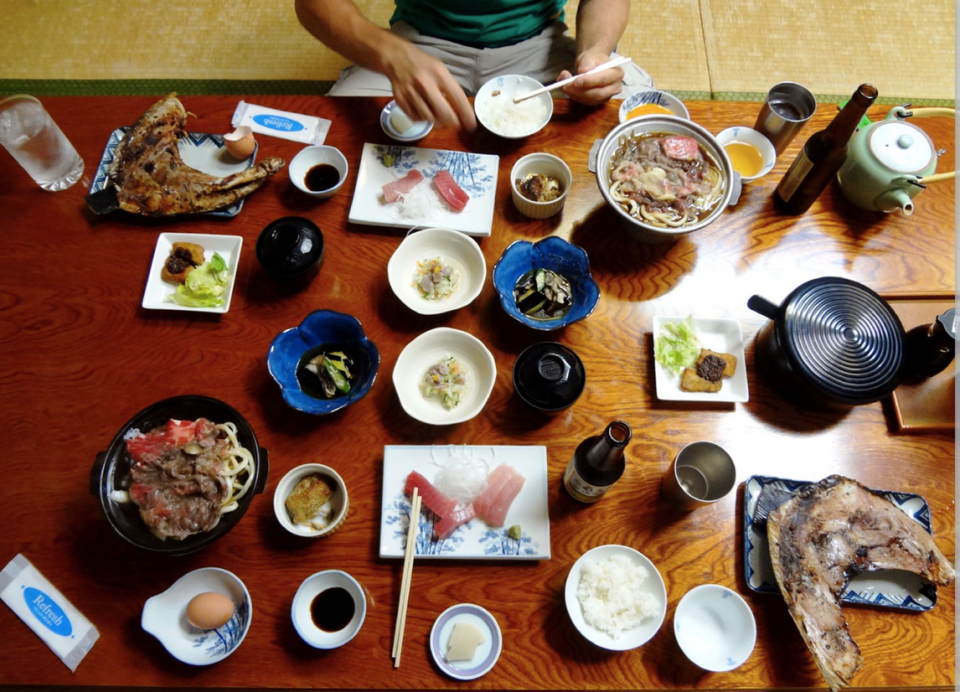 Customer Testimonials
The organisation was very good. Luggage transfers excellent. The variety of accommodation and the hospitality were always a high standard. Loved the experience.
Wendy Spencer, Hobart (TAS) - August 2023
   
Customer Testimonials
Beautiful experience – well put together and executed. Accommodation was superb: traditional Japanese – clean, comfortable, so much fun. Enjoyed the ability to relax knowing food, transport, accommodation and transfers were all sorted.
Lachlan Dodds, Invermay (VIC) - April 2023
   
Customer Testimonials
It was very worthwhile to book through RAW Travel as this took a lot of the work out of organising my Kumano Kodo walk. The accommodation, bookings and luggage forwarding service all went smoothly and the guidebook and info for each walk section, including the bus timetables and alternatives if didn't want to complete some sections, was very helpful. The accommodation was varied and all really good.
Christine Stapleton, Seddon (VIC) – May 2019
   
Customer Testimonials
I am so very happy that I found RAW Travel. They had a great, self-guided trip on offer and I was able to speak with a rep who was knowledgeable and able to tailor my trip to meet my needs. Along with the Japanese culture and exceptional service that is their norm, the trip went very smoothly and far exceeded expectations. It was the perfect balance of hard work during the day as we hiked, balanced by the luxury offered at all of our accommodations with great onsens, excellent meals, clean and comfortable facilities and extra amenities. I will relive this adventure for a long time to come.
Barbara Luedtke, Mountain View (USA) – May 2019
   
Customer Testimonials
I undertook this trip with my daughter and we found it very easy to navigate our way. We both loved Kyoto. We had a great 4 days of hiking on the Kumano Kodo and enjoyed our rest day in the middle near Hongu. We were extremely lucky to have no rain, the weather was glorious. Walking in the forest was beautiful. We saw one bright coloured snake and quite a few hornets. We had no mishaps, loved the accommodation, food, onsens and the Japanese bathhouses were interesting. Highly recommend this trip and so pleased we did it. Thank you RAW Travel for ensuring everything went smoothly for us.
Sandra Bowmer, Miranda (NSW) – April 2018
   
Customer Testimonials
Excellent itinerary enabling us to experience the old, new and beautiful of the Kansai region. Kyoto, Koyasan Nara and the Kumano Kodo trail cover a wide range of incredible cultural experiences, cuisine, history and landscapes. The accommodation on the hike was an authentic provincial Japanese experience with very friendly hosts and great food. The trip notes were perfect for a self-guided tour. We never had any problems with the logistics of the trip thanks to the notes. I highly recommend this trip for people who are keen to have a broad Japan experience.
Andrew Miller, Brighton (VIC) – November 2017
   
Customer Testimonials
RAW Travel provided exactly the right level of support for an amazing trip. The personal contact with the RAW team during the planning stage and at the briefing night prepared us well. The recommended itinerary that included Kyoto, Koyasan and Kumano Kodo was perfect! The quality of the resources (guidebooks etc.) was exceptional and made the self-guide experience just perfect. Thank you!
Wayne Forrest, Oatlands (NSW) – October 2017
   
Customer Testimonials
Such an incredible experience and a real privilege to be exposed to both contemporary Japan and traditional Japanese culture – often in a very intimate way when invited into the family home. The RAW Travel itinerary was perfectly paced – like a slow immersion taking us further from everyday reality…everything a holiday should be. The trekking was breathtaking, challenging and very satisfying. Thank you for the thought and care that obviously went into planning this special experience.
Annette Tsindos, Hawthorn, VIC – July 2017
   
Customer Testimonials
All the personnel who we dealt with at RAW Travel had walked the Kumano Kodo, which gave us the confidence that our questions would be answered with the background of experience. As fit 70+ year olds, but novices to bushwalking, we were concerned that we might have been exceeding our abilities. In reality, every bit of advice was relevant and accurate.
Alexander Denniston, VIC – April 2017
TRIP date selection
when would you like to travel?
Please select your preferred dates for on-demand trips or select a scheduled date for group departures. If you have booked a self-guided trip please understand that because your trip date is on demand and we must check availability of all properties on your chosen dates before it can be fully confirmed