difficulty
Challenging - Strenuous
Overview
The Spring Trip
Spring (March–May) is a wonderful time to hike the Nakahechi Trail | This popular group, self-guided trip is guaranteed to depart on the dates offered | A great option for solo travellers – we'll pair you up with another traveller of the same gender on a twin share basis
This self-guided walking trip combines the freedom and flexibility of a self-guided trek with the support and company of other like-minded travellers. This trip is guaranteed to depart on the dates outlined and is also perfectly timed to make the most of the wonderful spring blossoms.
The Kumano Kodo is a journey through a thousand years of Buddhist history and offers a window into traditional Japan that contrasts strongly with its hyper-modern cities. The Kumano Kodo's rugged, forested mountains, quiet rural valleys, rivers and waterfalls provide a spectacular backdrop for hikers. Arriving at your destination each day the traditional local guesthouses offer reviving onsens and wonderful local food. Hiking the Kumano Kodo really is a great immersion into Japanese culture.
Travelling on your own? No trouble. We will pair you up with another solo traveller of the same gender on a twin share basis.

We are Japan experts! As the first Australian walking company to offer the Kumano Kodo in 2013, we are the most established operator on this trail and have the best local contacts, advice and resources. 
Highlights
Get Ready For
Spring is a wonderful time to hike the Nakahechi Trail
A great option for solo travellers
Trek in a group of like-minded travellers
Soak in an onsen to soothe your muscles and spirit!
Delicious handmade Japanese food with fresh local ingredients
Traditional guesthouses with lots of character and friendly hosts
CLIENT EXPERIENCES
ON THE TRAIL
Join RAW Travellers Robyn and Jan as they walk the Kumano Kodo in Japan to find out what they've enjoyed the most on this iconic walking trail.
READ: 'A Sacred Journey', Jetstar Magazine
Journalist Jayne D'Arcy discovers her inner pilgrim along the Kumano Kodo trail.
Inclusions
What's included?
Included
1 night in Kii-Tanabe (twin share, ensuite)
4 nights in traditional Japanese guesthouses (twin share, shared bathroom)
2 nights in an onsen village in a traditional ryokan (twin share, ensuite)
Daily meals included as listed in the itinerary
Luggage transfers on all trekking days
Briefing in Kii-Tanabe at the start of your walk
RAW Travel's exclusive interactive navigation app
Pre-departure pack including Kumano Kodo guidebook, luggage tags and RAW Travel buff (1 pack per 2 clients travelling together)
Excluded
Local bus tickets
Train tickets to/from trail
Flights to/from destination
Travel insurance
Beverages other than water at meals
Expenses and items of a personal nature
Kumano resources
Finding your way
We have researched and published our own Kumano Kodo Guidebook based on the experiences of many years of running trips here (we were the first Australian company to offer the Kumano Kodo) and have now supplemented this with our exclusive Walking App, designed to help you navigate easily on the trail showing your location in real-time without any internet connection needed. The app has many great features. It shows you weather forecasts localised for each of your overnight stops, and information on the location of each night's accommodation. There are important reminders, safety information, videos, and emergency contact information for your route. It also has a unique audio feature that can tell you about places and points of interest as you approach them on the trail.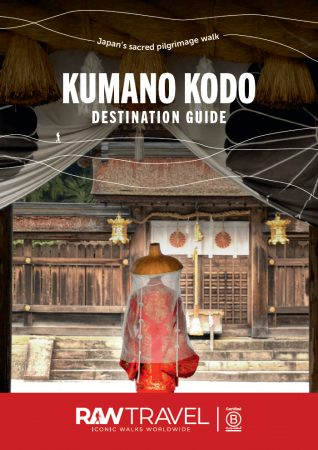 Exclusive Guide
get inspired
Japan's ancient Kumano Kodo trails are nestled in the verdant mountains of the southern part of the beautiful Kii Peninsula, just south of Osaka. This lush and rugged area has been considered the abode of the gods and worshipped for centuries.
Our destination guide is bursting with all you need to know about walking the sacred Nakahechi pilgrimage route, the most popular and accessible of all the routes. You'll love the peacefulness and tranquillity of the trail, the food (so elegant and refined!), the onsens (a cherished Japanese ritual), and the traditional family run guesthouses, full of character and charm.
   
Customer Testimonials
The whole experience was wonderful. Walking in the forest with interesting people. The immersion in Japanese culture and history along the trail and towns. The traditional accommodation with friendly and welcoming hosts. The fabulous food and onsens.
Raquel Gabiola, Canberra (ACT) - April 2023
   
Customer Testimonials
Absolutely wonderful. The whole package was very well organised
Maxine Ross, Uralla (NSW) - April 2023
   
Customer Testimonials
We loved the beautiful and varied scenery, the flowers, the accommodation, especially the first night, the company and people we met along the way. Although not organised through RAW, we visited Koyasan and our monastery stay was a wonderful way to enter into Japanese culture
Josephine Redmond, Manly (NSW) – March 2018 
   
Customer Testimonials
Thank you all so much. The tour was amazing. It was a good group and the material you provided was excellent, as was the accommodation and food. I chose not to walk the 4th day because I had injured my knee 10 days before the hike and was very happy wandering around Kii Katsuura. The alternative options each day are a great idea. Even with my injured knee I had no trouble completing the other three days. In fact on days 2 and 3 I finished ahead of the group by walking at a steady moderate pace and eating lunch as I walked. I would highly recommend this hike and your organisation to my friends and others I meet. Thank you again.
Jan Welsh, Queensland – March 2017
   
Customer Testimonials
Thank you so much for helping us book the amazing Kumano Kodo. We loved our time on the trails and at the guesthouses. This was definitely one of the most amazing walks we have done and a definite highlight of our world tour. We have been loving this part of Japan and are trying to figure out when we can come back. While we were walking, we struck up a friendship with a fellow traveller whom you helped book as well. Like us, he had wonderful things to say about you and was enjoying the walk as well.
Jill & Zachary Stafford – April 2016
TRIP date selection
when would you like to travel?
Please select your preferred dates for on-demand trips or select a scheduled date for group departures. If you have booked a self-guided trip please understand that because your trip date is on demand and we must check availability of all properties on your chosen dates before it can be fully confirmed