difficulty
Challenging - Strenuous
Overview
Guided trip with Mike Rhodes
Join expert guide Mike Rhodes and a small group of fellow travellers on an exciting Kumano Kodo walking adventure | Gain a great understanding of this ancient pilgrimage trail | Hike the full length of the Nakahechi trail | Journey along the Kumano-gawa river in a traditional boat | Stay in a Buddhist monastery in Koyasan
This walk is for experienced hikers and perfect for those who would like more walking days. Under the guidance of an expert local guide and in the company of a small group, enjoy beautiful panoramic views, visit Buddhist temples and Shinto shrines, and take on the wonderful challenge of walking the Kumano Kodo.
The first 3 days are the same as our regular Kumano Kodo, along the Nakahechi route but then we journey to the coast by traditional boat before hiking the last 2 days of the Nakahechi trail back to Hongu. We will then have a day in this area, learning ancient tales and exploring the nearby onsen villages, before travelling on to Koyasan.
Visit all 3 shrines of the 'Kumano Sanzan': Kumano Hongu Taisha, Kumano Hayatama Taisha and Kumano Nachi Taisha. Traditionally, all paths led to Hongu and with this itinerary, you will be walking the sections from Nachisan through to Hongu in the direction that was walked in the past. Your time on the Kumano Kodo also includes Koyasan, home to 115 temples on a venerated Buddhist mountain, the chance to stay in an active Buddhist monastery, and a hike along the Women's Pilgrimage trail.
Travelling on your own? No trouble. We will pair you up with another solo traveller of the same gender on a twin share basis.

We are Japan experts! As the first Australian walking company to offer the Kumano Kodo in 2013, we are the most established operator on this trail and have the best local contacts, advice and resources.
Highlights
Get Ready For
Gain a great understanding of this ancient pilgrimage trail
Hike the Nakahechi route of the Kumano Kodo
Journey along the Kumano-gawa river in a traditional boat

Learn about traditional daily Buddhist rituals while staying at a temple in Koyasan.

Enjoy an immersive experience staying in local ryokans with warm, local hosts.

Be enlightened by the experience, enthusiasm and knowledge of your local guide Mike Rhodes
History
Over 1000 years
The trails of the Kumano Kodo are a series of ancient pilgrimage routes, dating back over 1000 years, in Japan's beautiful Kii Peninsula, an area also strongly associated with nature worship. At one time Japan's Imperial family and former emperors made the pilgrimage trips from Kyoto to the shrines of Kumano, one of Japan's most sacred sites. The Kumano Kodo's rugged, forested mountains, quiet rural valleys, rivers and waterfalls provide a spectacular backdrop for hikers. Arriving at our destination each day, the traditional local guesthouses offer reviving onsens and wonderful local food.
Inclusions
What's included?
Included
Service of a qualified expert guide for the duration of the tour
1 night in Kii-Tanabe (twin share, ensuite)
3 nights in traditional Japanese guesthouses (twin share, shared bathroom)
3 nights in an onsen village in a traditional ryokan (twin share, ensuite)
2 nights in a Buddhist monastery in Koyasan (twin share, shared bathroom)
Daily meals included as listed in the itinerary
Luggage transfers on the Kumano Kodo on all trekking days and days 4 & 8
Briefing in Kii-Tanabe at the start of your walk
Pre-departure pack including Kumano Kodo guidebook, detailed notes, luggage tags and RAW Travel buff (1 pack for 2 people travelling together)
Traditional boat ride from Hongu area to Shingu
Group taxi transfers to/from the accommodation on days 1 & 2
Bus ticket from Hongu to Koyasan
Excluded
Local bus tickets
Train tickets to/from Kii-Tanabe and departing Koyasan
Flights to/from destination
Travel insurance
Beverages other than water at meals
Expenses and items of a personal nature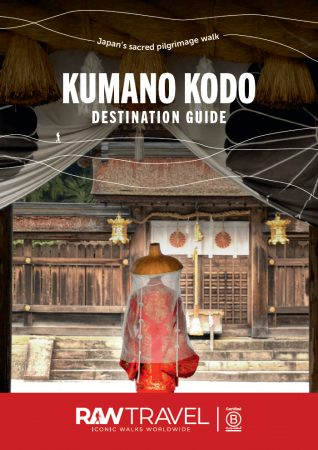 Exclusive Guide
GET INSPIRED
Japan's ancient Kumano Kodo trails are nestled in the verdant mountains of the southern part of the beautiful Kii Peninsula, just south of Osaka. This lush and rugged area has been considered the abode of the gods and worshipped for centuries.
Our destination guide is bursting with all you need to know about walking the sacred Nakahechi pilgrimage route, the most popular and accessible of all the routes. You'll love the peacefulness and tranquillity of the trail, the food (so elegant and refined!), the onsens (a cherished Japanese ritual), and the traditional family run guesthouses, full of character and charm.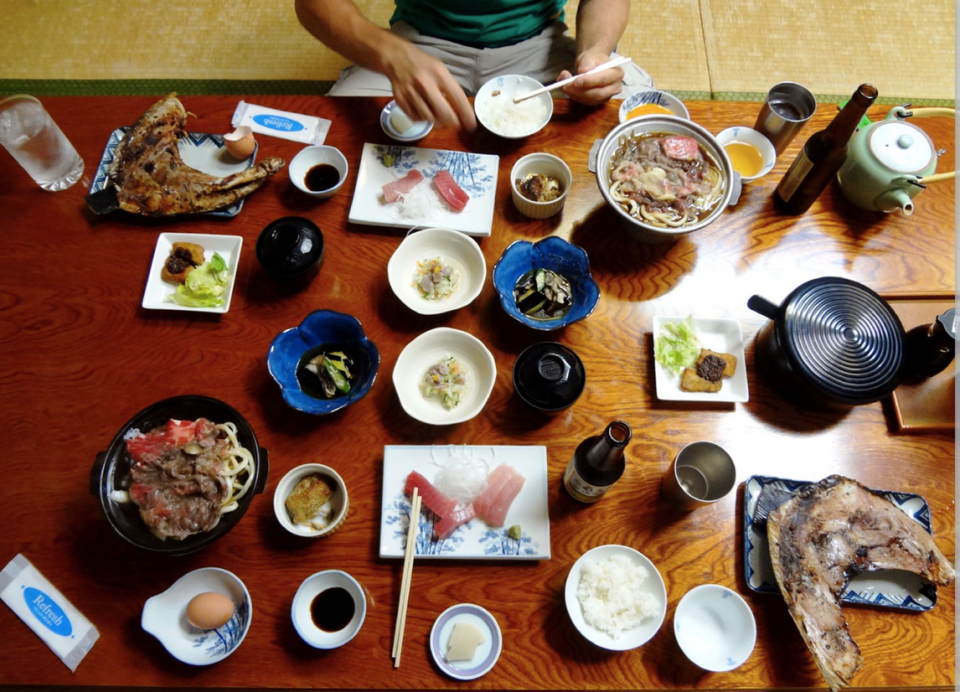 Customer Testimonials
This trip was made very special by having Mike Rhodes guide it. It would have been a very different and much less rich trip without him. Enjoyed his knowledge and experience of the area, the beauty of the Kii Peninsula and the incredible culture of the Japanese over centuries. The accommodation was exceptional.
Kathleen Murphy, Port Melbourne (VIC) - May 2023
   
Customer Testimonials
I've been with groups before but never with a guide of Mike Rhodes' calibre. Wonderful experience seeing an expert in his element. Even though weather and trail conditions threw us some curves, Mike always had an alternative that worked with little compromise.
Donald Mulraney, Pennsylvania (USA), May 2023
   
Customer Testimonials
Mike guided our RAW Travel Kumano trip and was the perfect tour leader. His knowledge of the area and his respect for the Japanese people shined as was his fun and enthusiastic nature. We would absolutely recommend Mike for any future trips and thank him for making our time on the Kumano Kodo so special.
Stephanie Lorenzo, Sydney NSW
   
Customer Testimonials
I LOVED Mike, I honestly think he was the best part of the walk for me which is saying a lot as it is absolutely spectacular, but his knowledge of the landscape, history, religion and culture is so rich that everything you pass he brings to life, its then not just a beautiful tree, its a whole story and legacy. His energy and enthusiasm as well as incredible.
   
Customer Testimonials
Mike is an incredible guide. He is knowledgeable, fluent in Japanese, great fun to be around, organised, thoughtful and really knows the Kumano Kodo. Could not fault him in any way, he is an incredible guide 10/10.
Leanne Troy, Mount Eliza (VIC)
   
Customer Testimonials
We had a fantastic trip to Japan and walking the Kumano Kodo. RAW Travel were great to deal with from day one and we would highly recommend their services when next planning your hiking adventure. Food was delicious, scenery beautiful and the cultural experience incredible. Thanks again to the team for all their assistance and planning.
John O'Brien, Highton (VIC)
Your Trip leader
Mike Rhodes
Your guide Mike Rhodes lives in this region and knows it intimately. Mike loves to share the sacred, ancient heart of Japan, with everyone he can and loves not only the people and the forests, but its secrets, its mythology, its goblins, legends and heroes. After more than 20 years living, working, and rearing a family in Japan, Mike is still exploring, still telling stories, still wandering and waiting for the next guest with whom to share a tale or two.
TRIP date selection
when would you like to travel?
Please select your preferred dates for on-demand trips or select a scheduled date for group departures. If you have booked a self-guided trip please understand that because your trip date is on demand and we must check availability of all properties on your chosen dates before it can be fully confirmed