difficulty
Moderate - Challenging
Overview
Nakasendo way
This self-guided walking trip combines the freedom and flexibility of a self-guided trek with the support and company of other like-minded travellers | Guaranteed to depart on the dates outlined | Travelling on your own? We'll pair you up with another solo traveller of the same gender on a twin-share basis.
Japan's Nakasendo Way – or Central Mountain Route – was one of five major routes established by the Shogunate (Military Dictator) during the Edo period (1603–1868). The route is 533km long and has 69 post towns, which were set up to feed and accommodate the feudal lords, Samurai and merchant travellers. The ancient way passes through the Kiso Valley wedged between two of Japan's sacred Mountains (Mt Ontake 3067m and Mt Komagatake 2956m) and is one of Japan's most breathtaking and scenic areas.
You will travel on the ancient paved paths known as ishidatami, pass hidden waterfalls, walk through stunning cedar and cypress forests and numerous wayside shrines. Stay overnight in family-run ryokans and enjoy the wonderful well-preserved ancient villages of Nakatsugawa, Magome, Tsumago, Kiso-Fukushima and Narai, and taste the local delights of the Kiso Valley and Gifu Prefecture.
Highlights
Get Ready For
Trek in a group of like-minded travellers
A journey through the heart of Japan
Walk on the original ishidatami (stone paving) dating back over 400 years
Visit the post towns of Nakatsugawa, Magome, Tsumago, Kiso Fukushima, Narai
Follow in the footsteps of the Tokugawa Shogun and the Samurai during the Edo period (1603–1868)
On the Trail
The experience
The Nakasendo Way offers picturesque, tranquil walking and a variety of trail conditions as you progress along the Kiso Valley. Much of the time you will be walking through fields and rural villages and enjoying gentle inclines that can be taken at a comfortable pace. In the forest you will be walking on a track that can be wet or uneven underfoot. In the more built-up areas the path itself is asphalt, while at its wildest it becomes unformed grit winding between alpine conifers. For sections in between these two extremes, the path is clad in what's known as ishidatami – a traditional style of stone paving.
Included
7 nights in traditional Japanese guesthouses/inns (ryokan)
Daily meals (as listed in the itinerary)
Luggage transfers on your hiking days
Pre-tour briefing in Mitake
Local and Australian emergency contacts
RAW Travel's exclusive interactive navigation app
Excluded
Flights
Local bus and train tickets
Travel insurance
Beverages other than water at meals
Expenses and items of a personal nature
Lunches on all days (we have recommended places to eat)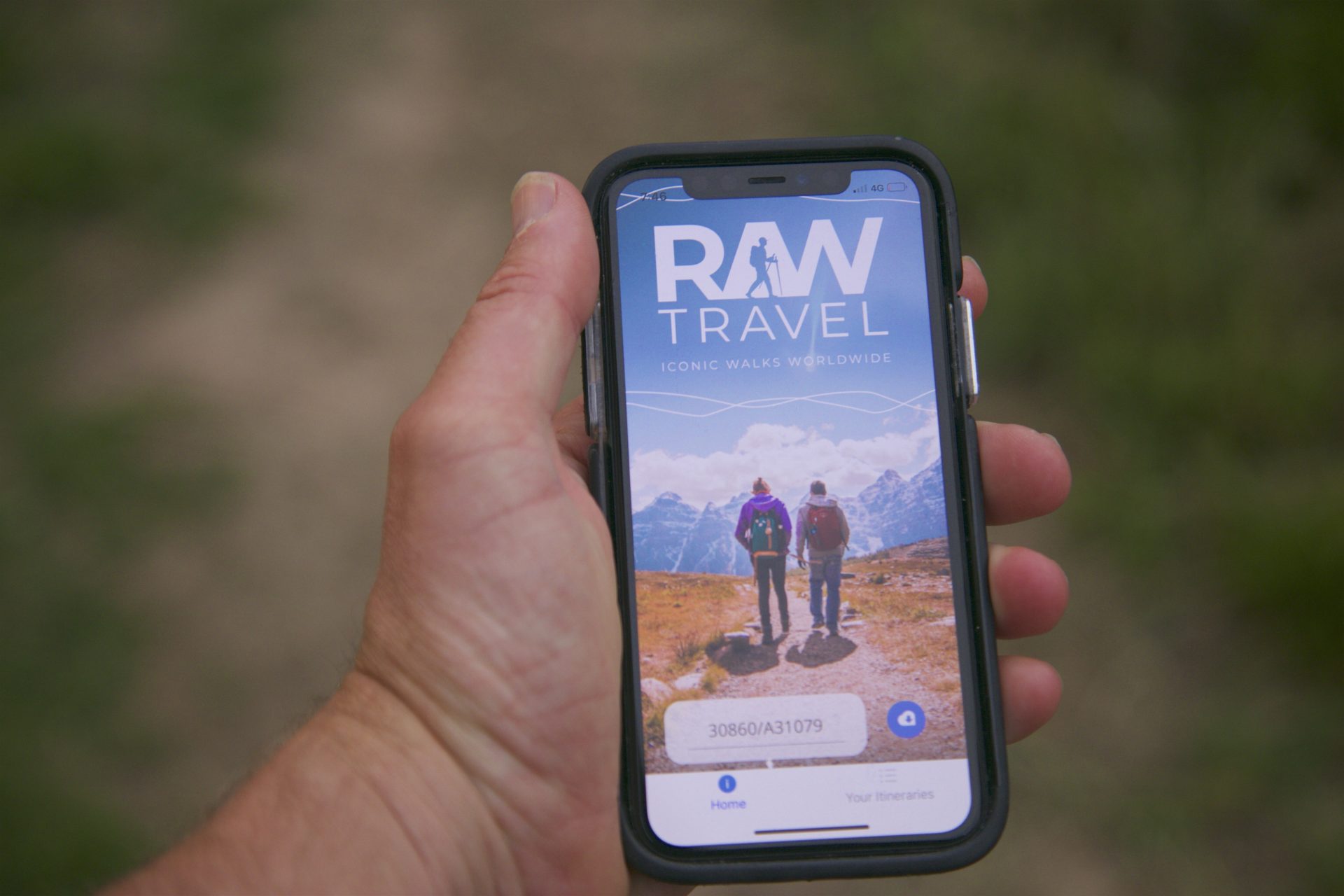 Walking app
Finding your way
Our unique RAW Travel walking app has been designed to help you navigate easily on the Nakasendo Way, as this is a route with not much English signage. Simply download your map with the unique link we send you and you'll be able to follow your route with ease, showing your location in real-time without any internet connection needed or referring to cumbersome pages of notes. The app has many great features; it shows the location of each night's accommodation, and weather forecasts localised for each of your overnight stops. There is information on how and where to catch the trains you need and there are important reminders, safety information, videos and emergency contact information for your route. It also has a unique audio feature that can tell you about places and points of interest as you approach them on the trail.
Exclusive Guide
get inspired
Ready to step back in time and discover a centuries-old road through the mountains of central Japan? The Nakasendo Way is a stunning 94km journey from Mitake to Narai. Steeped in history, much of this walk weaves through the picturesque Kiso Valley. The 'post towns' strung out along the route give an enticing and authentic glimpse into Japan's past.
There is so much to discover on this route! Find out more in our comprehensive destination guide – it's bursting with inspiration, travel essentials, practical information and more!
   
Customer Testimonials
We had a most amazing experience. Japan is a beautiful country and walking on the Nakasendo Way was magical. It was easy to navigate our way along the trail. The Ryokan's were authentic and the Japanese people were hospitable and delightful.
Elizabeth Ford, NSW – March 2019
   
Customer Testimonials
The self-guided instruction complemented the adequate signposting well and the accommodation was fantastic.
Susan Drummond, VIC – May 2019
   
Customer Testimonials
Wonderful experience. All of the accommodation was traditional – which I found so interesting. A chance to immerse myself into a small part of Japanese culture. Walking the Nakasendo Way was a step back in time.
Sandra Lynne Davidson, VIC – April 2019
   
Customer Testimonials
Loved the challenge of the trek and 'the Japaneseness' of the total experience. Very well organised, excellent communication.
Patricia Todd, Carine (WA) – Nov 2017
   
Customer Testimonials
Loved the experience, the culture and the epic scenery.
Patrick OCarrigan, Strathfield (NSW) – October 2019
Our self-guided walk on the Nakasendo Way during autumn was awesome in every way! Beautiful scenery, accommodation, hosts, food and experiences. Degree of difficulty was as described. The walk left us all feeling completely relaxed and invigorated at the same time. Highly recommended.
Dianne Williamson, Newport (VIC) – November 2019
TRIP date selection
when would you like to travel?
Please select your preferred dates for on-demand trips or select a scheduled date for group departures. If you have booked a self-guided trip please understand that because your trip date is on demand and we must check availability of all properties on your chosen dates before it can be fully confirmed