difficulty
Moderate - Challenging
Overview
Nakasendo Way
Japan's Nakasendo Way – or Central Mountain Route – was one of five major routes established by the Shogunate (Military Dictator) during the Edo period (1603–1868). The route is 533km long and has 69 post towns, which were set up to feed and accommodate the feudal lords, Samurai and merchant travellers. The ancient way passes through the Kiso Valley wedged between two of Japan's sacred Mountains (Mt Ontake 3067m and Mt Komagatake 2956m) and is one of Japan's most breathtaking and scenic areas.
You will travel on the ancient paved paths known as ishidatami, pass hidden waterfalls, walk through stunning cedar and cypress forests and numerous wayside shrines. Stay overnight in family-run ryokans and enjoy the wonderful well-preserved ancient villages of Nakatsugawa, Magome, Tsumago, Kiso Fukushima and Narai, and taste the local delights of the  Kiso Valley and Gifu Prefecture.
Highlights
Get Ready For
A journey through the heart of Japan
Walk the historical Nakasendo Way through the Kiso Valley
Walk on the original ishidatami (stone paving) dating back over 400 years
Visit the post towns of Nakatsugawa, Magome, Tsumago, Kiso Fukushima, Narai
Following in the footsteps of the Tokugawa Shogun and the Samurai during the Edo period (1603–1868)
On the Trail
The experience
The Nakasendo Way offers picturesque, tranquil walking and a variety of trail conditions as you progress along the Kiso Valley. Much of the time you will be walking through fields and rural villages and enjoying gentle inclines that can be taken at a comfortable pace. In the forest you will be walking on a track that can be wet or uneven underfoot. In the more built-up areas the path itself is asphalt, while at its wildest it becomes unformed grit winding between alpine conifers. For sections in between these two extremes, the path is clad in what's known as ishidatami – a traditional style of stone paving.
The video shows the beautiful Kiso Valley and some of the cultural attractions of the Post towns that comprise the route of the Nakasendo Way.
Inclusions
What's included?
Included
6 nights in traditional Japanese guesthouses/inns (ryokan)
Daily meals (as listed in the itinerary)
Luggage transfers on your hiking days
Pre-tour briefing in Mitake
RAW Travel's exclusive interactive navigation app
Local and Australian emergency contacts
Excluded
Flights
Local bus and train tickets
Travel to Mitake from Nagoya Station
Single supplement
Travel insurance
Beverages other than water at meals
Expenses and items of a personal nature
Lunches on all days (we have recommended places to eat)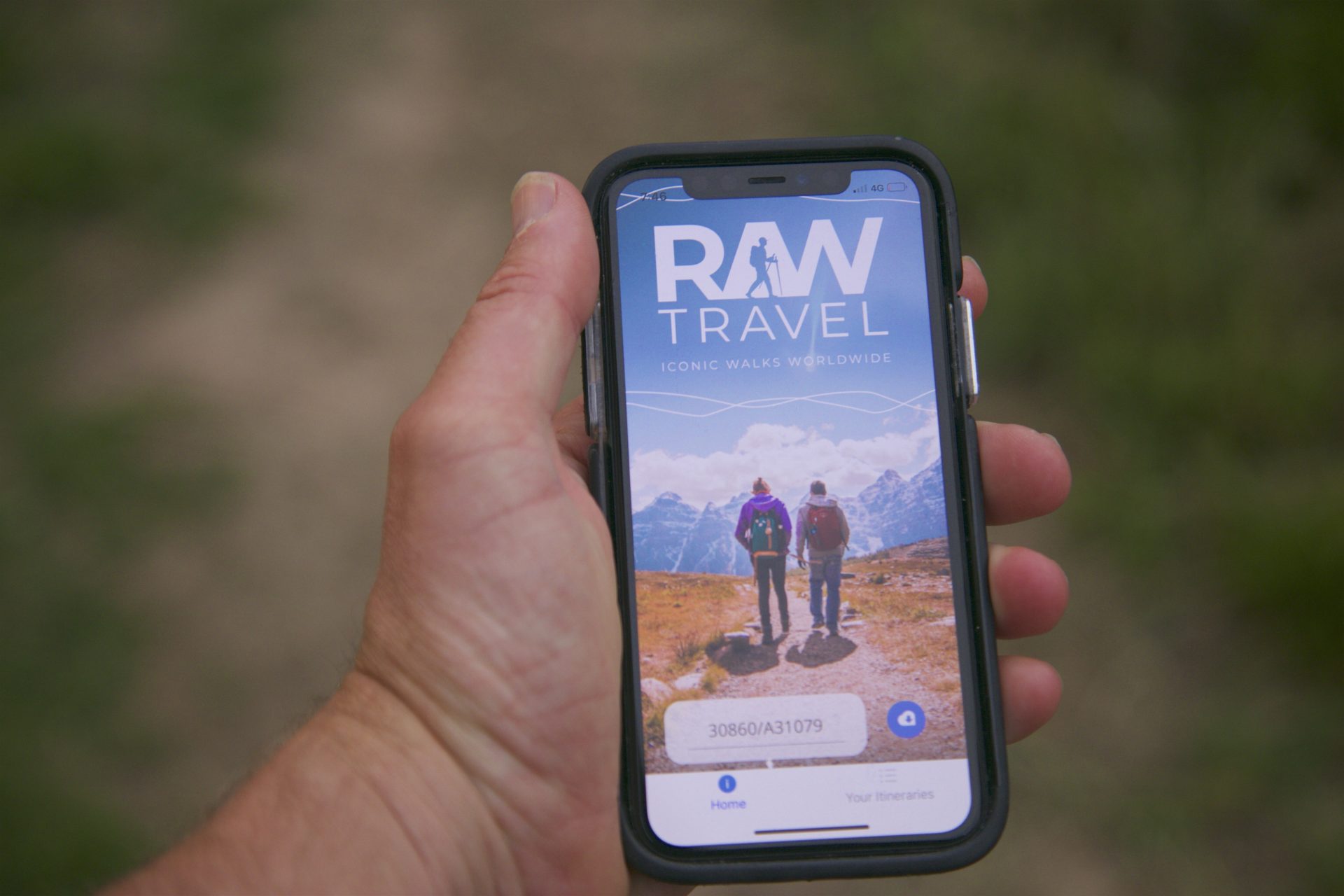 Walking App
FINDING YOUR WAY
Our unique RAW Travel walking app has been designed to help you navigate easily on the Nakasendo Way, as this is a route with not much English signage. Simply download your map with the unique link we send you and you'll be able to follow your route with ease, showing your location in real-time without any internet connection needed or cumbersome pages of notes. The app has many great features; it shows the location of each night's accommodation, and weather forecasts localised for each of your overnight stops. There is information on how and where to catch trains you need and there are important reminders, safety information, videos and emergency contact information for your route. It also has a unique audio feature that can tell you about places and points of interest as you approach them on the trail.
Exclusive Guide
get inspired
Ready to step back in time and discover a centuries-old road through the mountains of central Japan? The Nakasendo Way is a stunning 94km journey from Mitake to Narai. Steeped in history, much of this walk weaves through the picturesque Kiso Valley. The 'post towns' strung out along the route give an enticing and authentic glimpse into Japan's past.
There is so much to discover on this route! Find out more in our comprehensive destination guide – it's bursting with inspiration, travel essentials, practical information and more!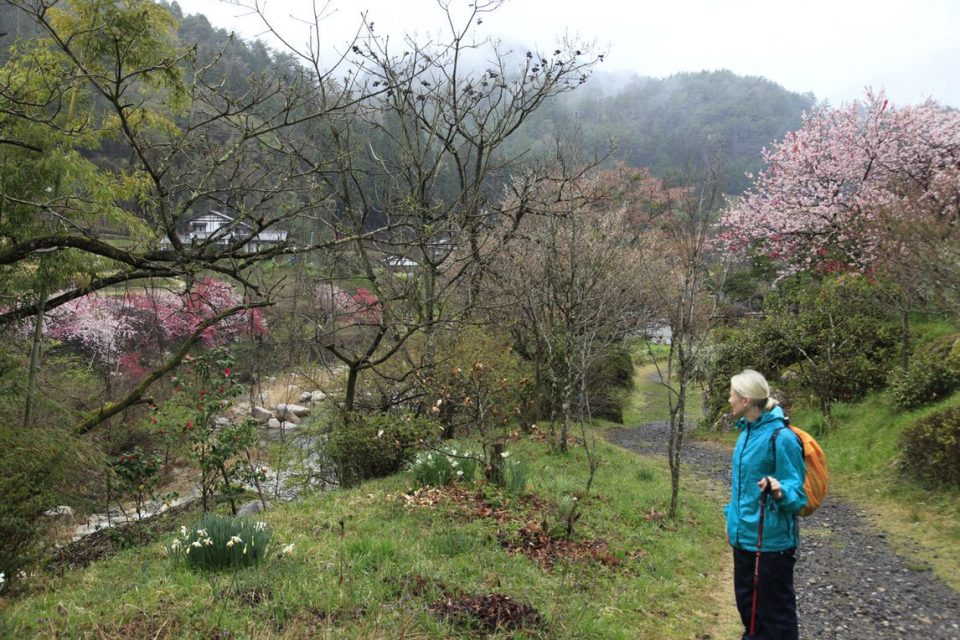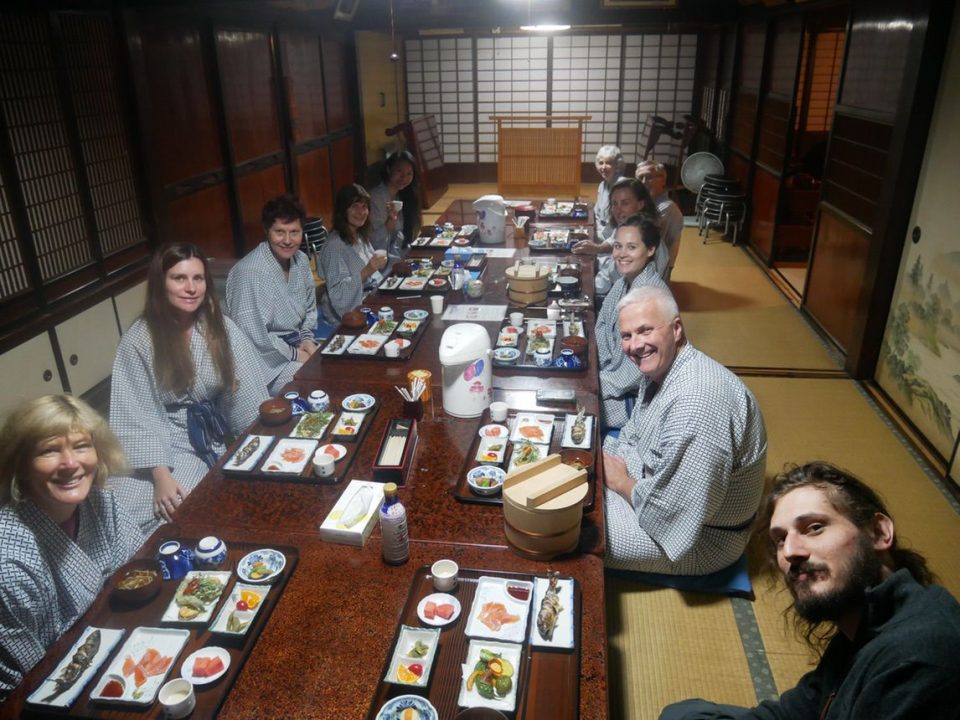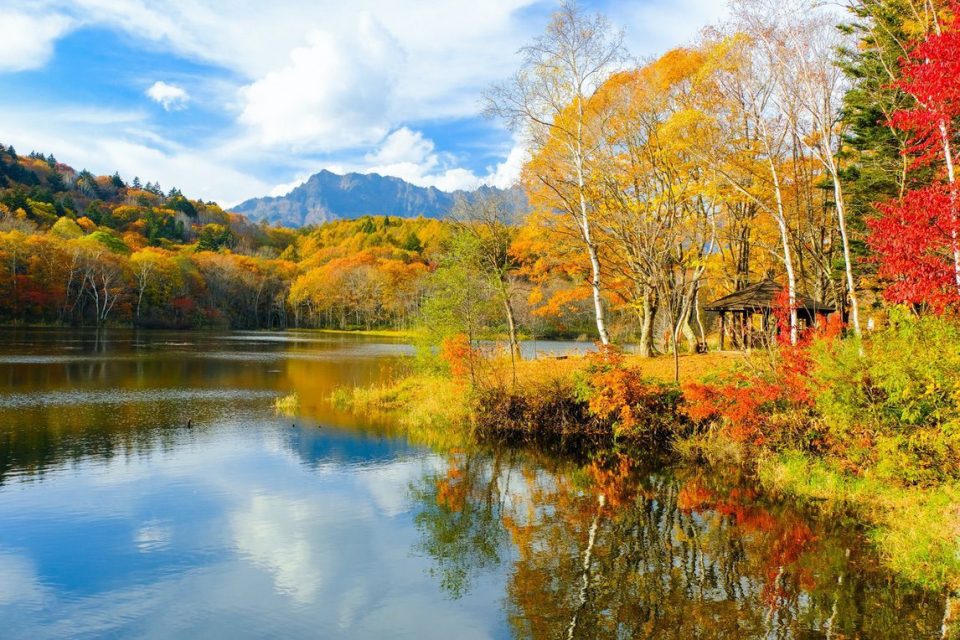 Customer Testimonials
Fantastic experience! I was sad when it was over. Loved the beautiful countryside, getting up close look at the areas we walked through, and the sense of satisfaction.
Rosemary Mathlin, Greenwich (NSW) - June 2023
   
Customer Testimonials
We enjoyed the walk very much. Chris was extremely helpful and quick to answer any questions we had. Loved having everything organised for us including forwarding luggage.
Jill Toohey, Redfern (NSW) - June 2023
   
Customer Testimonials
Our journey along the Nakasendo Way was everything we'd hoped it would be. The app, route preparation notes and the initial contact in Japan were faultless and seamless in preparing us for the impending adventure. Then we began an amazing cultural, scenic and soul-fulfilling journey. Immersed daily in tradition, nature, history and mystery. Thank you so much. We will remember this experience for many years to come. Your contribution in making this memorable trip a reality is very much appreciated.
Karen & Vivien (QLD) - April 2023
   
Customer Testimonials
Our Nakasendo Way journey was incredible. Walking beside rivers and through forests then arriving to an onsen and fabulous Japanese cuisine – heavenly. RAW Travel were incredible: great communication, excellent service and a competitive price. Could not recommend this experience enough.
Cherie Butcher, Beaconsfield (WA) - April 2023
   
Customer Testimonials
We walked the Nakasendo Way with the cherry blossom trees in full bloom. We did not plan for this extraordinary spectacle. All our interactions with the Japanese people were delightful. The ryokan in Hosokute was fantastic and the ryokan at Nakatsugawa was beyond belief. It was extraordinarily beautiful.
May Tompson, Dunbible (NSW) - April 2023
   
Customer Testimonials
Had a brilliant time! Loved seeing the countryside of Japan outside of the major cities. We had a great group so we all had a very fun time together. Cherry blossoms were spectacular! We honestly had the best weather too, sunshine every day.
Elizabeth Robertson, High Range (NSW) - April 2023
   
Customer Testimonials
Our self-guided walk on the Nakasendo Way during autumn was awesome in every way! Beautiful scenery, accommodation, hosts, food and experiences. Degree of difficulty was as described. The walk left us all feeling completely relaxed and invigorated at the same time. Highly recommended.
Dianne Williamson, Newport (VIC) – November 2019
   
Customer Testimonials
We loved staying in the ryokans and meeting our wonderful hosts. The food was exceptional; the trail beautiful and varied. We met people who were there to do the main three historic villages but are pleased that we chose to do the longer trail with RAW Travel. The travel notes and photographs were really helpful.
Jennifer Elizabeth Allan, Auckland (NZ) – November 2019
   
Customer Testimonials
A wonderful hiking holiday through beautiful Japanese hills and forests – with mostly traditional accommodation to enhance the experience. Maps, accommodation, meals and portage all worked well, making for a stress-free holiday.
Christopher Humphreys, Brunswick (VIC) – September 2019
   
Customer Testimonials
The Nakasendo Way was an amazing opportunity to see Japan at its best in terms of history, culture and food. The scenery and natural environment of Japan was spectacular. The itinerary provided us with the experiences of both traditional and modern Japan. Our stay in ryokans was fabulous as was the introduction to many new foods and customs. Another great walking experience!
Patricia Williams, Guildford (NSW) – September 2019
   
Customer Testimonials
We had the best experience and everything was thought of well in advance – from accommodation to our Guide, Ukky.
Tania Frazer, Tyabb (VIC) – May 2019
   
Customer Testimonials
My girlfriend and I booked the Nakasendo Way tour of 8 days, 7 nights – absolutely awesome! From the first briefing of our tour until the end of our trip, we were kept completely informed by RAW Travel. I will definitely be looking at booking my next holiday experience with RAW Travel.
Gabrielle Herbert, Dromana (VIC) – May 2019
   
Customer Testimonials
RAW Travel has become our 'go to' travel expert when we begin planning another walking adventure. From planning to organising, staff are friendly, helpful and have first-hand experience. From walking notes, to bag service and accommodation, everything meets our expectations.
Patrice Scales, Brighton (VIC) – April 2019
   
Customer Testimonials
Wonderful hike and cultural experience. I loved the ryokans – where the owners where so welcoming and provided amazing food that we had never seen or eaten before. The hike was just enough to challenge us but not overwhelm us. The guide who met us at the beginning of the walk was very helpful. Everything went to plan. The cherry blossoms were an added bonus we didn't expect.
Ann Louise Whitehouse, Brookfield (QLD) – April 2019
   
Customer Testimonials
Trip was fabulous! We were met at the agreed time and provided good information. The first ryokan was amazing. The hosts met us in the street and were marvellous. The walking was great a mixture of villages, forest, mountains. The autumn colours were unexpected and fabulous.
Vicki Tyler, Geraldton (WA) – November 2018
   
Customer Testimonials
Loved the variety of ryokans, cuisine and cultural experiences, the beauty of the autumn foliage and scenery, and friendliness of the locals. Ukky, our local contact, was so helpful and responsive. He always made sure that in spite of the luggage hassles, we were having a good time and not letting that spoil our trip. We were so grateful to Sakai in Daikokuya, Masa in Nagataki and Masabi in Tsutaya who went above and beyond to show us the best of Japanese hospitality.
Frieda, NSW – November 2018
   
Customer Testimonials
Highlights of this trip were meeting the 16th generation innkeepers at Ichikawa in Hosokute, and the fabulous food and private tub with a view in Kiso-Fukushima. The food was actually fabulous at all the places we stayed.
Richard Ledgar, Peregian Beach (QLD) – October 2018
TRIP date selection
when would you like to travel?
Please select your preferred dates for on-demand trips or select a scheduled date for group departures. If you have booked a self-guided trip please understand that because your trip date is on demand and we must check availability of all properties on your chosen dates before it can be fully confirmed