difficulty
Moderate - Challenging
Overview
Kiso Valley Highlights
Japan's Nakasendo Way – or Central Mountain Route – was one of five major routes established by the Shogunate (Military Dictator) during the Edo period (1603–1868). The route is 533km long and has 69 post towns, which were set up to feed and accommodate the feudal lords, Samurai and merchant travellers. The ancient way passes through the Kiso Valley wedged between two of Japan's sacred Mountains (Mt Ontake 3067m and Mt Komagatake 2956m) and is one of Japan's most breathtaking and scenic areas.
You will travel on the ancient paved paths known as ishidatami, pass hidden waterfalls, walk through stunning cedar and cypress forests and numerous wayside shrines. Stay overnight in family-run ryokans and enjoy the wonderful well-preserved ancient villages of Nakatsugawa, Magome, Tsumago, Kiso-Fukushima and Narai, and taste the local delights of the Kiso Valley and Gifu Prefecture.
Highlights
Get Ready For
A short hike offering a great introduction to walking in Japan
Walk the historical Nakasendo Way through the Kiso Valley
Original ishidatami (stone paving) dating back over 400 years
Understand the history of the Nakasendo Way with our local guide
Visit the post towns of Nakatsugawa, Magome, Tsumago, Kiso-Fukushima and Narai
Following in the footsteps of the Tokugawa Shogun and the Samurai during the Edo period (1603–1868)
On the trail
The experience
The Nakasendo Way offers picturesque, tranquil walking and a variety of trail conditions as you progress along the Kiso Valley. Much of the time you will be walking through fields and rural villages and enjoying gentle inclines that can be taken at a comfortable pace. In the forest you will be walking on a track that can be wet or uneven underfoot. In the more built-up areas the path itself is asphalt, while at its wildest it becomes unformed grit winding between alpine conifers. For sections in between these two extremes, the path is clad in what's known as ishidatami – a traditional style of stone paving. Watch the video to get good insights into the scenic beauty and cultural attractions of the Kiso valley and its Post Towns.
Inclusions
What's included?
Included
4 nights in traditional Japanese guesthouses/inns (ryokan)
Daily meals (as listed in the itinerary)
Luggage transfers on your hiking days
Pre-tour briefing at your hotel in Nakatsugawa
RAW Travel's exclusive navigation app
Local and Australian emergency contact
Excluded
Flights
Local bus and train tickets
Single supplement
Travel insurance
Beverages other than water at meals
Expenses and items of a personal nature
Lunches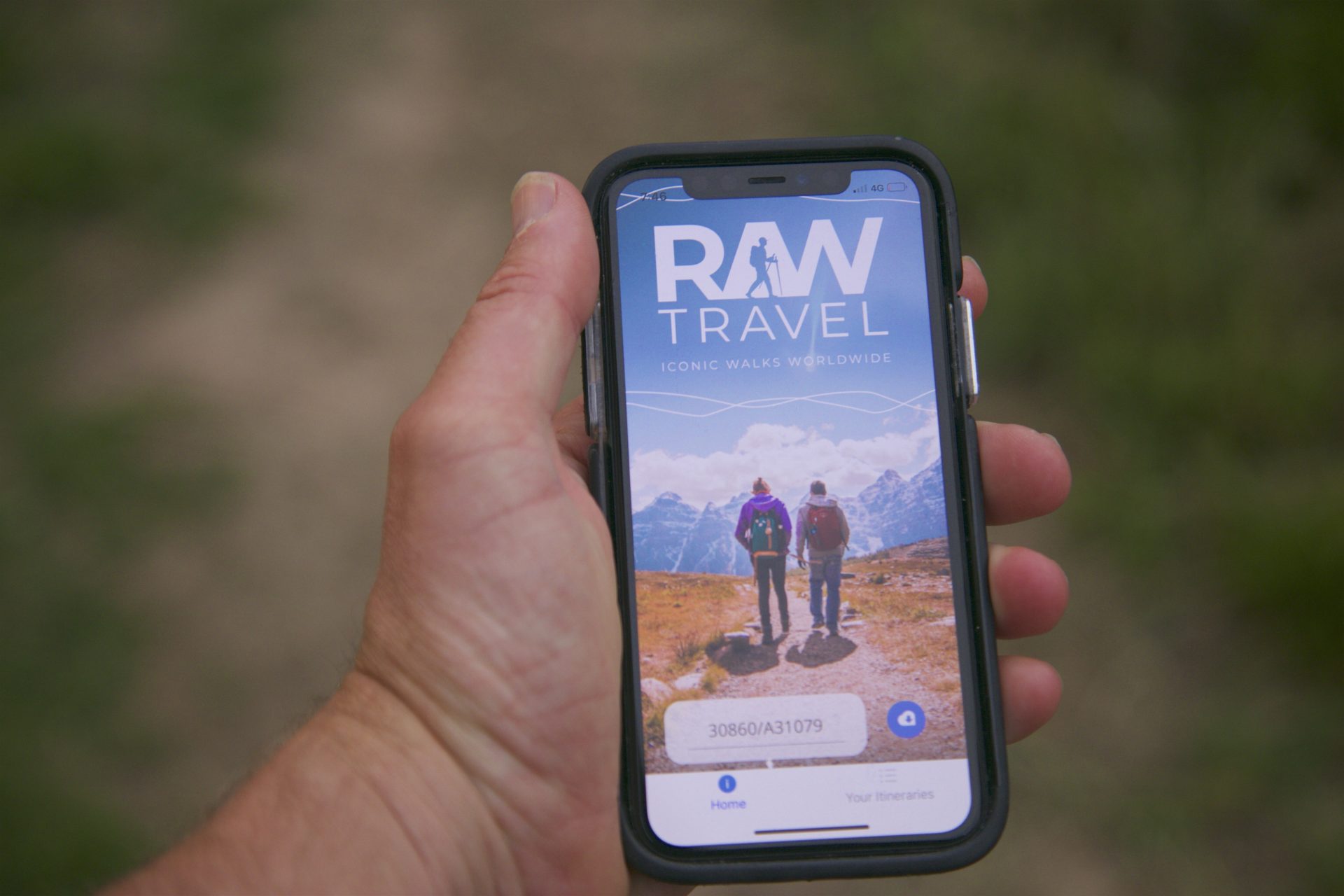 Walking app
Finding your way
Our unique RAW Travel walking app has been designed to help you navigate easily on the Nakasendo Way, as this is a route with not much English signage. Simply download your map with the unique link we send you and you'll be able to follow your route with ease, showing your location in real-time without any internet connection needed or cumbersome pages of notes. The app has many great features; it shows the location of each night's accommodation, and weather forecasts localized for each of your overnight stops. There is information on how and where to catch the trains you need and there are important reminders, safety information, videos and emergency contact information for your route. It also has a unique audio feature that can tell you about places and points of interest as you approach them on the trail.
Exclusive Guide
get inspired
Ready to step back in time and discover a centuries-old road through the mountains of central Japan? The Nakasendo Way is a stunning 94km journey from Mitake to Narai. Steeped in history, much of this walk weaves through the picturesque Kiso Valley. The 'post towns' strung out along the route give an enticing and authentic glimpse into Japan's past.
There is so much to discover on this route! Find out more in our comprehensive destination guide. It's bursting with inspiration, travel essentials, practical information and more!
   
Customer Testimonials
We can't thank you enough. We had the most fantastic trip. Amazing, memorable, once-in-a lifetime experience. The scenery and nature was unbelievable; the accommodation and food were incredible. The App in particular is brilliant!
Kate Denborough, Northcote (VIC) - April 2023
   
Customer Testimonials
Everything was excellent – the walk, the ryokans, our initial guide, as well as the app showing the route, which made it easy.
Tim Woods, California (USA) - August 2023
   
Customer Testimonials
Thoroughly recommend this walk to experience a different aspect of Japan. It was seamlessly organised by RAW Travel and our traditional ryokan accommodations were really good.
Phillipa Marshman, NSW – October 2019
   
Customer Testimonials
This was my partner and my first trekking experience and we were a little apprehensive. After arriving at our first destination and having our meeting with a RAW Travel employee, we were instantly put at ease. The whole experience was wonderful in every way. The traditional accommodation choices were very clean and spacious. The food was absolutely delicious and plenty of it and the surroundings peaceful and picturesque. The trekking was heaps of fun and achievable. We loved it!
Ambra Smarrelli, Balwyn North (VIC) – October 2019
   
Customer Testimonials
The walk to Tsumago was breathtaking. The postal towns were marvellous to behold but the quiet warmth and desire to help displayed by the Japanese people is my lasting memory. Stunning trip and enjoyable beyond our expectations.
Lee Hilton, NSW – September 2019
   
Customer Testimonials
Loved the traditional accommodation and exquisite Japanese food. Loved walking through the sensational scenery and meeting the Japanese people. Everything was well mapped out. A truly exceptional experience.
Helen Newbiggin (QLD) – June 2019
   
Customer Testimonials
We had such a great trip. The itinerary was perfect – with a mixture of forest walking, exploring villages and open farmland. The accommodation was excellent and the meals a real highlight. The planning by RAW Travel was excellent. An exceptional experience overall.
Jennifer Bryant, VIC – June 2019
   
Customer Testimonials
The meal on the first night at Nakatsugawa was probably one of the best I have ever had anywhere in the world. It was superb! The hot tub and food in Kiso Fukushima was also very good and the people in general along the way were so wonderful.
Graham Schultz, NSW – April 2019
   
Customer Testimonials
Our 'Highlights of the Nakasendo Way' self-guided walk was everything we could have hoped for. The local accommodation and food were exceptional. The immersion in local culture fabulous and the mixture of trails through small villages, forests and farmland kept us stimulated and intrigued. What a wonderful experience. My only complaint would be that we didn't want it to end! Thank you RAW Travel – our walking tour was definitely the highlight of our Japanese sojourn.
Kim Elise Brodie, Bulimba (QLD) – April 2019
   
Customer Testimonials
Three days of beautiful mountain, rural and urban walking was complemented with the unique experience and high levels of service in the ryokans. Overall, a wonderful journey that is highly recommended.
Peter and Helena Coon, NSW – March 2019
   
Customer Testimonials
The trek itself was breathtakingly stunning. All the accommodation was truly beautiful and the hospitality shown by the hosts was sublime. The food they all provided was beyond our expectations. This was a truly memorable trip.
Sharyn Bailey, VIC - December 2018
   
Customer Testimonials
We thoroughly enjoyed our trip on the Nakasendo Way. The organisation of the trip and the notes were very helpful. We met like-minded people from our country and walked the whole way with them. Loved the local cuisine at each destination and enjoyed walking through the local farming areas, trying to guess their processes. The weather was perfect and the local people very helpful and friendly. It was good to have everything organised and paid for before we left home.
Beth Gales, Byawatha (VIC) – November 2018
   
Customer Testimonials
Fabulous experience in a unique environment. Had two stupendous dinners that required photographs of practically every exquisite dish. It was great to enjoy our private onsen in Kiso–Fukushima looking across at the mountain range. The walks were wonderful, accompanied by gushing streams and waterfalls or the silence of tall, dark forests. Except for the Magome–Tsumago leg, which was full-on, there were very few other walkers around. We enjoyed the little cultural insights too – the kimonos to wear for dinner, special socks and slippers, the procedure before bathing in the onsen. Such an interesting experience from a cultural, environmental and culinary viewpoint!
Dianne Averis, Kingswood (SA) – October 2018
   
Customer Testimonials
I loved the service that was provided – the RAW Travel team and the hosts went above and beyond expectations to make sure I was comfortable and well-equipped for the experience. I experienced a side of Japan I would have missed if I had only visited the major cities.
Aimee Scurr, Scarborough (QLD) – July 2018
TRIP date selection
when would you like to travel?
Please select your preferred dates for on-demand trips or select a scheduled date for group departures. If you have booked a self-guided trip please understand that because your trip date is on demand and we must check availability of all properties on your chosen dates before it can be fully confirmed