difficulty
Moderate - Challenging
Overview
Swiss Rail and Hike
Switzerland, with its pristine alpine landscapes, is a country that beckons outdoor enthusiasts from around the world. This trip combines two of Switzerland's most legendary mountain villages and glorious alpine hikes with Swiss Rail Journeys including the iconic Glacier Express. If you have ever wanted to explore some of the best alpine scenery and hiking in Switzerland then this is the trip you've been waiting for. The first stop is Zermatt, home to the Matterhorn, one of the most iconic peaks in the world. Its distinctive pyramid shape dominates the landscape and hiking in this region allows you to witness breathtaking alpine vistas, including pristine glaciers, lush meadows, deep valleys, and rugged peaks. The Zermatt valley is dotted with charming mountain huts and lodges where hikers can rest, refuel, and enjoy traditional Swiss cuisine. Hütten hopping, or hut-to-hut hiking, is a popular way to explore the area and savour the local culture.
After exploring Zermatt we move onto our next stop, Lauterbrunnen, with the option for an iconic train ride to get there. The Glacier Express train journey in Switzerland is often referred to as one of the most scenic train rides in the world and is often called the "slowest express train in the world" because it prioritises leisurely travel, allowing passengers to truly appreciate the scenery. You'll be treated to panoramic vistas of snow-capped peaks, deep valleys, pristine forests and charming mountain villages.
While Switzerland boasts numerous breathtaking destinations for hiking, the Lauterbrunnen Valley stands out as a true gem. Nestled in the heart of the Swiss Alps, this valley offers a hiking experience like no other, combining dramatic waterfalls, lush meadows, and towering peaks to create a hiker's paradise. On this trip, we'll explore the joys of hiking in the Lauterbrunnen Valley and on the high Alpine trails surrounding it. Hiking in the Jungfrau and Eiger Range of Switzerland is an unforgettable adventure that takes you into the heart of one of the most dramatic and majestic mountain landscapes on Earth. Whether you're drawn to challenging trails that offer up-close encounters with legendary peaks or prefer leisurely walks through alpine meadows, this trip caters to every Swiss hiker's dream.
Highlights
Get Ready for
Spectacular Alpine walking on Switzerland's most famous trails
Experience the iconic Matterhorn and Eiger mountains up close
Walk through idyllic Swiss valleys and Alpine meadows
Ride the Glacier Express, one of the world's greatest rail journeys
Enjoy a stay in the mountain meccas of Zermatt and Lauterbrunnen
Flexible walking distances with mountain transport and options
On the Trail
The Experience
There is a range of different trail conditions on this trip but for the most part they are well-defined and trodden mountain paths, that are easy to follow and mostly dirt or gravel. Gradients will vary according to the particular section and day; the walks we have chosen will appeal to hikers of intermediate fitness and experience. They are not too demanding and utilise some of the available local transport options to avoid steep, long climbs. The trails on this trip are generally well-signed and maintained so should not present any great difficulty in wayfinding when combined with our App for real-time navigation.
Train Travel
Swiss Rail Pass
This trip includes a 3-day Flexi Swiss Rail Pass, which will cover your arrival day transport to Zermatt, the day from Zermatt to Lauterbrunnen and your departure day from Lauterbrunnen to your next destination. You can use the pass to travel on any regular train but we are also recommending that you experience the Glacier Express from Zermatt to Brig (day 4) and on your departure day from Brig to Chur if you are travelling onwards and exiting Switzerland via Zurich. The Glacier Express takes train travel to another level and is one of the world's greatest train journeys. You will need to make a separate reservation for each journey on the Glacier Express and a small fee applies (more details in FAQ's below).
Best time to visit
Good time to visit
Average time to visit
Closed
Map
Explore
Zermatt
Zermatt is a charming Swiss alpine village nestled at the base of the majestic pyramid-shaped Matterhorn. The town is surrounded by breathtaking scenery and has picturesque chalet-style architecture and car-free streets. Visitors typically arrive by train, and electric taxis and horse-drawn carriages provide transportation within the town.
CLICK ON A PIN TO REVEAL INFORMATION ABOUT THAT LOCATION
The Matterhorn
The Matterhorn (4478m) is one of the most iconic and recognisable mountains in the world. It is known for its distinctive and symmetrical pyramid shape with four steep faces, and is often described as one of the most beautiful mountains in the world. In Zermatt you'll find the Matterhorn Museum, which is dedicated to the history and culture of the region. It provides insights into the mountain's first ascent, the lives of early alpinists, and the impact of tourism on the area.
Gornergrat
The Gornergrat is a spectacular ridge (3135m) that offers some of the most breathtaking panoramic views of the surrounding mountains, including the iconic Matterhorn. To reach the Gornergrat, you can take the Gornergrat Railway, one of the highest cogwheel railways in Europe. The scenic train journey itself is an attraction, winding through alpine forests and meadows before reaching the summit.
Trift Hutte
At 2337m, Trift Hutte is a true mountain hut, accessible only by foot, and with stunning views. No less impressive is the apple tart, baked fresh and providing a welcome excuse for a stop! If you're really lucky, you'll hear the magical Swiss Horn being played, with the echoes from the nearby cliffs making this an unforgettable experience.
Zmutt
Zmutt is characterised by its traditional Swiss chalet-style architecture. The village features well-preserved wooden houses with steeply pitched roofs, making it a charming and photogenic location.
Lauterbrunnen
Lauterbrunnen is the gateway to the Jungfrau region, a UNESCO World Heritage Site known for its majestic peaks, including the Eiger, Mönch, and Jungfrau. You can easily access the Jungfrau Railway from here to the flanks of the Jungfrau. This high-altitude saddle offers panoramic views of the Aletsch Glacier, the longest in the Alps, and the surrounding peaks. In the Lauterbrunnen Valley there are a total of 72 waterfalls, the most famous of which are the Staubbach Falls and Trümmelbach Falls.
Mürren
Mürren is surrounded by towering mountain peaks, including the Eiger, Mönch, and Jungfrau. The village itself sits at an altitude of approximately 1,650m and offers panoramic views of the surrounding snow-capped peaks and pristine alpine landscapes. Mürren gained international fame as a filming location for the James Bond film "On Her Majesty's Secret Service." The revolving Piz Gloria restaurant atop the Schilthorn, accessible from Mürren, was featured prominently in the movie.
Kleine Scheidegg
Kleine Scheidegg is a high mountain pass in the Bernese Oberland region. It offers incredible views of the world-famous North Face of the Eiger.
Inclusions
What's Included?
Included
3 nights twin-share accommodation in Zermatt
4 nights twin-share accommodation in Lauterbrunnen
Quality hotels, centrally located and with ensuite facilities
Daily breakfast
3-day Swiss Travel Pass (Flexi) for rail transfers to Zermatt/ to Lauterbrunnen/ Departure day
Daily hiking routes and suggestions
On-trail navigation with our App
Carbon offset for your trip
Native tree planted on your behalf
Not Included
Additional transport costs not included in the Swiss Travel Pass – mountain railways, cable cars, funiculars, buses
Reservation required for the Glacier Express (made by yourself )
Lunches and dinners
Travel Insurance
Single supplement $1090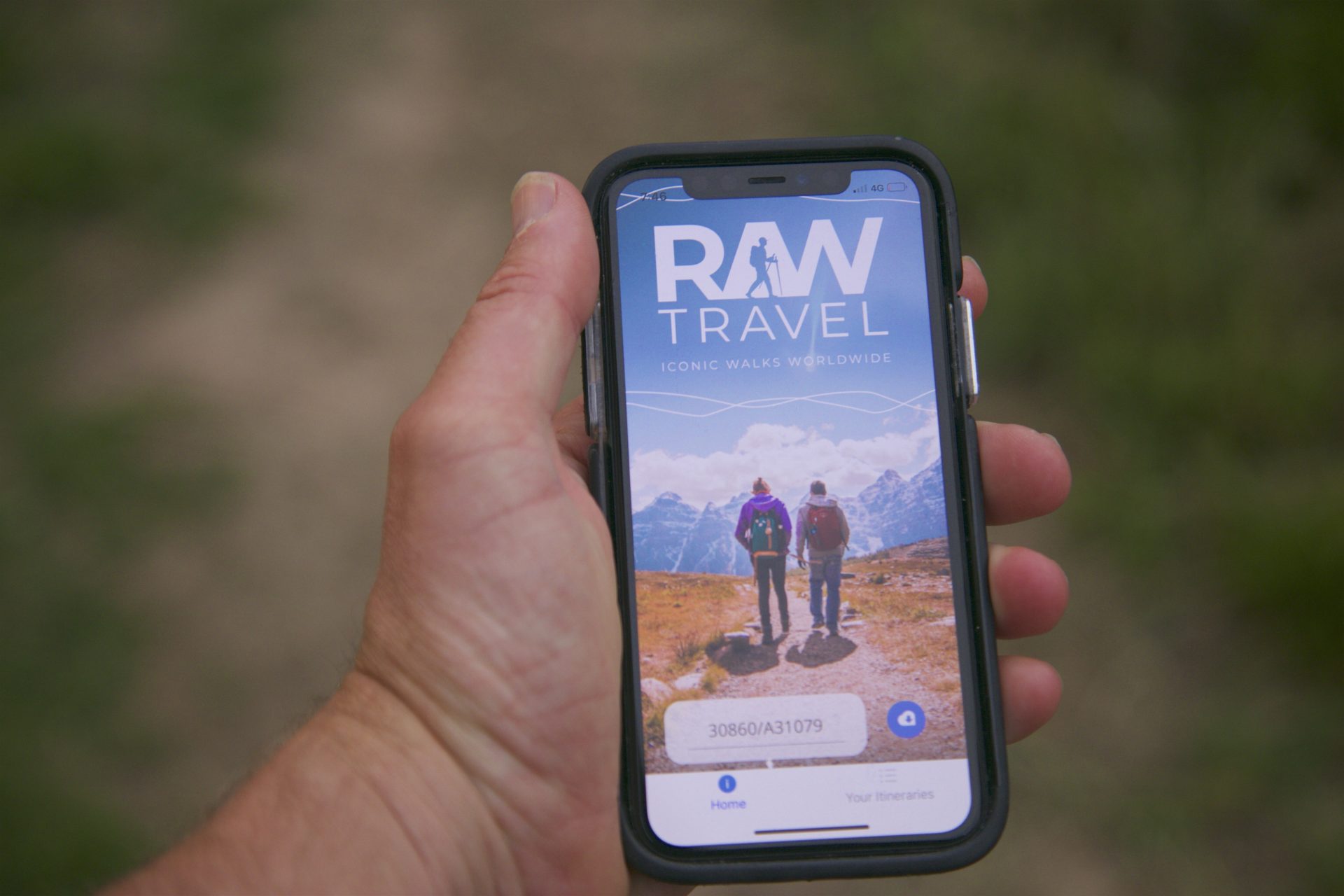 Walking App
Finding Your way
Our unique RAW Travel walking app has been designed to help you navigate easily on the trail. Simply download your map with the link we send you and you'll be able to follow your route with ease, showing your location in real-time without any internet connection needed. The app has many great features; it shows you weather forecasts localised for each of your overnight stops, detailed information on each overnight stop and what facilities are available there. There are important reminders, safety information, videos and emergency contact information for your route. It also has a unique audio feature that can tell you about places and points of interest as you approach them on the trail. We also provide you with a Guidebook to fall back on for extra information and maps.
EXCLUSIVE GUIDE
GET INSPIRED
Our comprehensive Destination Guide is bursting with inspiration, travel essentials, background information and more! Essential reading to help you plan, prepare and enjoy a memorable trip in the Alps.
SIMILAR WALKS
EUROPEAN ALPS
TRIP date selection
when would you like to travel?
Please select your preferred dates for on-demand trips or select a scheduled date for group departures. If you have booked a self-guided trip please understand that because your trip date is on demand and we must check availability of all properties on your chosen dates before it can be fully confirmed