Overview
Dolomites Traverse
Witness the grandeur of the Dolomites on this 11-day itinerary that provides the support and valuable interpretation of an experienced guide, comfortable accommodation and fabulous local food. Each day will captivate your imagination as you trek through forests, meadows, lush alpine pastures, past emerald lakes and jagged peaks.
Providing inspiration to artists and trekkers alike, this region will astound you with its wild beauty of varied terrain and scenery. You will begin to understand why this striking pink-grey mountain range is listed as a UNESCO World Heritage Site.
On our Dolomites Traverse you'll journey from east to west, passing through three provinces (one more than the 8-day Circuit Trek). The ascents and descents are the same as the Circuit. There is a rest day in San Cassiano and fewer transfers on the Traverse (bar a few cable car trips). With more days in total, there are more opportunities to experience cultural experiences such as local museums and churches, as well as mixing it up with cycling and spa time.
Highlights
Get Ready For
Some of the best sections of the Alta Via1 and Alta Via 2

Led by our

International Mountain Leaders
Marvel at the spectacular mountain scenery
Local specialities, perfect coffee, great company
Experience Italian hospitality at its finest
The experience
On the Trail & Video
The trails on the Dolomites can be narrow, steep and quite exposed in sections. Dizzying heights and steep slopes are a feature of the walks in this area. The Dolomites are not suitable for people who experience vertigo. The terrain is often uneven, rough, rocky and hard underfoot. Each day you will be trekking distances from 16–24km. Occasionally your guide will take a different route because of weather, group fitness or trail closure. Please ensure that you are fit enough to comfortably trek long days, including ascents and descents of 1000m+. Speak to our Destination Expert if you have any concerns about your ability to undertake this trek.
Best time to visit
Good time to visit
Average time to visit
Closed
Map
Explore
San vito di Cadore
The mountain town of San Vito di Cadore is nestled at the foot of majestic peaks in a broad green valley, just 11km from Cortina d'Ampezzo. It is an ideal jumping-off point for trekking in the Dolomites.
CLICK ON A PIN TO REVEAL INFORMATION ABOUT THAT LOCATION
Croda da Lago
Situated a few kilometres southwest of Cortina d'Ampezzo, the jagged peaks of the Croda da Lago mountain range (2715m) are an iconic feature of the Dolomites. There is a pretty little lake below the towering rock walls.
Cortina d'Ampezzo
Surrounded by towering peaks, including the iconic Tofane, Cristallo, and Cinque Torri, this bustling town in the heart of the Dolomites is a major hub for locals and visitors and the perfect place to enjoy delicious Italian coffee and scrumptious strudel before another big trekking day. Its charming pedestrian streets are perfect for leisurely strolls, and the historic center features picturesque churches and charming squares.
Fanes-Sennes-Braies Nature Park
The Fanes Dolomites is home to fascinating Ladin legends as well as stunning scenery – shady larch forests, magnificent gorges with crystal-clear blue water, and views of the stark limestone peaks. As you are now in South Tyrol you will notice a more Austrian influence, be it in the lederhosen and traditional outfits of the staff or the goulash and apple strudel at dinner. As well as the excellent Italian wines you can now enjoy a Tyrolean beer!
Rifugio Fodara Vedla
Nestled in a vast green basin in the heart of Fanes-Senes-Braies Natural Park, this authentic high mountain hut (1980m) is a family-run gem. The setting offers stunning views of jagged peaks and panoramas, and the meals here are outstanding – crispy salads from the rifugio's garden, handmade pasta dishes and Tyrolean specialties.
San Cassiano
This friendly, secluded cosmopolitan mountain village is known for its Michelin-starred restaurants, stunning chalets and glorious sunshine. It offers a picture-perfect Italian Alps experience with fairytale vistas of the toothed peaks of the Dolomites.
Arabba
This tiny and charming village nestled within the Fodom valley at the base of the imposing Sella massif offers views of some of the most beautiful and breathtaking peaks of the Dolomites. Arabba is home to many of the ancient Ladin traditions that make the Dolomites so unique and appealing.
Canazei
Canazei is one of the treasures of the province of Trento, located in a magnificent, lush hollow on the northern border of Val di Fassa. Its excellent location, history and long tradition of hospitality have made it one of the most famous destinations in the Dolomites.
Rifugio Tierser Alpl
The outstanding refuge Tierser Alpl is situated on the saddle of the same name. It is perched high in the mountains and is an excellent place to view the famous Dolomite sunset. Max Aichner, a mountain guide from Tiers, realised his idea of building his own refuge 50 years ago. Over the years, the refuge has been adapted to the needs of the times, but its spirit has remained the same.
Bolzano
Austria meets Italy in this town hidden away in the mountainous region of South Tyrol. Don't miss the 5300-year-old corpse named Ötzi.
Inclusions
What's included?
Included
10 nights accommodation in small hotels and refuges
Qualified and experienced International Mountain Leader
Daily meals as outlined above

Local briefing in San Vito di Cadore

Private rooms on trek (with the exception of 2 nights in remote areas where multi-share may be required)
Transportation where needed on the trek

Luggage transfers on all but two trekking days (where you will stay in remote mountain locations)
Excluded
Flights and transport to and from the tour
Travel insurance
3 dinners and 1 lunch
Expenses of a personal nature
Single supplement
Your leaders
International Mountain Leaders
We have our own staff of experienced and qualified International Mountain Leaders. Not only do they know the trek routes exceptionally well but they will excel in looking after you; your safety is our priority in an alpine environment. All our guides are native English speakers, so clear communication is never an issue.
Exclusive Guide
get inspired
Our comprehensive Destination Guide is bursting with inspiration, travel essentials, background information and more! Essential reading to help you plan, prepare and enjoy a memorable trip in the Alps.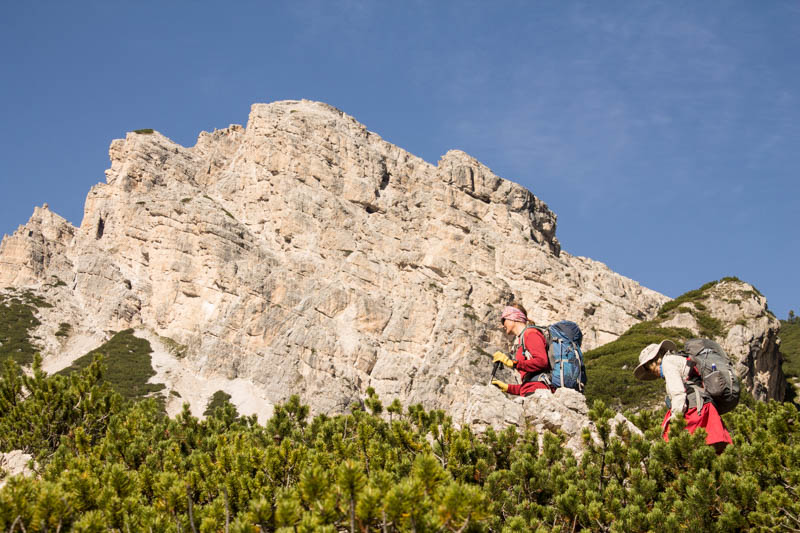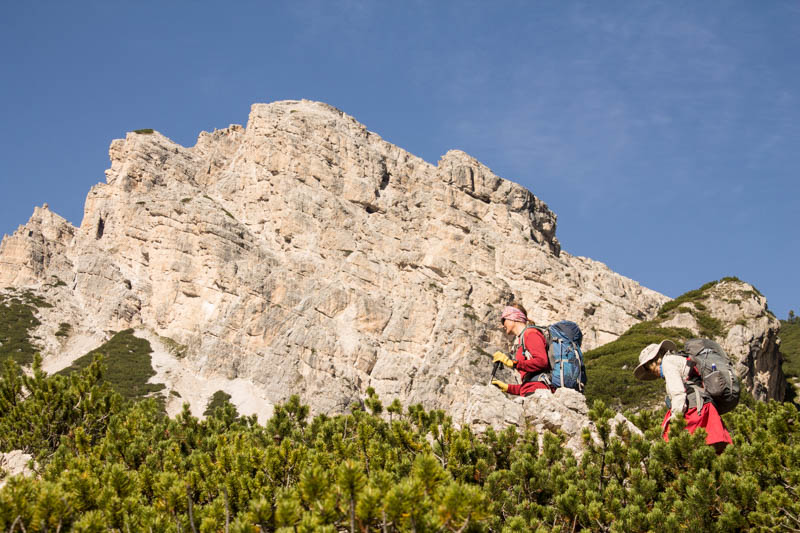 Customer Testimonials
What a wonderful trek! It was everything we hoped it would be. Spectacular scenery, fantastic food, accommodation, guide and great group of enthusiastic fellow trekkers.
Michele McCarthy, St Ives (NSW) – September 2023
   
Customer Testimonials
The whole trek was a wonderful experience. Our guide, Dave Barber, did an awesome job in making this a trip of a lifetime. Very professional – making sure all the logistics were spot on everyday as well as being knowledgeable about the history and uniqueness of where we trekked. He also made sure we were all challenged with the pace but had fun along the way.
Cornelia Mckee, Karalee (QLD) – July 2019
   
Customer Testimonials
I had high expectations for this trip which were amazingly exceeded. The scenery was so much more spectacular in real life than any photos could try to convey. The walk was challenging but the rewards more than outweighed the effort. Can't speak highly enough of our guide Diane. She was just so knowledgeable and helpful and engaging with each and everyone of us. The enjoyment I got from this trip was, in a large part, due to her. The hotels and Rifugios we stayed at were also wonderful. This was my second trip with RAW Travel as a solo traveller. As with the first, everything went so enjoyably smoothly without a single hitch. I enjoyed it so much that I'm sure a third trip with RAW Travel is not far away!
Stephen Youla, Pascoe Vale South (VIC) – July 2019
   
Customer Testimonials
The itinerary was amazing. Every day was very different. Different landscapes, accommodations, tracks. Our guide was knowledgeable and helpful in every way. I would absolutely recommend this hike to everyone. Truly unique.
Joylene Cooke, Sorrento (WA) – July 2019
   
Customer Testimonials
Loved my Dolomites trip. The scenery was spectacular. The Dolomites are overwhelmingly majestic, and it was an amazing place to trek. Our guide, Diane, ensured that the trip was flawlessly organised. All I had to do was enjoy! Great people. Great accommodation and food. Great experience.
Angela Maltby, Te Puke (New Zealand) – June 2019
   
Customer Testimonials
Exceptional trip in every way – with Diane absolutely superb in looking after all the needs of every group member and being such an excellent guide.
Stuart Spalding, Maleny (QLD) – June 2019
   
Customer Testimonials
The scenery was amazing and each day offered different experiences including natural beauty, physical challenge and culture. David Barber was an excellent guide who was quick to assist or guide people through difficult sections as well as catering for different desires and limitations. The overnight stay at Fodara Vedla was simply stunning and a great experience including Austrian folk music, venison goulash and apple strudel. Overall, the food provided by the hosts was just incredible and a cultural experience on its own. Loved the whole trip and would recommend to anyone interested in an active holiday.
Andrew Perkins, Paddington (QLD) – September 2018
   
Customer Testimonials
The Dolomites walk was really good. It is such an amazing landscape. And Diane is a great guide. She really knows what she's doing. She was very conscious of how each walker was going and kept an appropriate pace and eye on things. The accommodation, meals, transfers and the overall itinerary worked really well. I've now done several guided multi-day walks both in Australia and overseas and Diane is certainly the best guide I have come across. Thanks for a really good trip!
CB (NSW) – September 2018
   
Customer Testimonials
Our guide Diane was so passionate about the Dolomites and a seriously experienced mountaineering guide. She gave us the most incredible experience and lasting memories of this beautiful area by choosing daily hikes that provided jaw-dropping scenery plus lots of fun and adventure. The hiking was physically challenging but our group worked well together and encouraged each other when it got tough and Diane was always there for each of us. I would go back in a heartbeat and do it all again! Just loved this trip!
Margaret Jones, Hawthorn East (VIC) – July 2018
   
Customer Testimonials
Our guide Diane was so passionate about the Dolomites and a seriously experienced mountaineering guide. She gave us the most incredible experience and lasting memories of this beautiful area by choosing daily hikes that provided jaw-dropping scenery plus lots of fun and adventure. The hiking was physically challenging but our group worked well together and encouraged each other when it got tough and Diane was always there for each of us. I would go back in a heartbeat and do it all again! Just loved this trip!
Margaret Jones, Hawthorn East (VIC) – July 2018
   
Customer Testimonials
Thanks RAW Travel for an exceptionally enjoyable tour of the Dolomites. You have a special treasure in Diane McGuinness; we found her passionate about the Circuit Trek that she has created. Diane made sure everyone was looked after, right down to the tiniest detail. She was supportive and understanding during the times on the trail when I felt anxious. This happened a few times when crossing snow on the trail and some high points that, in my opinion, were "hairy". Diane was by my side on those occasions and I appreciate the care she took with Peter and me during those times. We also give 10/10 for accommodation and lunch stops. Our favourite was the Refuge de Fodara after a big day ascending to our overnight accommodation on Day 4, although we loved all of the hospitality provided during our 8 days Dolomites Circuit.
Tina & Peter Wintour, Mermaid Waters (QLD), June 2018
   
Customer Testimonials
A fantastic experience! The itinerary was brilliantly organised so we could experience varying terrains in these amazing mountains and stay in comfortable refuges/family hotels with great local food; and our guide was extremely professional, knowledgeable, flexible, caring and great company.
Lyndenanne Dziedzic, NSW – July 2016
   
Customer Testimonials
This is the second RAW Travel trek we have been on and again it is an adventure that we shall always remember. The trek was very carefully planned to provide a variety of experiences including different terrain, scenery, top quality food, hospitality and accommodation. Our leader was fantastic not only was Dianne fluent in Italian but her knowledge of the area was outstanding and she could adjust each day as the weather dictated. This trek was a little more difficult than the TMB, being steeper ascents and descents and stonier underfoot but the challenge was so worth it. The mountain scenery in the Dolomites is as spectacular as you can get and this trek is designed to provide you with a taster from high meadows, rocky outcrops to traversing across well trodden scree trials.
Frances Rogers, Fremantle (WA) – June 2016
Similar walks
European Alps
TRIP date selection
when would you like to travel?
Please select your preferred dates for on-demand trips or select a scheduled date for group departures. If you have booked a self-guided trip please understand that because your trip date is on demand and we must check availability of all properties on your chosen dates before it can be fully confirmed