Overview
Dolomites Circular Trek
The Dolomites are part of the Alps but with their own unique geology and landscape. They are best known for their incredible sheer peaks, the startling colours of their rocks at sunset and the idyllic beauty of their flower-filled meadows. This original and varied landscape in northeastern Italy has now been given UNESCO World Natural Heritage status. The network of trails we use show off the beauty of the landscape and are enriched by the historical interest of the sites.
The startling rose-tinted limestone peaks of the Dolomites are arguably the most beautiful mountains in the world. Every valley that we pass on our 8-day Dolomites Circular Trek retains its own unique culture, architecture and landscape. Each day we hike up to the ridges and descend into the valleys below, with time to enjoy views of classic Dolomite peaks. As well as magnificent hikes and the odd marmot, you'll visit the trenches from the mountain frontline of WWI and enjoy fabulous local food and wine.
Highlights
Get Ready For
Experience Italian hospitality at its finest
Marvel at the spectacular mountain scenery
Visit the trenches from the mountain frontline of WWI
Walk with an experienced International Mountain Leader
Enjoy local specialities, perfect coffee and great company
The experience
On the trail & Video
The trails on the Dolomites can be narrow, steep and quite exposed in sections. Dizzying heights and steep slopes are a feature of the walks in this area, so you need to be prepared for this. The Dolomites are not suitable for people who experience vertigo. The terrain is often uneven, rough, rocky and hard underfoot. Please speak to our Destination Expert should you have any questions or concerns about your ability to undertake this trek. Each day you will be trekking an average of 18–22km. This is an approximate only as occasionally your guide will choose to take a different route due to things like weather, group fitness or trail closure. While it is unlikely that you will exceed much more than 22km on a regular basis, please ensure that you are fit enough to comfortably trek up to 26km per day including ascents and descents of 1000m+.
Inclusions
What's included
Included
2 nights Calalzo hotel on twin-share basis
5 nights half-board accommodation in small hotels and refuges
Qualified and  experienced trekking guide

Local briefing in Calalzo

Daily meals as outlined above
Midday picnics (in addition to daily breakfast and dinner)
Transportation where needed in the tour

Luggage transfers on all but one trekking day 
Excluded
Flights to and from your destination
Travel insurance
Dinner on day 7
Expenses of a personal nature
Single supplement
Your leaders
International Mountain Leaders
We have our own staff of experienced and qualified International Mountain Leaders. Not only do they know the trek routes exceptionally well but they will excel in looking after you; your safety is our priority in an alpine environment. All our guides are native English speakers, so clear communication is never an issue.
Exclusive Guide
get inspired
Our comprehensive Destination Guide is bursting with inspiration, travel essentials, background information and more! Essential reading to help you plan, prepare and enjoy a memorable trip in the Alps.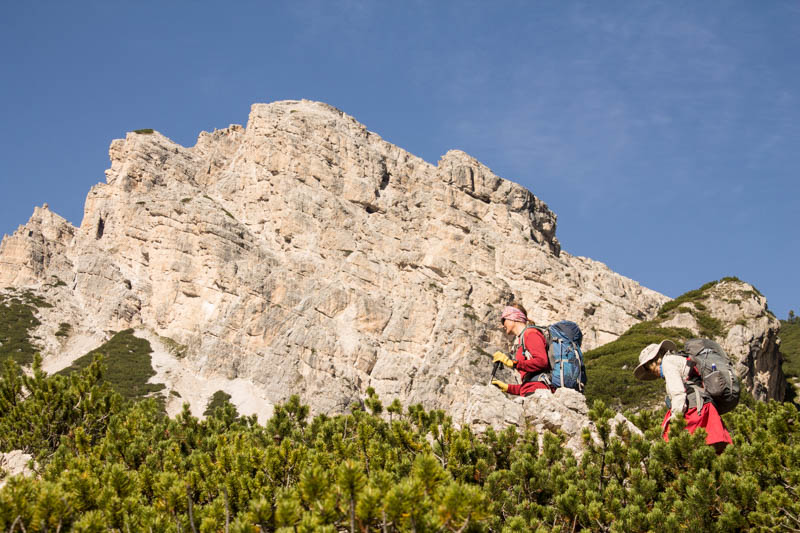 Customer Testimonials
Challenging and interesting trip with incredible mountain views. Sometimes physically harder, sometimes easier than expected.
Sally-Ann Prowse, Wanniassa (ACT) - June 2023
   
Customer Testimonials
The scenery was so much more spectacular in real life than any photos could try to convey. The walk was challenging but the rewards more than outweighed the effort. Can't speak highly enough of our guide Diane. She was just so knowledgeable and helpful and engaging with each and everyone of us. The hotels and rifugios we stayed at were also wonderful. This was my second trip with RAW Travel as a solo traveller. As with the first, everything went so enjoyably smoothly without a single hitch. I enjoyed it so much that I'm sure a third trip with RAW Travel is not far away!
Stephen Youla, Pascoe Vale South (VIC) – July 2019
   
Customer Testimonials
The itinerary was amazing. Every day was very different. Different landscapes, accommodations, tracks. Our guide was knowledgeable and helpful in every way. I would absolutely recommend this hike to everyone. Truly unique.
Joylene Cooke, Sorrento (WA) – July 2019
   
Customer Testimonials
Loved my Dolomites trip. The scenery was spectacular. The Dolomites are overwhelmingly majestic, and it was an amazing place to trek. Our guide, Diane, ensured that the trip was flawlessly organised. All I had to do was enjoy! Great people. Great accommodation and food. Great experience.
Angela Maltby, Te Puke (New Zealand) – June 2019
   
Customer Testimonials
The whole trek was a wonderful experience. Our guide, Dave Barber, did an awesome job in making this a trip of a lifetime. Very professional – making sure all the logistics were spot on everyday as well as being knowledgeable about the history and uniqueness of where we trekked. He also made sure we were all challenged with the pace but had fun along the way.
Cornelia Mckee, Karalee (QLD) – July 2019
   
Customer Testimonials
I'm back from Italy (we toured for quite a while after the Dolomites trip)…the Dolomites walk was really good. The weather was not quite so good, but you can't have everything. It is such an amazing landscape. And Diane is a great guide. She really knows what she's doing. She was very conscious of how each walker was going and kept an appropriate pace and eye on things. The accommodation, meals, transfers and the overall itinerary worked really well. I've now done several guided multi-day walks both in Australia and overseas and Diane is certainly the best guide I have come across. Thanks for a really good trip!
CB (NSW) – September 2018
   
Customer Testimonials
Experiencing the majestic mountain terrain of the Dolomites and being so up close in nature every day for a week was definitely a highlight for me. We were also very fortunate to have a wonderful group of people on the walk who looked out for each other and offered good conversation and a lot of humour as we trekked along each day. I cannot speak more highly of David our guide who was very experienced and knowledgeable and encouraged us all along the way. He kept us safe during the more challenging parts of the walk and was always tuned into everyone's needs. I would definitely sign up on a tour again if David was our guide!
Margot Perkins, Paddington (QLD) – September 2018
   
Customer Testimonials
The scenery was amazing and each day offered different experiences including natural beauty, physical challenge and culture. David Barber was an excellent guide who was quick to assist or guide people through difficult sections as well as catering for different desires and limitations. The overnight stay at Fodara Vedla was simply stunning and a great experience including Austrian folk music, venison goulash and apple strudel. Overall, the food provided by the hosts was just incredible and a cultural experience on its own. Loved the whole trip and would recommend to anyone interested in an active holiday.
Andrew Perkins, Paddington (QLD) – September 2018
   
Customer Testimonials
Being high in the mountains where life is taken more slowly, nature and the weather really turned it on for our group! The bonus was our guide, Diane – absolutely brilliant and so informative and clever.
Jill Hammond, Toowoomba East (QLD) – July 2018
Similar walks
European Alps
TRIP date selection
when would you like to travel?
Please select your preferred dates for on-demand trips or select a scheduled date for group departures. If you have booked a self-guided trip please understand that because your trip date is on demand and we must check availability of all properties on your chosen dates before it can be fully confirmed