Overview
The Highlights Trip
The Tour du Mont Blanc Highlights Trip is a condensed version of the Mont Blanc Circuit. Our trip passes through France, Italy and Switzerland with magnificent views of the Mont Blanc massif: the French side with its huge glaciers, Italy and its sheer cliff faces and the Swiss side with its rolling valleys, truly are a delight.
This trip is guaranteed to depart with 6 people (we limit numbers to 12 on each departure).

We are Australia's most trusted company for guided TMB trips and have been operating in the European Alps for nearly 16 years! 
Highlights
Get Ready For
An exceptional hike through France, Italy and Switzerland
Fully supported by our expert mountain guide
Jaw-dropping alpine scenery and friendly wildlife encounters
Culinary specialities and fascinating history
Picturesque and charming Chamonix and Courmayeur
Guided Trip
A supported trek
This is a supported trek so that you carry just your daypack and stay in accommodation where your main luggage meets you at the end of each day (apart from one night). Having an experienced Mountain guide and luggage transfer vehicle means maximum flexibility during bad weather days. This trip is different from the full circuit as you will take vehicle transfers along some of the valley sections but still take in all the passes and highlighted sections of the route.
Best time to visit
Good time to visit
Average time to visit
Closed
Map
Explore
Chamonix
This town is dominated by the mighty Mont Blanc massif with tumbling glaciers visible from the main street. There are many attractions including the Aguille Du Midi cablecar with its stupendous views and restaurant, the glacier express railway, and whitewater rafting right in the town. Plus Europe's best selection of outdoor gear shops along its attractive streets.
CLICK ON A PIN TO REVEAL INFORMATION ABOUT THAT LOCATION
Les Houches
A small town situated at 1000m of altitude and lying at the foot of Mont-Blanc (4810m), Les Houches offers an exceptional panorama of the peaks surrounding Chamonix. The village itself boasts charming chalets, hotels and restaurants where you can savour delicious Savoyard cuisine including fondue, raclette and and hearty mountain dishes.
Les Contamines
This small picturesque village has a beautiful Baroque church in the nearby wooded valley and a Roman Bridge on the TMB Trail which leads to the Col du Bon Homme. It is surrounded by stunning natural beauty, including snow-capped peaks, lush forests, and alpine meadows. It offers breathtaking views of Mont Blanc, the highest peak in the Alps.
Les Chapieux
Les Chapieux is an idyllic hamlet and one of the last stops in France before you cross to Italy. Situated at an altitude of about 1,550m, it serves as a gateway to the stunning Mont Blanc Massif and the Tarentaise Valley. The village exudes tranquility and offers a glimpse into traditional alpine life with its charming wooden chalets and breathtaking alpine vistas.
Col de la Seigne
This pass (2516m) straddles the border between France and Italy connecting the Italian Valle d'Aosta region with France's Savoie region. If offers awe-inspiring panoramic vistas of the Mont Blanc Massif, including the imposing Mont Blanc itself, and the long valley descent to Courmayeur. The breathtaking alpine landscape, with rugged peaks, pristine glaciers, and alpine meadows stretches as far as the eye can see.
Courmayeur
This charming Italian ski town is nestled in the heart of the Aosta Valley at the foot of Mont Blanc. It provides a welcome taste of civilisation at the midway point of the trek. Courmayeur has a vibrant culinary scene, offering delicious Italian cuisine, including regional specialties like hearty pasta dishes and delectable cheeses.
Rifugio Bonatti
Named after renowned Italian mountaineer Walter Bonatti, this mountain hut is situated in a truly spectacular setting, perched at an elevation of approximately 2,025m above sea level in the heart of the Mont Blanc Massif. The welcoming hosts ensure a warm and friendly atmosphere for guests.
La Fouly
Your first stop in Switzerland lives up to the hype! The picture-perfect scenery of the Val Ferret is hard to overstate. La Fouly sits at the head of a verdant forested valley, populated by small hamlets of old Swiss wooden chalets. It is one of the most enjoyable sections of the Tour du Mont Blanc.
Champex
The charming village of Champex is ocated in the French-speaking Swiss canton of Valais and one of our overnight stops on the TMB. The village lies at 1,470m on the shore of Lac de Champex, at the foot of the Mont Blanc Massif. It is a starting point for many hikes into the surrounding mountains and huts.
Trient
Trient is a small village in the district of Martigny in the canton of Valais in Switzerland. It is the last stop in Switzerland before heading over the Col de Balme back into France. The village has retained much of its historical charm. Its traditional wooden chalets, many of which date back centuries, showcase the region's architectural heritage.
Argentière
Laidback Argentière, at the foot of the impressive Argentière Glacier, is surrounded by majestic peaks, including the iconic Aiguille Verte. In summer it's a magnet for outdoor enthusiasts, attracting hikers, mountain bikers and rockclimbers.
Inclusions
What's Included?
Included
5 nights accommodation in small hotels or the best refuges available on the TMB
2 nights B&B accommodation in Chamonix
Daily meals as outlined above
Twin-share accommodation (one location will be triple or quad accommodation)
Local briefing in Chamonix
Experienced, licensed, English-speaking International Mountain Leader
RAW Travel local support
Luggage transfers on all trekking days except for night 5 (La Fouly)
Lift passes
Excluded
Flights to and from your destination
Local bus and train tickets
Drinks other than water at meals
Expenses of a personal nature
Travel insurance
Dinner not included on nights 4 and 7
AIRPORT TRANSFERS
Chamonix Valley Transfers is our preferred partner and bookings can be made via their website: https://chamonix-valley-transfers.co.uk/book/ This is pick up and drop off at the airport in Geneva to our base hotel in Chamonix.
On the trail
The experience
The Mont Blanc circuit is a well-defined trail that has intermittent signposts at various junctions and offers some route variations on selected days. The terrain underfoot can vary from narrow dirt paths and rock trails on the mountain sections, to unsealed or tarmac roads in the valleys. The trek will take you over a number of passes which will involve some long and challenging ascents and descents however the stunning views will be reward for your effort.  A high level of walking fitness is required to complete all days of the Highlights trek – it is no Sunday stroll and will require training and preparation.
Your leaders
International Mountain Leaders
We have our own staff of experienced and qualified International Mountain Leaders. Not only do they know the trek routes exceptionally well but they will excel in looking after you; your safety is our priority in an alpine environment. All our guides are native English speakers, so clear communication is never an issue.
Exclusive Guide
get inspired
Our comprehensive Destination Guide is bursting with inspiration, travel essentials, background information and more! Essential reading to help you plan, prepare and enjoy a memorable trip in the Alps.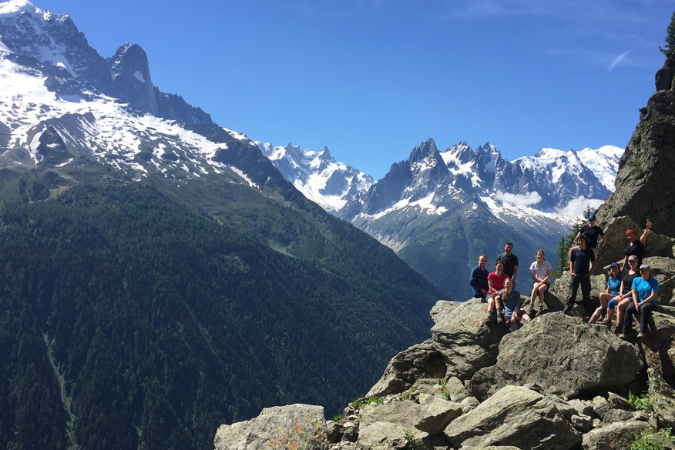 Customer Testimonials
Memorable and tremendously rewarding. The scenery was awe inspiring, the accommodation comfortable and better than expected, and the organisation / administration of the trip was fantastic, but it was the guide and company that really made this an exceptional experience. Diane was so capable and generous in sharing her experience and knowledge on any given topic from history and culture to flora and fauna to how to prepare and get the most from the hike.
Alison Standen, Bellerive (TAS) – September 2023

Customer Testimonials
Fabulous – loved it! It was tough but it was great to experience as a group. Our tour guide was a gem – patient, friendly and funny. I will be recommending RAW Travel.
Christine Porter, Gormans Hill (NSW) – September 2023

Customer Testimonials
The guide was incredible!!!!! It was excellently organised and managed, and our guide David was superb! A wonderful experience.
Mimi Marcus, Fitzroy North (VIC) – September 2023

Customer Testimonials
Our guide Rob Gale was fabulous. As a Chamonix local he knew the area and the people really well so we got an insight into the mountain community as well as enjoying the awesome scenery. Really appreciated staying in charming locally owned hotels.
Caroline Lock, Crafers (SA) - September 2023

Customer Testimonials
Excellent trip! Awe inspiring walking in vast alpine scenery. Rob Gale our tour leader was exceptionally good and greatly added to our positive experience. His local knowledge is outstanding. He made all arrangements without a problem. His knowledge of flora and fauna is extensive and this provided insights along the way. He has a great sense of humour too!
Helen Simson, Southbank (VIC) - September 2023

Customer Testimonials
A once-in-a-lifetime adventure! Rob Gale is an excellent guide who really made me feel safe, has great knowledge of the area, and kept the days working seamlessly.
Juliet Humphris-Clark, Merewether (NSW) - September 2023

Customer Testimonials
Fantastic experience. Enjoyed the beautiful views, the challenge of the walk, and being assisted by a knowledgeable and really supportive guide. Rob Gale was always approachable, helpful, friendly, and fun. Thank you!
Susan Bailey, Paddington (QLD) – September 2023

Customer Testimonials
Sensational trip! Our tour guide Rob Gale had extensive knowledge and ensured the trip exceeded expectations.
Stephen Wolf, Camberwell (VIC) – September 2023

Customer Testimonials
Loved the scenery and achievement of this hike. David Potter is an exceptional and excellent guide.
Catherine Laffey, Christchurch (NZ) – September 2023

Customer Testimonials
We loved every minute of our Mont Blanc hike. We had a great group of 11 hikers and guide, Julien, who did a very good job managing the very different levels of fitness. The food was excellent and the accommodation was great. The highlight was the spectacular scenery with valleys, passes, mountains, farms and often cows as our backdrop. To see majestic snow-capped Mont Blanc was an experience we will always cherish. We are very grateful for the experience.
Bronwyn & Lachlan Cameron, Glen Iris (VIC) - August 2023

Customer Testimonials
This was our first experience of a guided trek and we were more than satisfied with all aspects. Loved the combination of the location, the physical activity involved, the attention to detail such as accommodation, and the expertise and experience of our guide.
Jim McMahon, Wellington (NZ) – August 2023

Customer Testimonials
Fantastic experience. Great scenery, great itinerary, good accommodation and excellent leader.
Michelle Nottage, Kensington (SA) - August 2023

Customer Testimonials
Best hike I have done so far! Dave the guide was fantastic and got us all to the end. Highly recommend this trip. Make sure you have done the training so you can enjoy it.
Ben Drummond, Shepparton (VIC) – July 2023

Customer Testimonials
Loved the camaraderie of the group and guide together with amazing scenery. All accommodations were excellent.
Stephen Youla, Pascoe Vale South (VIC) - July 2023

Customer Testimonials
Exciting challenge that was doable. Knowing we had an experienced guide meant we could just enjoy the trip.
Jane Tierney, Malvern East (VIC) - July 2023

Customer Testimonials
Absolutely excellent trip! Loved the scenery, the mixed age group of fellow hikers, and trip leader Julien's gentle manner.
Frances McDonald, Armidale (NSW) – July 2023

Customer Testimonials
A most enjoyable walk that exceeded my expectations. Magnificent scenery and variety of terrain.
Dave Heale, Mt Eliza (VIC) - July 2023

Customer Testimonials
A memorable walk through some of the best mountain country I have seen! Loved the mountains, meadow flowers, the sound of water.
John Scarlett, Traralgon (VIC) - July 2023

Customer Testimonials
I was completely blown away by the stunning scenery and the joy of getting to the top of some steep climbs. Loved being in the mountains.
Rhonda Scarlett, Traralgon (VIC) - July 2023
Similar walks
European Alps
TRIP date selection
when would you like to travel?
Please select your preferred dates for on-demand trips or select a scheduled date for group departures. If you have booked a self-guided trip please understand that because your trip date is on demand and we must check availability of all properties on your chosen dates before it can be fully confirmed