Overview
The Self-Guided Trip
The European Alps offer some of the most spectacular and enjoyable walkings in the world and this adventure offers the chance to combine three countries into one trip as we cross the rugged Alps from France to Italy and Switzerland. The trek around Mont Blanc is one of Europe's best mountain walks and you'll get a chance to appreciate the different cultures, foods, and people whilst you hike through glorious Alpine scenery.
This self-guided trip along the Mont Blanc circuit is an ideal way to have full flexibility with your dates if you are confident with walking in a mountain environment. We provide detailed track notes that will help you follow the track and choose between its variants each day. The Mont Blanc track is well signed, so between the materials we give you and the signage on the ground, it is not too difficult to find your way.
Highlights
Get Ready For
Trek Europe's most classic mountain walk
Trek through France, Italy & Switzerland
Culinary specialities from each country
Experience spectacular towering mountain scenery
Self-Guided
Self-Guided Walking
Self-guided trips offer flexibility, independence and choice. Set your own agenda while someone else worries about the logistics. Our self-guided walking holidays are fully flexible which means you can normally start your walk on any day during the season and customise by adding extra days for resting or sightseeing. As you're walking independently, you're free to follow the trail at your own pace. You set your own speed as you are not limited by the constraints of group travel.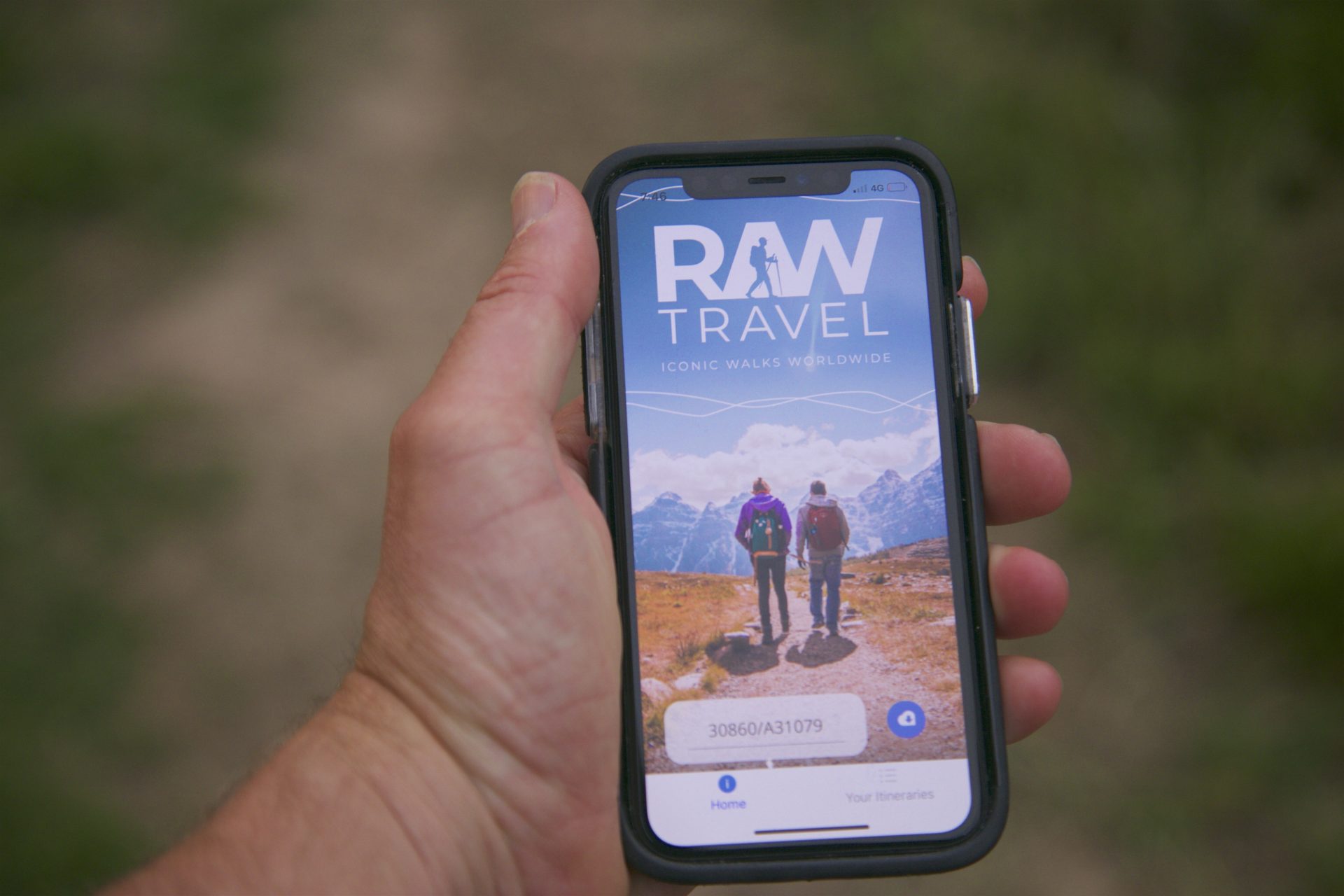 Walking App
Finding your way
Our unique RAW Travel walking app has been designed to help you navigate easily on the trail. Simply download your map with the link we send you and you'll be able to follow your route with ease, showing your location in real-time without any internet connection needed. The app has many great features; it shows you weather forecasts localised for each of your overnight stops, detailed information on each overnight stop and what facilities are available there. There are important reminders, safety information, videos and emergency contact information for your route. It also has a unique audio feature that can tell you about places and points of interest as you approach them on the trail. We also provide you with a Guide Book to fall back on for extra information and maps.
Inclusions
What's included?
Included
2 nights B&B accommodation in Chamonix
10 nights accommodation in hotels and mountain refuges with private rooms or small dormitory
Meet and greet by local RAW Travel staff
Breakfast and dinner in refuges (with the exception of dinner in Courmayeur & Chamonix)
Tour de Mont Blanc guidebook
French phrasebook
Real-time track navigation and notes with our exclusive walking app

Luggage transfers on all but one trekking day 

Prices quoted are per person twin share, based on a group of 4
Excluded
Flights to/from your destination

Lunches
Dinner in Chamonix on days 1 & 12, and Courmayeur days 6 & 7
Luggage transfer to La Fouly in Switzerland (day 9)

Expenses of a personal nature

Travel insurance
Single supplement
Best time to visit
Good time to visit
Average time to visit
Closed
LOCATIONS ON THE TMB
Explore
CHAMONIX
This town is dominated by the mighty Mont Blanc massif with tumbling glaciers visible from the main street. There are many attractions including the Aguille Du Midi cablecar with its stupendous views and restaurant, the glacier express railway, and whitewater rafting right in the town. Plus Europe's best selection of outdoor gear shops along its attractive streets.
LES HOUCHES
A small town situated at 1000 metres of altitude and lying at the foot of Mont-Blanc (4810m), Les Houches offers an exceptional panorama of the peaks surrounding Chamonix
LES CONTAMINES
Les Contamines is a small village which boast a beautiful Baroque church in the nearby wooded valley and a Roman Bridge on the TMB Trail which leads to the Col du Bon Homme.
LES CHAPIEUX
Is a tiny Hamlet consisting of a few buildings, which lies at the base of the Col Du Bon Homme and is one of the last stops in France before you cross to Italy
COL DE LA SEIGNE
This is the pass which straddles the border between France and Italy and give fantastic views of the flanks of Mont Blanc and the long valley descent to Courmayeur.
COURMAYEUR
The walk from the Col de Seigne 2516m down into Italy is truly breathtaking, passing the high Refuge Elisabetta and soaring mountain spires. The Italian ski town of Courmayeur provides a welcome taste of civilisation at the midway point of the trek.
RIFUGIO BONATTI
Named after the famous Italian Alpinist, Walter Bonatti, this refuge has an idyllic location on the flanks of the mountain perfect for a lunch time picnic.
LA FOULY
Your first stop in Switzerland lives up to the hype – the picture-perfect scenery of the Val Ferret is hard to overstate. La Fouly sits at the head of a verdant forested valley, populated by small hamlets of old Swiss wooden chalets. It is one of the most enjoyable sections of the Tour du Mont Blanc.
CHAMPEX
Champex is a village located in the French-speaking Swiss canton of Valais and one of our overnight stops on the TMB. The village lies at 1,470 metres on the shore of Lac de Champex, at the foot of the Mont Blanc Massif. It is a starting point for many hikes into the surrounding mountains and huts. 
TRIENT
Trient is a small village in the district of Martigny in the canton of Valais in Switzerland. The last stop in Switzerland before heading over the Col de Balme back into France. 
ARGENTIERE
Laid-back Argentière attracts hikers, mountain bikers and fans of all kinds of winter sport activities alike. Traditional architecture, baroque church and 19th century chapel but also to its amazing location at the foot of the impressive Argentière Glacier and legendary peaks such as the Aiguille Verte
On the trail
The experience
The Mont Blanc circuit is a well-defined trail that has intermittent signposts at various junctions and offers some route variations on selected days. The terrain underfoot can vary from narrow dirt paths and rock trails on the mountain sections, to unsealed or tarmac roads in the valleys. The passes involve long ascents and descents but typically the gradients are fairly gradual with some steeper sections.  The day above Chamonix is an exception where steep climbing is required to ascend to the Grand Balcon and a reasonably good level of walking fitness to complete all the days of the circuit. It is spectacularly varied and no two days are alike in terms of scenery and conditions, and often weather!  Be sure to read our Training and Destination guides for more detail.
Exclusive Guide
get inspired
Our comprehensive Destination Guide is bursting with inspiration, travel essentials, background information and more! Essential reading to help you plan, prepare and enjoy a memorable trip in the Alps.
Similar walks
European Alps
TRIP date selection
when would you like to travel?
Please select your preferred dates for on-demand trips or select a scheduled date for group departures. If you have booked a self-guided trip please understand that because your trip date is on demand and we must check availability of all properties on your chosen dates before it can be fully confirmed