Overview
Grampians Peaks Trail 5 day Self-Guided
The new Grampians Peak trail is destined to become of Australia's iconic walks, the 160km trail covers the length of the Grampians (Gariwerd) from the northernmost part of this incredible range at Mount Zero to the southernmost point at Dunkeld. Gariwerd has its own special energy that feels visitors feel and this is a thrilling journey through the heart of this timeless, heritage-listed National Park, showcasing so many spectacular vistas and dramatic peaks in this ancient and rugged landscape. It is a challenging trail in parts that is best suited to hikers with good fitness and experience.
Our 5-day self-guided trip offers the Northern and Central highlights of the trail, it takes in the very best of the accessible walking in these areas, starting from the beginning of the trail at Mount Zero in the North.  Along the way you'll discover historic Indigenous sites while traversing through rugged mountain ranges and in the valleys. With stunning vistas of the region's flat plains and weathered escarpments around every corner, the Grampians Peak Trail really does provide a varied and enjoyably challenging walk. Our driver will provide you with a one – way transfer each day to the trailhead and you return with your own car (dropped on the way).
This journey will also give you the opportunity to gain insight into Jardwadjali and Djab Wurrung people, who know the Grampians as Gariwerd and have walked and lived in this area for thousands of years. The park is home to 80% of Victoria's rock art and there is opportunity to visit one of the Indigenous shelters and rock art sites dotted throughout the area.
Please note: Prices quoted for self-guided trips are based on low season or standard rates. Traveling in peak periods or on public holidays may attract higher prices from local accommodations and suppliers and will be quoted on application. 
Highlights
Grampians Peak Trail
Highlights of the Northern and Central Grampians
Dramatic walking on sandstone and granite escarpments
Daily one-way transfers / own vehicle return
Prolific wildlife and flora
See the famous Taipan wall, Pinnacles and Wonderland
Best time to visit
Good time to visit
Average time to visit
Closed
Map
Explore
Halls Gap
The delightful township of Halls Gap is the gateway to the Grampians (Gariwerd) National Park and offers breathtaking views of the sandstone mountains. It's used as a base to access the many hikes in area and has a good selection of accommodation, eateries and shopping for any supplies you might need. There's inquisitive wildlife too, including emus, wallabies and birds.
CLICK ON A PIN TO REVEAL INFORMATION ABOUT THAT LOCATION
Mount William (Duwil)
Rising to 1167m, Mount William (Duwil) is the Grampians' tallest peak. It provides incredible 360-degree views of mountain ranges and open plains. As you make your way to the summit, tall eucalyptus trees on the lower slopes give way first to dwarfed trees and then to low, windswept bushes and grasses.
Pinnacle Lookout
The iconic Pinnacle Lookout is one of the most spectacular vantage points in the Grampians. The rocky outcrop, perched on the very edge of the range, offers magnificent views over the Grampians and Mt William.
Lake Wartook
The lookout (829m) at Lake Wartook is one of the highest points in the Mount Difficult range. It offers incredible views with Mount William and the Black ranges in the distance and the evocatively named Asses Ears Mountains and Wartook Basin below.
Mount Stapylton (Gunigalg)
Mount Stapylton (Gunigalg) is 518m above sea level and the view from the summit is spectacular, taking in much of the park and surrounding plains. On the descent through the Stapylton Amphitheatre you'll see the spectacular red cliffs of one of Victoria's tallest and steepest former rock-climbing sites, the Taipan Wall.
Mount Zero (Mura Mura)
Mount Zero (Mura Mura) is the northernmost mountain of the Grampians range. The peak was named by Thomas Mitchell in 1836 because the temperature was 32 Fahrenheit (0 degrees Celcius) at dawn on the morning of the ascent.
Chatauqau Peak
The Chatauqau Peak section is a lovely part of the Grampians. The track passes through open forest to the foot of Clematis Falls, a 20m waterfall between massive sandstone cliffs.
Inclusions
What's Included?
Included
Twin-share accommodation in an ensuite room
4 nights in Halls Gap hotel
4 cooked breakfasts, 4 packed lunches
Personal locator beacon for the duration of your trip
Daily trailhead transfer (one way) and local support driver
Pack of two Grampians hiking maps (1:50,000 scale)
RAW's unique walking app for real-time navigation on trail
National park fees
Carbon offset for your trip and an Australian tree planted on your behalf
10% GST
Not Included
Weekend surcharges may apply at time of booking
Breakfast on day 1 and lunch on day 5
Dinners each night, selection of local restaurants to choose from
Travel insurance
Additional transfers
Transport to / from Halls Gap
Alcohol with meals
On the trail
The Experience
The Grampians Peaks Trail is extremely varied, with some high cliffs, steep slopes and descents,  stone staircases, rocky platforms, sandstone outcrops, forest gullies, dirt tracks, sealed walking tracks and bridges. You will need to have a good level of fitness for the ascents and be comfortable with climbing up and over stacked granite rocks, squeezing through boulders, hopping over streams after rain and through exposed rocky areas. There are some steep sections of walking as we ascend peaks such as Mount Abrupt. The trail is well maked with signs and yellow trail markers along the way.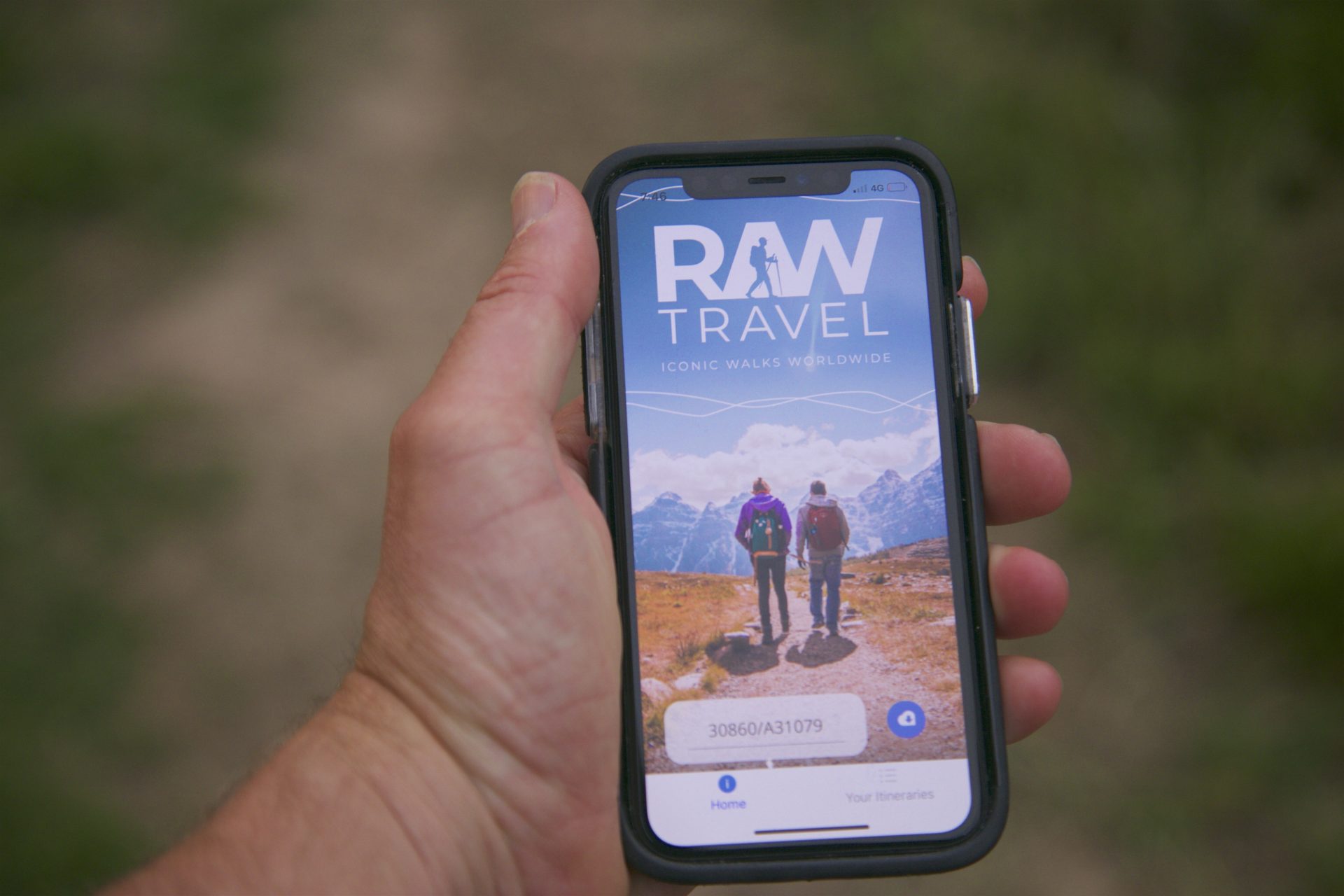 WALKING APP
FINDING YOUR WAY
Our unique RAW Travel walking app has been designed to help you navigate easily on the trail, so you never get lost. Simply download your map with the unique link we send you and you'll be able to follow your route with ease, showing your location in real-time without any internet connection needed. The app has many great features; it shows you weather forecasts localised for each of your overnight stops, information on the location of each night's accommodation. There are important reminders, safety information, videos and emergency contact information for your route. It also has a unique audio feature that can tell you about places and points of interest as you approach them on the trail.
Exclusive guide
Grampians Peaks Trail
More than a decade in the making, Victoria's Grampians Peaks Trail is destined to become one of Australia's iconic walks. On this trail, you will be rewarded with some of the best hiking trails and panoramic views in Australia. And with our unique itineraries, you don't have to tackle the entire 160km. The trail extends over the ancestral lands of the Djab Wurrung and Jadawadjali people, and Parks Victoria has worked with traditional owners to guide the trail alignment and shape visitor information and stories. Discover inspiration, travel essentials, practical information and more in our free Destination Guide.
TO/FROM YOUR WALK
Daily Transfers
If you do NOT have a car, your driver will transfer you to / from the start and end point of your walk each day (this will be additional transfer costs). If you DO have a car, you can drive and park your car at the start or end point of each day's walk. If you leave your car at the start point, your driver will meet you at the end of your walk at a designated agreed time and transfer you back to your car each day. If leaving your car at the endpoint, your driver will meet you each morning at the endpoint of that day's walk and transfer you to the start of the trail. You can then drive yourself back to your accommodation at the end of your day's walk.
Experience tells us leaving your car at the END point of each day's walk is the most convenient as it saves time waiting for a pick-up, therefore allowing you more time to enjoy the area.
How fit do I need to be?
This walk is challenging due to the ascents and descents involved, plus navigating your way over the rock plateau and narrow rock defiles in some places.The walks are mostly listed as Grade 4 by Parks Victoria with some sections as grade 3. It's best suited to hikers of reasonably good fitness and confidence on a trail.
Grade 4 hike definition: Recommended for experienced hikers and a reasonable level of fitness. A grade 4 hike includes rough ground and very steep sections. These trails are suggested for people with experience hiking. They may be any length, but physically more demanding.
Positive impacts
Social and environmental
All our adventures are fully carbon offset so that you know your travel has minimal impacts. Hiking itself is a low impact activity but we offset the cost of all our office operations and food production as well, so you can be satisfied that you have chosen a form of travel that is both good for you and good for the planet. Each year we also plant trees on behalf of every customer who has travelled with us, aiming to build towards a carbon positive effect with our operations.
As a B-Corp a focus on local community is an important part of who we are. We are committed to buying locally and source our produce from growers here on the Mornington Peninsula. We care about people in our community and for every meal pack you buy with us we donate a meal to a homeless support charity, to spread some love and share good food with those who need it most.
TRIP date selection
when would you like to travel?
Please select your preferred dates for on-demand trips or select a scheduled date for group departures. If you have booked a self-guided trip please understand that because your trip date is on demand and we must check availability of all properties on your chosen dates before it can be fully confirmed