Overview
The Self-Guided Tour
Explore the Mornington Peninsula Walk on your own terms with this self-guided package. The Peninsula is Melbourne's favourite weekend playground. With beautiful beach walks and spectacular clifftop hikes, the 100km Mornington Peninsula Walk is one of Victoria's top walks.
It combines four spectacular walks in a triangular route: the Two Bays Walk through the hinterland from Dromana to Cape Schanck, the Coastal Walk through the Mornington Peninsula National Park along the Bass Strait coast from Cape Schanck to Portsea, the Point Nepean Walk in and around the Point Nepean National Park, and the Bay Trail from Portsea to Dromana along the shores of Port Phillip Bay.
Our self-guided itinerary allows you to travel on your preferred dates (subject to availability), with private transfers and advice from our locally based staff. You'll be picked up each day with a private transfer arranged to suit your walking pace and abilities. We'll provide you with a thorough briefing to get you started, our exclusive walking app for navigation and local information, 2 transfers each day, and lovely pre-booked accommodation with excellent meal options each day.
A minimum of 2 people is needed to operate this trip.
Please note that our prices are based on low season, shoulder and mid-week season rates from suppliers. Peak season and holiday weekends attract higher accommodation prices which can be quoted to you at the time of your booking / enquiry. 
Highlights
Get Ready For
Experience the full 100km circuit of the Mornington Peninsula Walk
Rugged Surf Beaches and coastlines
Stay in the vibrant villages of Flinders and Sorrento
Climb the famous vantage point, Arthur's Seat
Walk Arthur's Seat, Mornington National Park, Cape Schanck Coast and Point Nepean National Park
Meals
Enjoy
You take breakfast at your accommodation each day, with a full cooked breakfast included. A nutritious and ample packed lunch with snacks is brought by our driver each day but dinner is at your discretion allowing you to choose where and when you want to eat from the great local choices available. The Mornington Peninsula is renowned for its excellent food and wine producers, so you will always have good choices.
On the Trail
The experience
Some sections involve walking through grassy dirt paths where the track is firm under foot, while other sections can be muddy, depending on the weather conditions. The trail will be dirt in sections and hikers should be sure-footed. There are also a number of beach and dune sections (in particular along the Coastal Trail) so hikers need to be prepared for walking on sand, which can be tough going but also a highlight. You can expect to walk between 4 and 8 hours each day with regular stops to take in the natural beauty, and for snacks and lunch.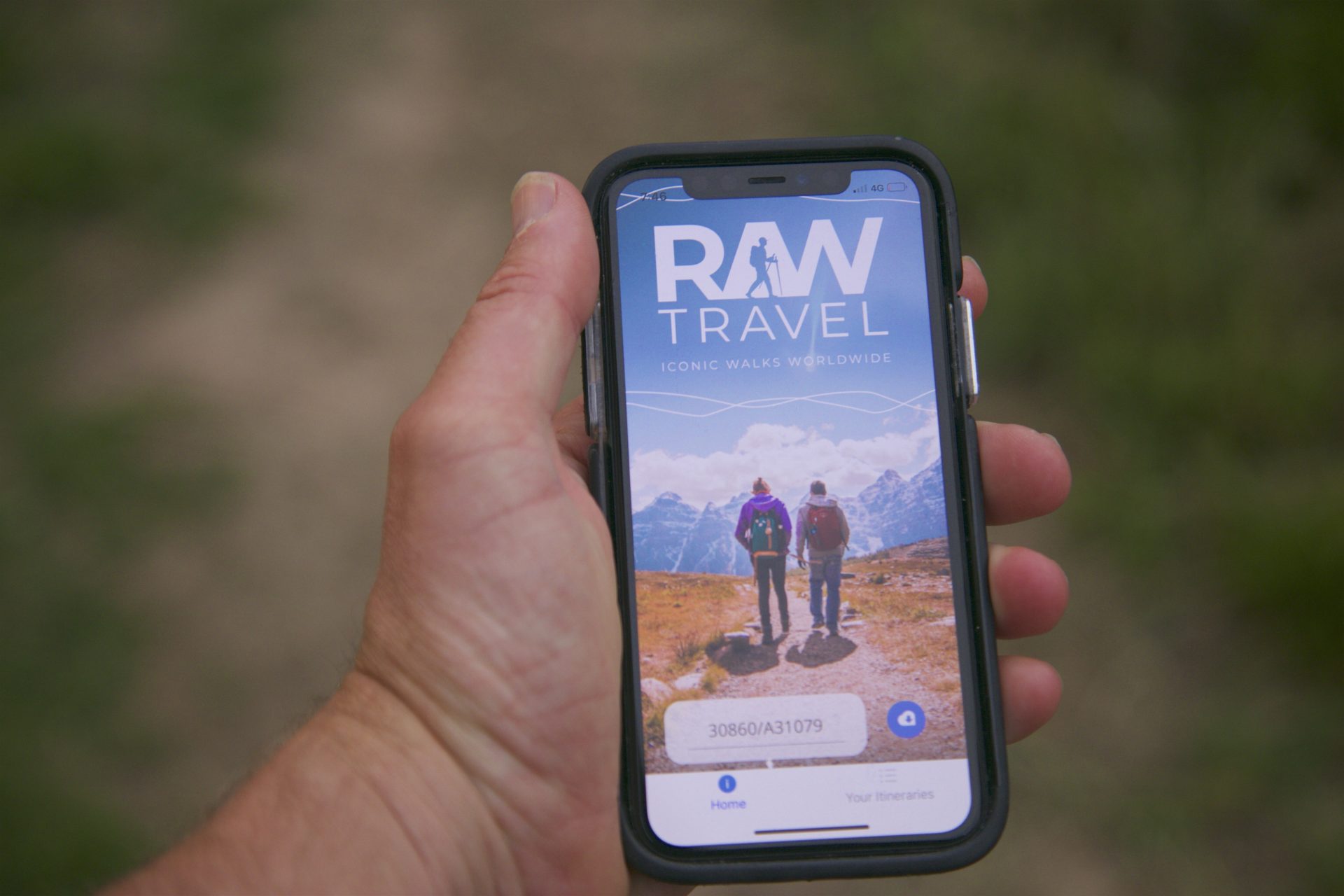 Walking App
Finding your way
Our unique RAW Travel walking app has been designed to help you navigate easily on the trail, so you never get lost. Simply download your map with the unique link we send you and you'll be able to follow your route with ease, showing your location in real-time without any internet connection needed. The app has many great features; it shows you weather forecasts localised for each of your overnight stops, information on the location of each night's accommodation. There are important reminders, safety information, videos and emergency contact information for your route. It also has a unique audio feature that can tell you about places and points of interest as you approach them on the trail.
Local knowledge
We are the locals!
Our Mornington Peninsula trips are close to our heart because we live here. Your Mornington Peninsula trip is booked, driven or led by people who actually live in the area and have a passion for our home. We know these walks and eateries because that's where we go in our spare time and nothing beats being shown around by an enthusiastic and knowledgable local. RAW Travel has had its headquarters on the Peninsula since 2010.
Inclusions
What's included?
Included
5 nights centrally located hotel accommodation (twin-share basis)
4 breakfasts and lunches included
Briefing at start of your walk with your local RAW Travel staff member
Daily Trailhead transfers & briefs with your own RAW Travel Driver & van ( no taxi's or ubers)
Luggage transfer on days your accommodation changes
Walking app for navigation and track notes
Pick-up/drop off from Frankston train station
Carbon offset for your trip and native tree planted
Excluded
Travel insurance
Dinners
Single room supplement ( odd numbers) – please enquire a price on your chosen dates
Transfers from Melbourne
Our rates are based on mid-week stays, if you want to stay over a weekend starting in Flinders then a higher supplement charged by the hotel there applies, with the below prices:
Friday night: additional $50 per room per night
 Saturday night: additional $140 per room per night
Exclusive Guide
Exclusive Guide
Discover inspiration, travel essentials, practical information and more in our free Destination Guide. All you need to know about walking and exploring Victoria's Mornington Peninsula.
   
Customer Testimonials
"We had a fabulous time last week on our self-guided Mornington Peninsula hike. The weather was beautiful and each section of the walk was very enjoyable. Mandy was lovely and very accommodating. The walk was well organized and we didn't need to worry about the details involved in organizing the walk. We just turned up and walk!"….so thank you Raw Travel for putting together a wonderful 5 day 'local' hike"
Jhodie and Brian Goy
   
Customer Testimonials
What I loved about my walk was the walk itself provided the solitude I asked for yet I felt safe walking knowing I had backup with a driver support and the app was helpful. Many thanks
Leanne Rae
   
Customer Testimonials
I felt every aspect of the walk was fantastic and I would definitely use raw for any future walking holidays and would also recommend raw to my family and friends.
Both Nicki and Mandy were amazing and went out of their way to make the walk a truly memorable time. Their knowledge of the area and the walks was exceptional, they continually checked on all of us to make sure we were coping with the walks and feeling ok and spent time getting to know each of us.
I came away from the walk feeling revitalised and have made an effort to spend more time walking in nature all because of spending 5 days with Nicki and Mandy.
TRIP date selection
when would you like to travel?
Please select your preferred dates for on-demand trips or select a scheduled date for group departures. If you have booked a self-guided trip please understand that because your trip date is on demand and we must check availability of all properties on your chosen dates before it can be fully confirmed