Overview
Queen Charlotte Track
The Queen Charlotte Track, located at the top of the South Island in the Marlborough Sounds, is unique for its historical landmarks, spectacular coastal views and a great variety of native bush and wildlife. This walk is as much about a walking holiday as it is an environmental, cultural and lifestyle experience. The Queen Charlotte Track is considered to be a long track rather than a steep track, and requires a reasonable level of fitness. 
New Zealand's iconic Queen Charlotte Track is a popular walking and biking trail with all ages and abilities the trail stretches over a distance of 73km and offers unique hiking adventures, panoramic coastal views and lush forest, fine cuisine and wine as well as comfortable quality accommodation. 
You will walk self guided with a light daypack with your luggage being transferred for you all the way through your hiking experience. The trail takes you along stunning natural scenery with some challenging steep sections but many rewarding panoramic views. Most people do the track over four or five days with long distances walked each day. 
The Queen Charlotte Track is steeped in both Maori and European history. The terrain is regarded as undulating with hills ranging from sea level to a maximum of 400m. Most parts of the track are wide and all major streams have been bridged. The surface is mainly hard and firm in dry conditions but can often be slippery when wet. Hiking boots with good ankle support are recommended when taking on this trail. We will provide you with some packing suggestions closer to your departure. 
This self-guided walking tour requires individuals to use problem-solving skills, be adaptable and have a keen eye. It is recommended that you are comfortable map reading, referring to route notes. If this is your first self-guided trip, after the first couple of days you will get the hang of it as the vast majority of our first-time travellers attest. The freedom of a self-guided trip is something that, once experienced, is sought time and time again.
Highlights
Get Ready For
Explore one of New Zealand's finest walking trails 

Dramatic sweeping views of dense untouched native forest, coves and inlets

New Zealand dolphins, the Common, Bottlenose, Dusky and Hector's

Spot some giants in the New Zealand forest like the rimu and many varieties of native fern

Birdlife such as the Little Blue Penguin, albatrosses, red and black billed gulls, shearwaters, terns or the the broad-winged Australasian gannet or the

inquisitive weka
On the trail
The Experience
Our New Zealand trip uses private boutique lodges in amazing locations of natural surroundings of forest and beach. In Queen Charlotte Sound the lodges are only accessible by boat or foot, and they offer a true immersion in nature surrounded by 2000 acres of pristine forest. It is the ideal location to relax and enjoy a fresh, local and seasonally inspired menu for dinner. expect more of the natural beauty and the best of the Marlborough cuisine and beverages each evening.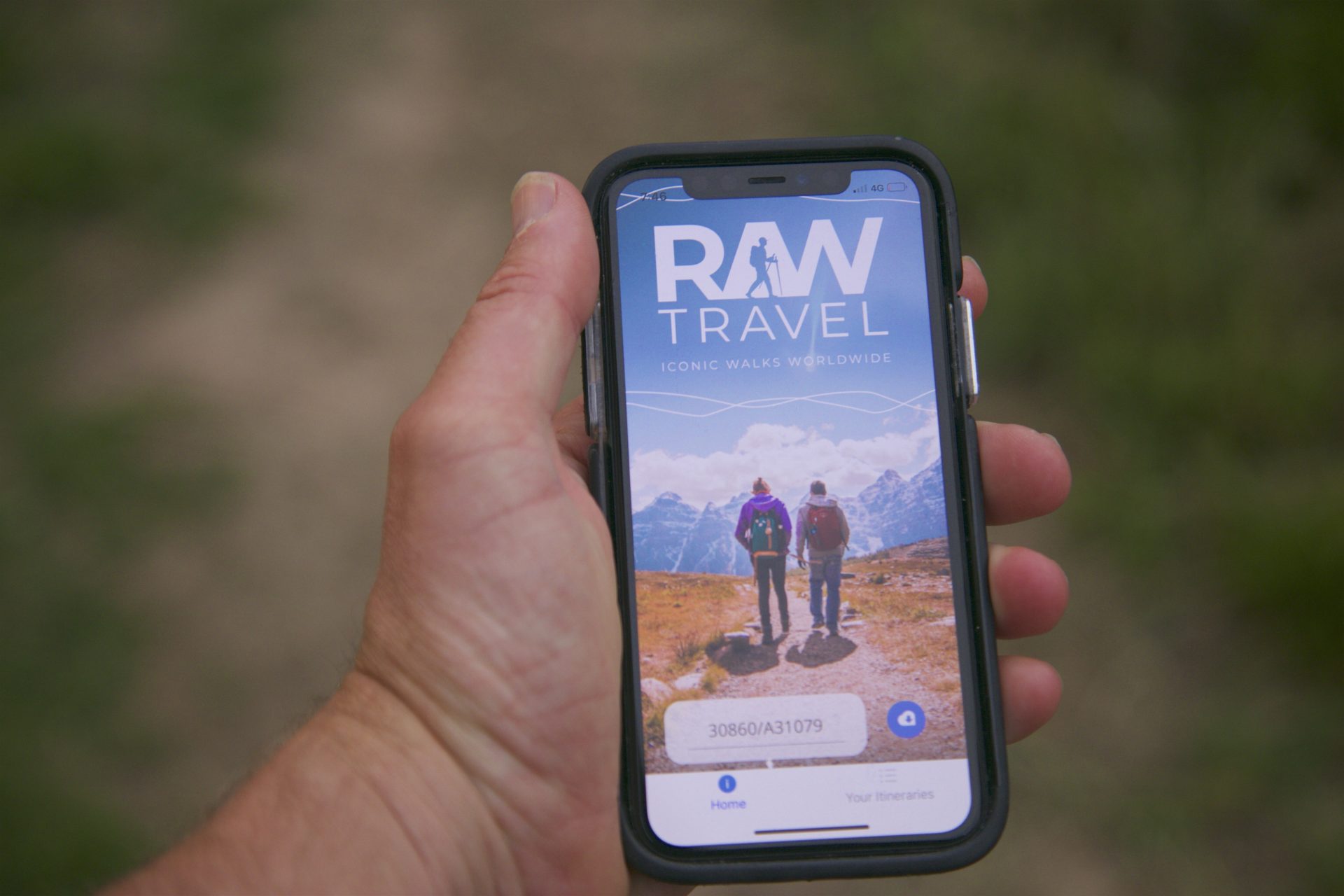 Walking App
Finding your way
Our unique RAW Travel walking app has been designed to help you navigate easily on the trail, so you never get lost. Simply download your map with the unique link we send you and you'll be able to follow your route with ease, showing your location in real-time without any internet connection needed. The app has many great features; it shows you weather forecasts localised for each of your overnight stops, information on the location of each night's accommodation. There are important reminders, safety information, videos and emergency contact information for your route. It also has a unique audio feature that can tell you about places and points of interest as you approach them on the trail. This is in addition to the briefing and notes, information you'll receive locally.
Inclusions
What's Included?
Included
Pre-trip planning, guidance and support from our experienced team

RAW Travel's navigation app including a route map, emergency contacts, weather and other helpful information

Local walk briefing in Picton 

Water transport to and from Picton and the track 

Daily meals as outlined above

4-nights at superior rooms lodge-style accommodation with private ensuite

Luggage transfer on all trekking days

Queen Charlotte Track Land Co-op Pass

Arrival Transfer from Blenheim to Picton on day 1

Your trip is carbon offset and f

or every walk, we plant an Indigenous tree on your behalf
15% NZ GST
Not Included
Flights to and from your destination

Travel insurance

Meals not stated in the itinerary

Drinks other than water at meals

Items of a personal nature

Single supplement – single rooms are available for an additional supplement,

please enquire
Track Transfers
Picton to Nelson
If you want to transfer to the Abel Tasman Track once you have completed your Queen Charlotte Track, you have have two options. A standard direct bus journey from Picton to Nelson takes about 2¼ hours. You will need to make your own way to/from the bus stop at each end. We also offer a unique shuttle service that takes about 6 hours. It is more of a private tour, with flexible lunch and sightseeing opportunities along the way, such as historic Havelock (pictured). It's operated by experienced trampers and you can ask them pretty much any question about your destination. This service is an additional $175pp (based on 4 people) travelling together but is well worth it.
Exclusive guide
GET INSPIRED
Hiking really is the best way to see the beautiful landscapes and explore the vast wilderness of New Zealand's South Island. With exceptionally well-maintained trails, easy access, and the absence of dangerous wildlife it is a hikers' paradise. Add world-class seafood, top-notch wines and boutique lodges, and it really is the perfect destination. Find out everything you need to know in this comprehensive destination guide.

Customer Testimonials
Excellent hiking and mostly great accommodation.
Karen Barfoot, Richmond (VIC) - May 2023

Customer Testimonials
An excellent, thoroughly enjoyable trip in every way – the walk, the accommodation, the food and the staff who assisted each day and in the lead up to our trip. Communication was prompt and efficient.
Bernadette Young, Dromana (VIC) - March 2023

Customer Testimonials
A wonderful walk and generally excellent arrangements, meals and accommodation. Highlights included the scenery and walking with friends.
Johannes Drielsma, Taroona (TAS) - March 2023

Customer Testimonials
An excellent trip in a beautiful part of New Zealand. Really good accommodation and stunning scenery.
Susan O'Donnell, Griffith (NSW) - March 2023
Positive impacts
Social and environmental
All our adventures are fully carbon offset so that you know your travel has minimal impacts. Hiking itself is a low impact activity but we offset the cost of all our office operations and food production as well, so you can be satisfied that you have chosen a form of travel that is both good for you and good for the planet. Each year we also plant trees on behalf of every customer who has travelled with us, aiming to build towards a carbon positive effect with our operations.
TRIP date selection
when would you like to travel?
Please select your preferred dates for on-demand trips or select a scheduled date for group departures. If you have booked a self-guided trip please understand that because your trip date is on demand and we must check availability of all properties on your chosen dates before it can be fully confirmed