difficulty
Moderate - Challenging
Overview
The Highlights Trip
This itinerary is a great option for those who are a little short on time or who prefer to not walk the full length of the trail | Experience a traditional boat ride up the Kumano-gawa river, which offers a different perspective of Kumano's spiritual landscape | Visit all three grand shrines that are collectively known as the Kumano Sanzan
The Kumano Kodo is a journey through a thousand years of Buddhist history and offers a window into traditional Japan that contrasts strongly with its hyper–modern cities. The Kumano Kodo's rugged, forested mountains, quiet rural valleys, rivers and waterfalls provide a spectacular backdrop for hikers. The seasonal contrasts of cherry blossom in the spring and rich autumn foliage inject wonderful colour along the hiking route. Arriving at your destination each day the traditional local guesthouses offer reviving onsens and wonderful local food. Hiking the Kumano Kodo really is a great immersion into Japanese culture.

We are Japan experts! As the first Australian walking company to offer the Kumano Kodo in 2013, we are the most established operator on this trail and have the best local contacts, advice and resources.
Highlights
Get Ready For
Experience a traditional boat ride up the Kumano-gawa river
Visit three grand shrines; collectively known as the Kumano Sanzan
Delicious handmade Japanese food with fresh local ingredients
Traditional guesthouses; lots of character and friendly hosts
Soak in an onsen to soothe your muscles (and spirit!)
Client Experiences
On the Trail
Join RAW Travellers Robyn and Jan as they walk the Kumano Kodo in Japan to find out what they've enjoyed the most on this iconic walking trail.
READ: 'A Sacred Journey', Jetstar Magazine
Journalist Jayne D'Arcy discovers her inner pilgrim along the Kumano Kodo trail.
Inclusions
What's included
Included
1 night in Kii-Tanabe (twin share, shared bathroom)
3 nights in traditional Japanese guesthouses (twin share, shared bathroom)
1 night in Kii-Katsuura (guesthouse, twin share)
Traditional boat ride from Hongu area to Shingu
Daily meals included as listed in the itinerary
Luggage transfers on the Kumano Kodo on all trekking days and from Hongu area to Kii-Katsuura
Briefing in Kii-Tanabe at the start of your walk
RAW Travel's exclusive interactive navigation app
Pre-departure pack including Kumano Kodo guidebook, luggage tags and RAW Travel buff (1 pack per 2 clients travelling together)
Excluded
Local bus tickets
Train tickets to/from trail
Flights to/from destination
Travel insurance
Single supplement
Beverages other than water at meals
Expenses and items of a personal nature
Kumano resources
Finding your way
We have researched and published our own Kumano Kodo Guidebook based on the experiences of many years of running trips here (we were the first Australian Company to offer the Kumano Kodo) and have now supplemented this with our Navigation App, designed to help you navigate easily on the trail showing your location in real-time without any internet connection needed. The app has many great features; it shows you weather forecasts localised for each of your overnight stops, and information on the location of each night's accommodation. There are important reminders, safety information, videos, and emergency contact information for your route. It also has a unique audio feature that can tell you about places and points of interest as you approach them on the trail.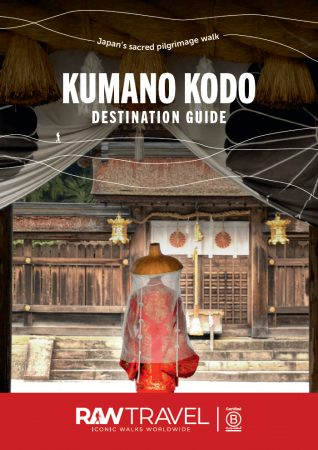 Exclusive Guide
get inspired
Japan's ancient Kumano Kodo trails are nestled in the verdant mountains of the southern part of the beautiful Kii Peninsula, just south of Osaka. This lush and rugged area has been considered the abode of the gods and worshipped for centuries.
Our destination guide is bursting with all you need to know about walking the sacred Nakahechi pilgrimage route, the most popular and accessible of all the routes. You'll love the peacefulness and tranquillity of the trail, the food (so elegant and refined!), the onsens (a cherished Japanese ritual), and the traditional family run guesthouses, full of character and charm.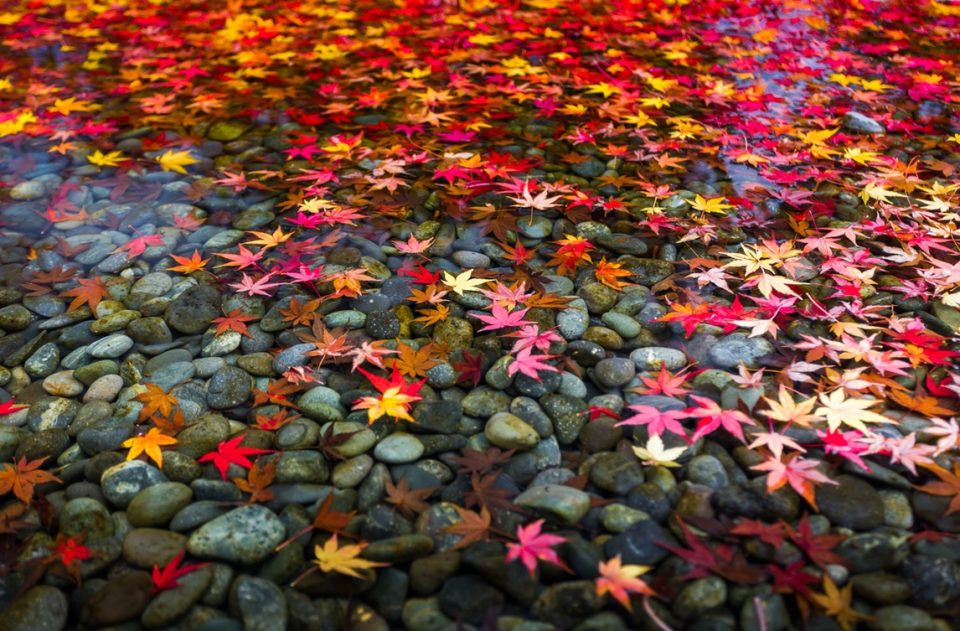 Customer Testimonials
Your app and info was very thorough and paired with the briefing info made the self-guided walk easy to navigate. The food and hospitality was definitely a highlight and the peacefulness of walking through the forest and coming across shrines etc was amazing.
Alison Taylor, Auckland (NZ) - April 2023
   
Customer Testimonials
Every part of this experience was professionally organised and delivered. Chris was amazing to deal with in the lead up and the trip was perfect. Everything was easy so we could focus on the journey. Loved the diversity of the experience, accommodation and food offerings – each was perfect in its own way.
Naomi Walsh, Trevallyn (TAS) - April 2023
   
Customer Testimonials
What an amazing experience. The attention to detail, including the one-on-one tour orientation provided upon our arrival into Kii-Tanabe, was invaluable. We highly recommend RAW Travel!  Thanks once again for the wonderful opportunity. We will cherish the moments we experienced along this magnificent and ancient trail.
John & Antonella Mihalinac, Moonee Ponds (VIC) – April 2019
   
Customer Testimonials
Loved meeting the people at the homes I stayed in – they were just genuinely nice caring people. Arrived frozen and soggy wet at second place – amazing food and the chef's lovely wife took my clothes away, dried them and sent me to their onsen bathtub – heaven!
Barbara Cahalane, Kihikihi (NZ) – March 2019
   
Customer Testimonials
The organisation for the trip was superb: instructions for each day, where we were staying, the handbook, maps. It was impossible to get lost or miss a connection.
Dace Ozols, Bulimba (QLD) – May 2018
   
Customer Testimonials
We loved everything about this experience. The scenery was wonderful, the trails varied and interesting and satisfyingly challenging. The immersion in Japanese culture was authentic and rewarding and our hosts, accommodation and food were simply superb. The self-guided option was perfect for us. It gave us the confidence to do what we did but and a sense of adventure.
Kathy & Dimitrie Vicol (ACT) – March 2016
TRIP date selection
when would you like to travel?
Please select your preferred dates for on-demand trips or select a scheduled date for group departures. If you have booked a self-guided trip please understand that because your trip date is on demand and we must check availability of all properties on your chosen dates before it can be fully confirmed