difficulty
Challenging - Strenuous
Overview
Dual Pilgrim Trip
The Kumano Kodo is a journey through a thousand years of Buddhist history and offers a window into traditional Japan that contrasts strongly with its hyper-modern cities. The Kumano Kodo's rugged, forested mountains, quiet rural valleys, rivers and waterfalls provide a spectacular backdrop for hikers. Arriving at your destination each day the traditional local guesthouses offer reviving onsens and wonderful local food. Hiking the Kumano Kodo really is a great immersion into Japanese culture.
This self-guided walking trip combines the freedom and flexibility of a self-guided trek with the support and company of other like-minded travellers. This trip is guaranteed to depart on the dates outlined.
Travelling on your own? No trouble. We will pair you up with another solo traveller of the same gender on a twin share basis.

We are Japan experts! As the first Australian walking company to offer the Kumano Kodo in 2013, we are the most established operator on this trail and have the best local contacts, advice and resources.
Highlights
Get Ready For
Kumano Hongu Taisha Spring Festival
Participate in a Purification ceremony
Annual festival held in Hongu to honour the Kumano Deities
Receive a commemorative Dual Pilgrim shirt and Tenegui
Walk the only other UNESCO World Heritage registered pilgrimage route and become a Dual Pilgrim
Dual Pilgrim video
Kumano & Camino
If you walk both the Camino de Santiago and the Kumano Kodo then you will become one of a select group of Dual Pilgrims and be honoured with a ceremony in the Kumano Hongu and receive a special certificate and t-shirt. RAW Travel was chosen as the 'Dual Pilgrimage' specialist company in Australia.
The video presentation here on the right was produced by the respective tourist boards of the Camino de Santiago and Kumano Kodo pilgrimage walks and gives you an overview of the significance of these ancient pilgrimages and why they were twinned as the only two World Heritage walks in the world by UNESCO.
Included
1 night in Kii-Tanabe (twin share, ensuite)
3 nights in traditional Japanese guesthouses along the Kumano Kodo (twin share, shared bathroom)
2 nights in an onsen village in a traditional ryokan (twin share, ensuite)
1 night Katsuura in a traditional ryokan (twin share, ensuite)
Daily meals included as listed in the itinerary
Luggage transfers on all trekking days and day 7
Group tour orientation in Kii-Tanabe at the start of your walk, including information pack and maps
RAW Travel's exclusive interactive navigation app
Pre-departure pack including exclusive RAW Travel Kumano Kodo guidebook, RAW Travel buff and luggage tags
Dual pilgrim shirt and Tenegui
Dual pilgrim completion certificate
Purification Ceremony (private/guided)
Group transfer by local taxi to your accommodation in Kii-Tanabe on day 1 and to the trailhead on day 2
Excluded
Local bus tickets
Train tickets to/from trail
Flights to/from destination
Travel insurance
Beverages other than water/tea at meals
Expenses and items of a personal nature
Kumano resources
Finding your way
We have researched and published our own Kumano Kodo Guidebook based on the experiences of many years of running trips here ( we were the first Australian Company to offer the Kumano Kodo) and have now supplemented this with our Walking app, designed to help you navigate easily on the trail showing your location in real-time without any internet connection needed. The app has many great features; it shows you weather forecasts localized for each of your overnight stops, and information on the location of each night's accommodation. There are important reminders, safety information, videos, and emergency contact information for your route. It also has a unique audio feature that can tell you about places and points of interest as you approach them on the trail.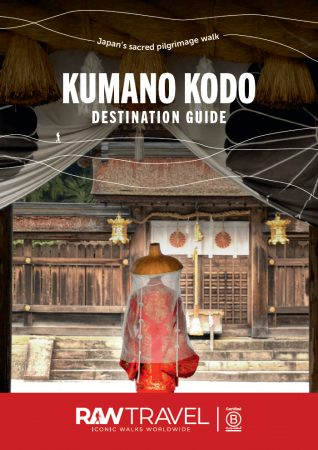 Exclusive Guide
get inspired
Japan's ancient Kumano Kodo trails are nestled in the verdant mountains of the southern part of the beautiful Kii Peninsula, just south of Osaka. This lush and rugged area has been considered the abode of the gods and worshipped for centuries.
Our destination guide is bursting with all you need to know about walking the sacred Nakahechi pilgrimage route, the most popular and accessible of all the routes. You'll love the peacefulness and tranquillity of the trail, the food (so elegant and refined!), the onsens (a cherished Japanese ritual), and the traditional family run guesthouses, full of character and charm.

Customer Testimonials
Awesome hiking! Each day has different challenges but the overall experience is priceless.
Michelle Velthuis, Essendon West (VIC) - April 2023
TRIP date selection
when would you like to travel?
Please select your preferred dates for on-demand trips or select a scheduled date for group departures. If you have booked a self-guided trip please understand that because your trip date is on demand and we must check availability of all properties on your chosen dates before it can be fully confirmed