difficulty
Moderate - Challenging
Overview
Arran Coastal Way
Nestled in the picturesque waters of the Firth of Clyde, the Isle of Arran in Scotland stands as a breathtaking jewel of natural wonders and rich heritage, self-described as 'Scotland in Miniature'. This captivating island boasts a diverse array of attractions that appeal to all kinds of adventurous travellers. To its north, rugged mountains clad in emerald-green heather beckon walkers seeking to climb their majestic peaks, including the iconic Goat Fell, which offers astounding panoramic views all over the island. Meandering around the island's rim is the enchanting Arran Coastal Way, a 105km loop of great diversity that clings to rocky shores and diverts to inland woodlands and moors. The walking route is varied and generally quite moderate, though there are some more strenuous sections. One of the Island's advantages is that Arran is easily accessed with a short train ride from Glasgow and a one-hour scenic ferry ride.
There are more attractions in Arran than we have room to list here but more than anything it is the tranquility of the varied landscapes that entices people back here again and again. The charming towns and villages dotted around the island, such as Brodick and Lochranza, exude warmth and hospitality, welcoming visitors to soak in the traditional Scottish culture and friendly atmosphere. For history buffs, Arran's illustrious past unfolds in its ancient castles and standing stones, such as the imposing Brodick Castle and the mystical Machrie Moor stone circles.  Wildlife abounds on Arran, on the coastal walk you'll see the iconic Grey Monk Seals resting along the shore along with Golden Eagles overhead and Pheasants and Red Deer inland. At the end of the day, culinary delights await the hungry walker, with the island's local delicacies like freshly caught seafood and delectable Arran cheese tempting taste buds. There are also two distilleries and a brewery on the island where you can visit and sample their excellent whiskies and beer.
The Isle of Arran's charm lies not only in its remarkable landscapes but also in the sense of escapism it offers. The slower pace of life and the absence of overwhelming crowds and vehicles create an opportunity for enjoyment of and real connection with nature. This blissful respite from the hustle and bustle of modern life is what makes Arran a haven for travellers seeking solace and rejuvenation.
Highlights
Get ready for
Scotland in miniature – highlands and lowlands
Coastal villages and walking
Ancient stone circles and standing stones
Seals, deer, eagles and native wildlife
Local distilleries
Option to visit Holy Isle
On the trail
What's it like underfoot?
The Arran Coastal Way follows a circuit around the Island that involves different walking conditions: at times you will be walking on dirt paths by the coast, along beaches and through forest and hills. There are several stretches where the Way uses the quiet coastal road that fringes the island and you walk along that. Sometimes there are low tide alternatives to the road – some of these coastal alternatives can also involve walking across pebble beaches and boulder hopping which makes for slower-going but very rewarding scenery. There is one day when you have an option to walk up into the highlands at Goat Fell otherwise the walk stays fairly low.
Accommodation
Where you stay
On Arran you'll stay in some lovely accommodation – a mixture of hotels that also doubles as pubs and bed and breakfasts, lodges. All are located conveniently on the route or very close to it. There are days where you walk to your accommodation and some days on the West Coast you'll catch the local bus at the end of the day back to your last accommodation.
Best time to visit
Good time to visit
Average time to visit
Closed
Map
EXPLORE
Brodick
Brodick is the main ferry port of Arran. The name Brodick comes from the Norse 'Breda- Vick' Vic or Broad Bay, which is a nod to its Viking past; the bay forms the beautiful backdrop to Arran's second-largest village.
CLICK ON A PIN TO REVEAL INFORMATION ABOUT THAT LOCATION
Goat Fell
If you're up for a challenge, the hike up Goat Fell (784m) rewards you with stunning panoramic views from the summit.
Corrie
In the quaint village of Corrie, The Wee Bookstore specialises solely in outdoors and nature books and is well worth a visit. Enjoy the tranquil beach beer garden at the local hotel and dip your feet in the refreshing sea of the Firth of Clyde.
Lochranza
Lochranza is situated in a sheltered inlet with a spectacular ruined castle. It also has its own whiskey distillery and shop, which is well worth a visit.
Imachar
Imachar is a beautiful coastal hamlet. The traditional stone cottages and buildings add to its timeless charm.
Blackwaterfoot
Home to a picturesque harbour and sandy beach, this small village boasts beautiful views of the Mull of Kintyre. It's known for its striking rock formation Drumadoon Point, which adds to the area's natural beauty.
Lagg
The sandy beaches in the town of Lagg are some of the best in Scotland. The family-run hotel is the oldest inn on Arran, dating back to 1791. Red squirrels are abundant and can be seen roaming around the hotel's garden. There are various cairns near Lagg on either side of the local river, reached by a forest footpath named 'lover's lane'.
Whiting Bay
Whiting Bay is a popular seaside resort town. There are plenty of interesting forest walks in this area, especially the well-known trek through the woods of Glenashdale Falls, the island's most impressive waterfall.
Holy Isle
Holy Isle was the home of a Celtic saint in the 6th century, St. Molaise, who lived as a hermit on the Island. Nowadays it is home to a Buddhist community. There is a wonderful, rugged walk to the summit of Mullach Mor 314m (3 hours). There are also rare animal breeds on the Island, yet another reason to visit this fascinating island.
Inclusions
What's Included?
Included
8 nights twin share accommodation in hotels and B&Bs
2 packed lunches
8 breakfasts
6 luggage transfers
RAW Travel app for accurate on-trail navigation
Arran Coastal Way guidebook
Emergency back-up in the UK
Excluded
Single supplement ($790)
Any lunches not included, bought locally en route
Travel insurance
Flights
Lunch and dinners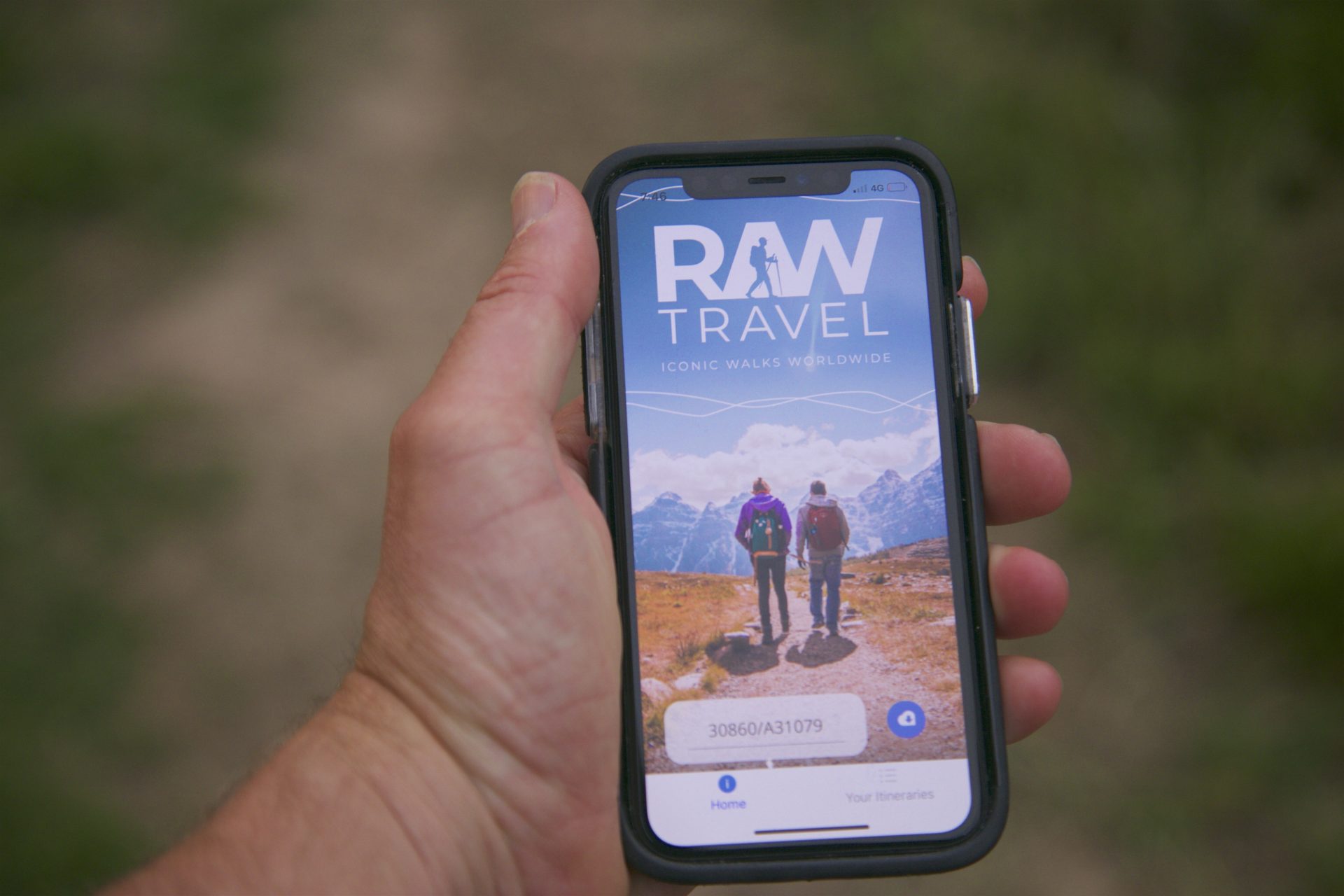 App
FINDING YOUR WAY
Our RAW Travel App is designed to help you navigate easily on the trail showing your location in real-time without any internet connection needed. The app has many great features; it shows you weather forecasts localised for each of your overnight stops, and information on the location of each night's accommodation. There are important reminders, safety information, videos, and emergency contact information for your route. It also has a unique audio feature that can tell you about places and points of interest as you approach them on the trail. It means you can walk safely and confidently on a self-guided trip.
Local Support
Walk with Confidence
We have our own UK support person who can assist if things don't go to plan. Neil is a fully qualified UK Summer and Winter Mountain Leader based in Kendal, England. He has been guiding trips for more than 7 years and leads RAW clients on our Coast-to-Coast walks. Whilst things always go well for our Self-guided clients, its good to know you can have support in an emergency. Read more about Neil here.
Similar Walks
United Kingdom
TRIP date selection
when would you like to travel?
Please select your preferred dates for on-demand trips or select a scheduled date for group departures. If you have booked a self-guided trip please understand that because your trip date is on demand and we must check availability of all properties on your chosen dates before it can be fully confirmed