Overview
Hadrian's Wall - West to East
Much like Wainwright's Coast to Coast Path, begin your Hadrian's Wall adventure at Bowness on Solway by dipping your toes into the Solway Firth inlet of the Irish Sea. Along the way, ancient Roman milestones and markers guide your steps, revealing the legacy of Roman soldiers. Explore impressive Roman forts like Birdoswald and Housesteads, which once teemed with life. Don't forget to pay a visit to the milecastles and turrets, reminiscent of checkpoints along the wall's storied past. The ever-changing landscapes, from coastal plains to farmlands to the breathtaking Northumberland National Park, create a stunning backdrop. The Vindolanda archaeological site is a time capsule, offering a glimpse into daily Roman life. As you pass through charming villages like Haltwhistle and Once Brewed, you'll find cosy spots for a pint and a peaceful night's rest at our hand-picked B&B and quaint hotel accommodation. 
Highlights
Get Ready For
The wild natural beauty of the Northumberland National Park, a designated

Dark Sky Park

A diverse range of wildlife including the shy endangered red squirrel 

Incredible rich cultural heritage of historical sites including ancient hill forts

A treasure trove of Roman artefacts at Vindolanda archaeological site 

Newcastle upon Tyne's unique blend of history, culture and warm Geordie hospitality
On the trail
What it's like underfoot
The terrain varies from solid paths and well-maintained trails to uneven stone and rocky sections. You will find yourself walking on centuries-old Roman cobblestones and rugged natural surfaces as you cross moorlands, meadows, and the occasional muddy stretch, particularly after rainfall. Which is all part of the fun! Some parts of the trail offer relatively smooth walking while others require a bit more surefootedness which makes sturdy hiking boots essential.
Origins
Roman Empire
Hadrian's Wall is the best-preserved and largest surviving outpost of the Roman Empire and is a testament to the military organisation, construction and engineering skill of the greatest empire in history. The wall spans 118km across northern England and was built in AD122 by the Emperor Hadrian and his army of 15,000 Roman soldiers. The original stone wall stood almost 6m high and took 6 years to build. The museums and interpretive sites along the way emphasise the incredible complexity, engineering, vision and sheer will-power of the Roman Empire in preventing the northern tribes from invading England.
Best time to visit
Good time to visit
Average time to visit
Closed
Map
Explore
Bowness-on-Solway
Bowness-on-Solway is best known as the western end of Hadrian's Wall. It lies within the Solway Coast Area of Outstanding Natural Beauty, west of Carlisle, and is a haven for birds; oystercatchers, redshanks and lapwings are just a few of the many varieties of birds that spend time here.
CLICK ON A PIN TO REVEAL INFORMATION ABOUT THAT LOCATION
Carlisle
Lively Carlisle has lots of highlights. Carlisle Castle has dominated the city's landscape and history for more than 900 years. On a tour, you'll get to see the turret where Mary Queen of Scots was once held captive! The Gothic Carlisle Cathedral is the second smallest cathedral in England. The East Window is one of the largest stained glass windows in the country.
Walton
The small attractive village of Walton is about 3km north of Brampton. As you walk to/from Gilsland you'll encounter sections of Hadrian's Wall, turrets, and milefortlets – each a tangible link to the Roman legacy.
Once Brewed
Once Brewed is a cosy hamlet with a visitor centre and cosy accommodation.
Chollerford
Chollerford is a delightful village. Here there is evidence of the remains of extensive Roman bridging, wide enough to take chariots.
Wylam
The small village of Wylam is best known for its history of railway pioneering and fantastic architecture.
Newcastle upon Tyne
Newcastle upon Tyne, or simply Newcastle, is located on the River Tyne. In the lively and vibrant Newcastle city centre you'll discover famous landmarks and warm Geordie hospitality.
Wallsend
Wallsend is the eastern end of Hadrian's Wall and is famed as a shipbuilding town.
Inclusions
What's included?
Included
Hassle-free walking with exclusive use of our specifically designed navigational hiking app

9 nights quality accommodation including warm welcoming B&Bs, guesthouses and small hotels

Daily breakfast including fresh fruits, yoghurt, cereals and/or a hearty, cooked English breakfast to support your day on the trail

Pack-free walking with luggage transfers on each hiking day (1 x 20kg bag per person)

UK based RAW Travel support person 

RAW Travel buff, luggage tags

Pre-trip guidance and planning from experienced and dedicated RAW Travel staff

Carbon offset and a native tree planted on your behalf
Excluded
Single supplement $1380

Travel insurance

Flights

Lunch and dinners

Taxi, bus fares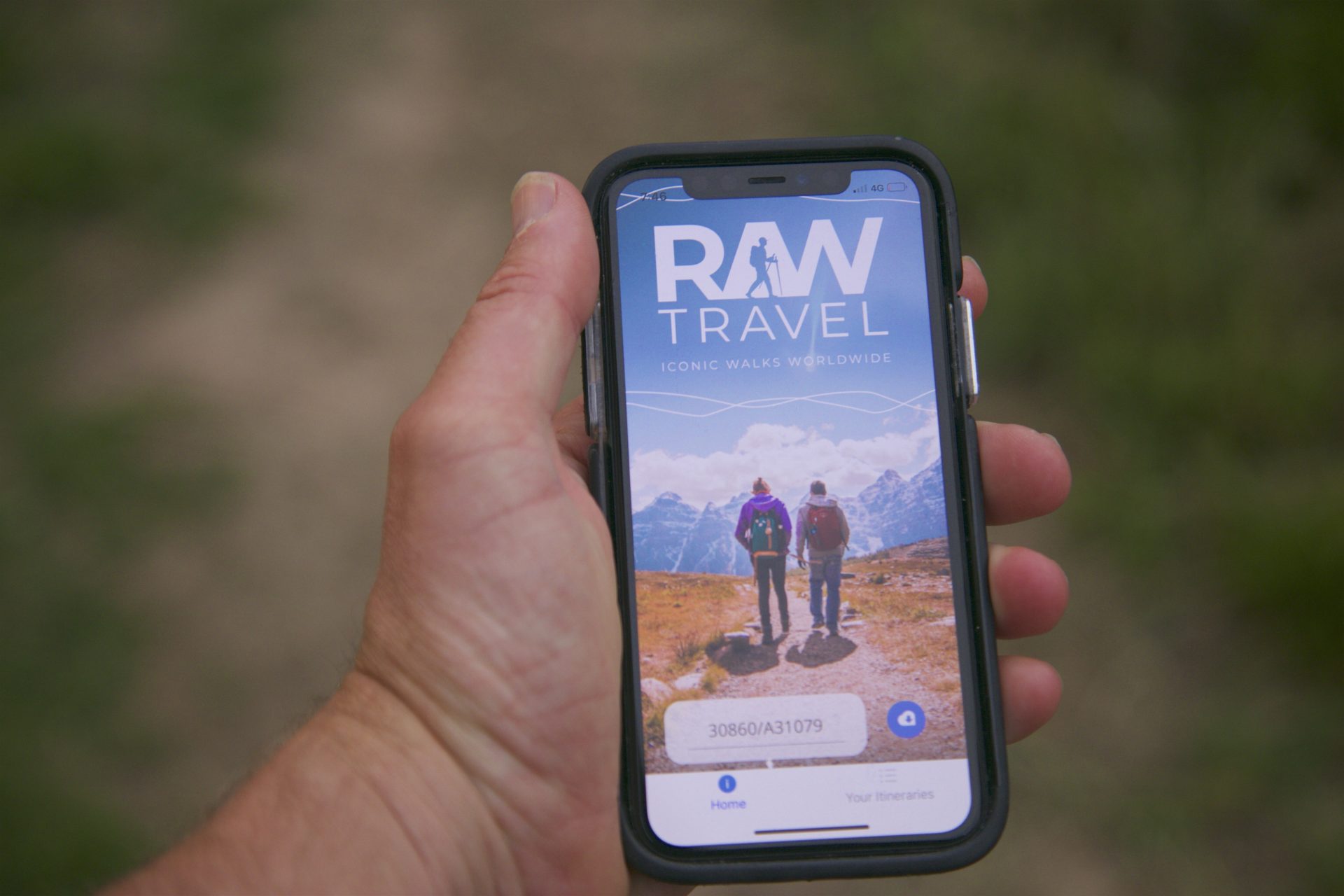 navigation app
finding your way
Our unique RAW Travel walking app has been designed to help you navigate easily. Simply download your map with the unique link we send you and you'll be able to follow your route with ease, showing your location in real-time without any internet connection needed or cumbersome pages of notes. The app has many great features: it shows the location of each night's accommodation, weather forecasts localised for your overnight stops, plus important reminders, safety information, videos and emergency contact details. It also has a unique audio feature that can tell you about places and points of interest as you approach them on the trail.
   
Customer Testimonials
Lovely trip exploring Northern England. Enjoyed the beautiful scenic countryside. Much harder than expected.
Michelle Cahill, Maroubra (NSW) – September 2023
   
Customer Testimonials
We thoroughly enjoyed the experience. Doable but tough enough to get a very satisfied sense of achievement. Loved the sense of history and awe at walking the 2000-year-old wall!! The accommodation was superior to what we expected. We must commend the hostess at Dacre House in Gilsland who welcomed us with open arms when we arrived soaking wet after a day in the rain and provided towels, arranged for our boots and clothes to be dried and supplied a wonderful evening meal. The room was large airy and beautifully appointed. The luggage transfer worked brilliantly.
Gayle Lee, Benalla (VIC) – June 2023
TRIP date selection
when would you like to travel?
Please select your preferred dates for on-demand trips or select a scheduled date for group departures. If you have booked a self-guided trip please understand that because your trip date is on demand and we must check availability of all properties on your chosen dates before it can be fully confirmed