Overview
Dales and Moors
The beautiful patchwork of fields and drystone walls will surely evoke lingering memories of James Herriot's All Creatures Great and Small. The Coast to Coast path leads you into the heart of the Yorkshire Dales and North York Moors.  The Dales are famous in their own right for their destination villages and picturesque walking trails. This is rural England with gentle sheep-dotted hills and pretty tree-lined streams. Marvel at the incredible drystone walls, a construction technique dating back to Neolithic times. Stroll past tiny villages and picture-book farmland. Enjoy every stile you climb and kissing gate you pass through.
The gorgeous wild beauty of the North York Moors may surprise you. The incredible wide open moorlands encourage striding out; who knew walking towards the far-off horizon could be so satisfying. This is joy, and all the more so when the scent of late summer and early autumn heather lingers in the air.

We are Australia's most trusted company for walking the Coast to Coast Path. We have always booked our arrangements directly and selected the best accommodation.
Highlights
Get Ready For
Stunning patchwork of sheep-dotted fields and dry stone walls 

Mingle with locals and enjoy a pint  in warm cosy traditional pubs and inns

Enjoy a friendly English welcome at our carefully chosen inns and B&Bs

Wander wide moorland spaces past mysterious medieval stone markers 

Stroll through pretty valleys among a quintessential English landscape

In late summer, delight in a vast carpet of purple flowering heathland flowers
Must See
Don't Miss
Enjoy a pint of local ale or cider in cosy, sometimes centuries-old pubs and wonder at the diverse landscape of meandering rivers, rolling farmland, pretty woodlands and acres of wild moorland. Make sure you explore the small market town of Kirkby Stephen, famous for its cobbled market square and historical buildings. The town sits in the beautiful Eden Valley near the North Pennines Area of Outstanding Beauty (AOB) and the gorgeous Yorkshire Dales National Park, the gateway to your Dales and Moors adventure.
Inclusions
What's included?
Included
Hassle-free walking with exclusive use of RAW Travel's specifically designed Coast to Coast navigation hiking app
Pre-trip consultation from our Coast to Coast Team – added assurance to help you on your way
12 nights' accommodation in character-filled warm country inns and B&Bs, hand-selected by our team
Fresh fruits, yoghurts, cereals or a traditional hearty English breakfast to support you each day on the trail
Pack-free walking with daily luggage transfers to your accommodation (20kg per person)
Coast to Coast guidebook
Carbon offset for your trip and a native tree planted for every walker
Excluded
Single supplement from $780
Travel insurance
Flights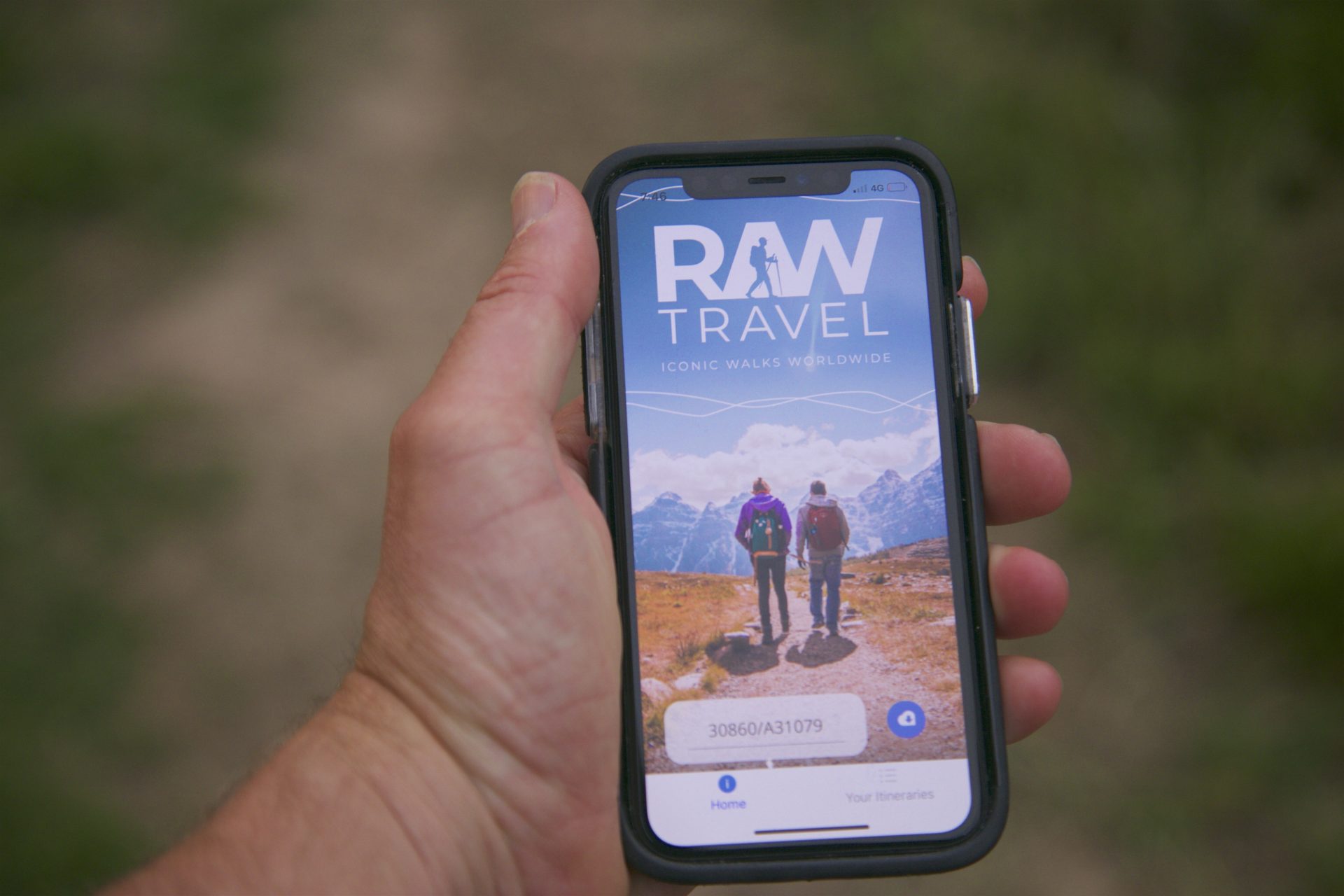 navigation app
finding your way
Our unique RAW Travel walking app has been designed to help you navigate easily on the Coast to Coast Path. Simply download your map with the unique link we send you and you'll be able to follow your route with ease, showing your location in real-time without any internet connection needed or cumbersome pages of notes. The app has many great features: it shows the location of each night's accommodation, weather forecasts localised for your overnight stops, plus important reminders, safety information, videos and emergency contact details. It also has a unique audio feature that can tell you about places and points of interest as you approach them on the trail.
Preparation
Self-Guided Walking
This self-guided walking tour requires individuals to use problem-solving skills, be adaptable and have a keen eye. It is recommended that you are comfortable map reading, referring to route notes. You'll have our use of our exclusive navigation app, which will help you find your way. If this is your first self-guided trip, after the first couple of days you will get the hang of it as the vast majority of our first-time travellers attest. The freedom of a self-guided trip is something that, once experienced, is sought time and time again
Exclusive Guide
get inspired
Wainwright's iconic Coast to Coast Path passes through glorious scenery in three of England's best national parks – the Lake District, Yorkshire Dales and North York Moors. There are countless small villages, majestic views and warm, welcoming pubs to break your journey. Find out all you need to know in our free Destination Guide bursting with inspiration, travel essentials, practical information and more!
Similar walks
Coast to Coast
TRIP date selection
when would you like to travel?
Please select your preferred dates for on-demand trips or select a scheduled date for group departures. If you have booked a self-guided trip please understand that because your trip date is on demand and we must check availability of all properties on your chosen dates before it can be fully confirmed