difficulty
Moderate - Challenging
Overview
The Full Camino
Experience 1200+ years of history on a UNESCO World Heritage trail that is one of the world's oldest pilgrimage routes. Rest your weary body in charming casa rurales, historic hotels, fine guest houses, and the famous Paradors. Explore vibrant European cities including Pamplona, Burgos, Leon, Santiago, Paris, Le Puy, Porto, Lisbon, Madrid and Barcelona. Savour French pastries, cured meats, tapas, seafood, custard tarts, olives, cheese, plus multi-course pilgrim menus and exceptional viticulture. 'Wake up' and live more mindfully through daily walking and the simple rituals of pilgrim life. Meet pilgrims from every corner of the world; share conversations on the road and food around a table. And enjoy walking into historic Santiago and attending the pilgrims' mass at the cathedral.
We have a selection of itineraries and options to walk or cycle a whole route, or just part of it; take a train or a bus if you need to. This trip can be taken on any departure date of your choosing. We also offer set departures if you would like to travel with others on a single or twin-share basis.

We are the longest established and most popular Camino operator in Australia.
Find out why we are the No.1 choice
Highlights
Get Ready For
Self-guided walking trip; set your own pace
Enjoy Spain's rich legacy of history, culture, food and art
Ideal for single travellers who like the details of their trip well planned
Scenic country roads, forest tracks crossing old villages, cities born from the Camino trail
On the trail
The experience
The Camino Frances covers a lot of different terrain over its 790km length. Sometimes you will walk on shepherd's tracks through mountains, dirt paths through a forest or more commonly gravel tracks and roads. As you approach towns and cities you will follow roads more and footpaths in the cities. There are three significant sets of mountains to cross with passes up to 1500m and the great open expanse of the Meseta in the middle of the route. Often it is through rolling hills particularly in Galicia.
Inclusions
What's included?
Included
40 nights of excellent accommodation including historic hotels and country houses
Private en suite rooms on a twin share basis
Daily breakfast
Luggage transfer each day from hotel to hotel (1 x 20kg bag per person)
RAW Travel navigation APP with maps of your hotel locations and emergency contact numbers
Local and Australian emergency contact numbers
Pre-trip Camino guidance and planning
Dedicated local support person in Spain for reassurance
Excluded
Single supplement $2300
Travel insurance
Flights
Added Extras
For an extra indulgence, upgrade your hotel in Santiago to a Parador from $170 per person/per night twin share and $250 per person/per night single occupancy, when booked 6 months in advance (subject to availability).
Ask us about adding an extra night in St Jean Pied de Port or Santiago, or extra rest days en route.
For any part of your trip that falls between 31 October and 1 April there is an 'out of season' luggage transfer surcharge cost of $30 per day.
Client experiences
What do people Say?
Hear from people about their experiences who have walked the Camino de Santiago with us in recent years. Also a blog article link here with photos.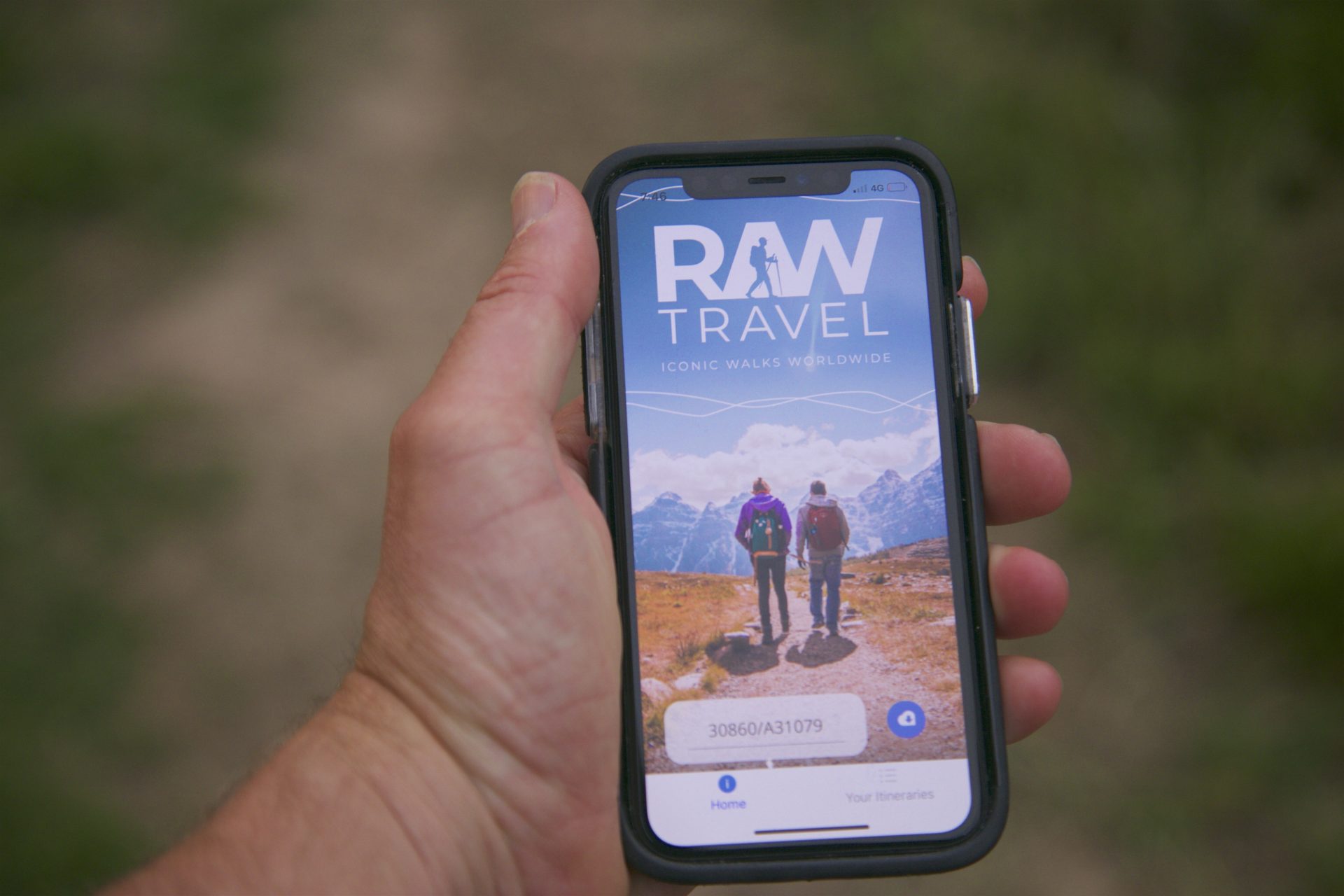 Camino resources
Finding your way
Our unique RAW Travel walking app has been designed to help you navigate easily on the French Way. Simply download your map with the unique link we send you and you'll be able to follow your route with ease, showing your location in real-time without any internet connection needed or cumbersome pages of notes. The app has many great features; it shows the location of each night's accommodation, and weather forecasts localised for each of your overnight stops. There is information on how and where to catch the trains you need (if any) and there are important reminders, safety information, videos and emergency contact information for your route. It also has a unique audio feature that can tell you about places and points of interest as you approach them on the trail.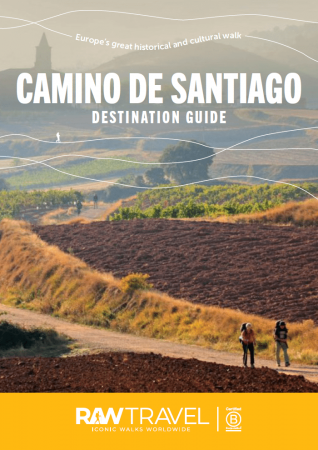 Exclusive Guide
Camino De Santiago
Discover inspiration, travel essentials, practical information and more in our free Destination Guide. All you need to know about walking the Camino de Santiago routes through Spain, Portugal and France!
Walking the Camino is an incredible journey that will immerse you not only in Europe's grand history, food and culture but most importantly the extraordinary camaraderie that exists along these routes. The spirit of the Camino de Santiago is alive and well among people from all over the world. It is a 'bucket list' experience you will never forget!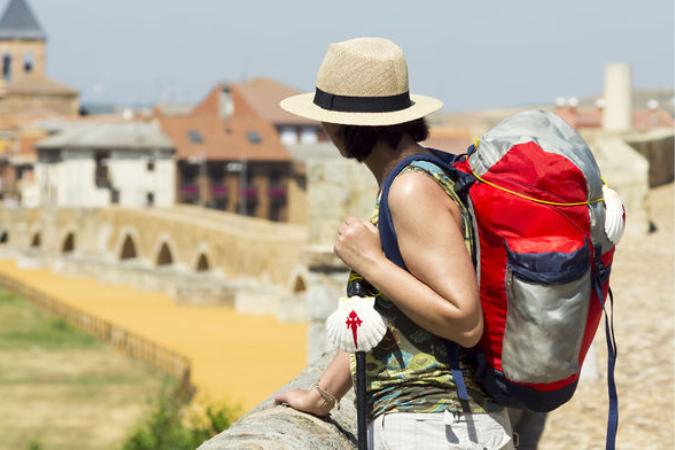 Customer Testimonials
Best thing I have ever done! I will never forget it or the people from all over the world that I met and walked with. What a way to experience a country, its people, customs and food/drink. Walking into the plaza and standing in front of the Catedral de Santiago was something special. The pre-trip process was thorough and the advice helped make the trip more enjoyable. Hotels were of a higher standard than expected; some were extravagant. The navigation app was an absolute – sometimes the arrows go missing!
Graeme Bydder, Kardinya (WA) - July 2023
   
Customer Testimonials
Great, once-in-a-lifetime experience. Loved meeting people from around the world and the simple and slow method of travel.
Michael Torley, Annerley (QLD) - July 2023
   
Customer Testimonials
Awesome experience – beyond expectations! The walk, people, the beer grande and the excellent accommodation.
Brenton Tozer, Encounter Bay (SA) - July 2023
   
Customer Testimonials
Thank you for making this a stress-free holiday where we did not have to worry about a thing. Everything was made so easy for us, from the itinerary to the very useful app. We did not want the walk to end. We loved the way you offered varied and interesting accommodation, from old monasteries, rural hotels, city hotels to pensions. We were really blown away by some of the accommodation as we did not expect that.
Jacobus Koegelenberg, Hawkes Bay (NZ) - June 2023
   
Customer Testimonials
Amazing, emotional, tough, empowering, inspiring, provoking. In summary, the whole experience exceeded any expectations – the people, the places, the history, the food, the difficulty and ease, everything!
Deanne Martin, Maryborough (VIC) - June 2023
   
Customer Testimonials
Absolutely fantastic. Every morning I could not wait to get up and walk!!! Loved walking by myself and with others, meeting people, great range of accommodation and support from RAW in Spain.
Theresa Beech, Kellerberrin (WA) - June 2023
   
Customer Testimonials
I cannot thank you enough for organising this wonderful trip for me. Its arguably the best experience – and I did it solo! The accommodations you booked for me were easy to find, and clean and comfortable! Thank you for your encouraging words and reassurances. I will certainly send recommendations your way.
Twee Caley, Wahroonga (NSW) - June 2023
   
Customer Testimonials
It is almost impossible to find the words to describe my feelings about my Camino Frances. It is truly one of the most magical and magnificent experiences of my life. Life changing, exhilarating, intense, challenging, inspiring. Walking the Camino Frances was the best decision I have ever made; the beautiful gift of what I experienced will stay with me forever.
Bronwyn Murphy (Proserpine, QLD) - June 2023
   
Customer Testimonials
We are in Santiago now and really enjoying this wonderful, vibrant city. When we went to get our Compostela the wonderful men at the Pilgrims Office made it a very special celebratory moment for each of us, and that's when the tears flowed! We can't stop smiling.
Shona Thompson, Hawke's Bay (NZ) – June 2023
   
Customer Testimonials
A great adventure. We had an amazing time and looked forward to everyday. Loved the walking, the ever changing scenery, the varied weather, the food, not having to worry about organising anything, the people we met.
Miff Shelton, Colac (VIC) - June 2023
   
Customer Testimonials
An adventure of a lifetime – the walk itself, the changing landscapes, the people, the history and cultural experiences.
Mike Salisbury, Brisbane (QLD) - June 2023
   
Customer Testimonials
Brilliant experience! Really enjoyed the camaraderie and spirituality of the Camino.
Chris Bradley, Mount Eliza (VIC) - June 2023
   
Customer Testimonials
It was an excellent experience. Everything went to plan and exceeded our expectations on every level. From the walking trail to the people you meet along the way to the wonderful accommodation RAW Travel arranged. Enjoyed having time to contemplate and the interesting people you meet from all around the world. All the accommodation was wonderful. The Parador stay at the end was magnificent.
Samantha Berry, Beaumaris (VIC) - May 2023
   
Customer Testimonials
Enjoyed the challenge of walking long distances day after day. RAW Travel's fantastic organisational skills were sublime. Adrian (Melbourne) and Daniel (Spain) you were both exceptional.
Frank Giddy, Townsville, QLD) - April 2023
   
Customer Testimonials
In short – I loved everything! I loved the walking, the weather, the accommodation, the food (mostly!), meeting and chatting to people from all around the world, the thinking time, the wildflowers, the challenge of facing every day (and not the stress of city life) and the sense of achievement and pride in completing over 800km.
Cheryl Kerr, Putney (NSW) – April 2019
   
Customer Testimonials
Right from the start, we were made to feel a part of this special trip. The information given was brilliant – easy to read and follow and well organised. After talking to other people doing the walk we felt very happy as we had accommodation for the entire trip and our bags were there waiting for us. A sense of peace of mind knowing all of that made the trip fantastic. Ros and Sue were so helpful they both felt like family by the end. Will definitely book with RAW Travel again.
Tina Madden, Port Macquarie (NSW) – April 2019
   
Customer Testimonials
One thing we learnt on the Camino is that everyone does their own Camino and RAW Travel helped us to achieve the most from our Camino experience. The range of accommodation booked for us was varied, from 5-star hotels to modest casa rurales and albergues. We were surprised, amazed and amused but never disappointed. Thank you for your guidance and support.
Susan Fergus, South Brisbane (QLD) – April 2019
   
Customer Testimonials
What I love about RAW Travel is that everything is so easy. It's wonderful to turn up to your hotel, check in and check out with no issues – all pre-paid. This was my second trip in Spain with RAW Travel and I can't wait to go back.
Shona Di Clemente, Tarragindi (QLD) – April 2019
   
Customer Testimonials
We really enjoyed our travel experience despite the fact that it was very hard in places. We trained diligently beforehand and were glad that we did or we would have really struggled. The accommodation was varied and really good and the daily luggage collection/delivery went without a hitch. The scenery was great and the spiritual aspect was ever present, but most of all the camaraderie with others from many nations was most rewarding. We're both well into our 70s, so "go for it".
Gary & Christine Ferguson, One Tree Hill (SA) – September 2018
   
Customer Testimonials
Everything went smoothly. Daily distances were appropriate. The accommodation was mostly of a high standard particularly the casa rurales and especially those away from the Camino. Accommodation hospitality was fantastic. Meals in the casa rurales were often exceptional. Some more dinner recommendations for each destination, especially cities, would remove some of the hit and miss, but that's part of the adventure.
Simon Smith, Sherwood (QLD) – September 2018
   
Customer Testimonials
We really appreciated the seamless flow of accommodation and luggage transfers. Each hotel had its mostly great features and the occasional negatives; however, one always goes with the flow and we always settled in and enjoyed the companionship of fellow pilgrims and hosts at the hotels. On the Way, the walking was exhilarating and it never really mattered how tough the day was – at day's end there was the glow of achievement.
Timothy Ritchie, Mayfield (NSW) – May 2018
   
Customer Testimonials
For the first time in many years we had a real break. A large part of the reason we were able to relax and enjoy the trip was because all the things we would normally worry about on such a long trip (40 odd days) were handled so professionally by RAW Travel. It is evident that RAW Travel has a detailed understanding of the Camino and we were the beneficiaries of that expertise. We were so happy with your service that we have now booked to walk Japan's Kumano Kodo.
Tracy Madden & Robert Graauwmans, Donvale (VIC) – May 2018
Similar walks
Camino de Santiago
TRIP date selection
when would you like to travel?
Please select your preferred dates for on-demand trips or select a scheduled date for group departures. If you have booked a self-guided trip please understand that because your trip date is on demand and we must check availability of all properties on your chosen dates before it can be fully confirmed