Overview
Camino de Finisterre
The final part of the Camino de Santiago journey. Since ancient times pilgrims have been making their way beyond Santiago to Finisterre (Fisterra in Galician) literally the 'end of the world'. It is the most westerly point in Europe and a fitting end to the epic Camino walk. Four days of walking brings you to the sea and the rugged coastal landscapes of Galicia.
The origins of worship here date back to pre-Christian pagan times, it was also a place of worship for the Romans and thereafter Christians undertaking the Camino as far back as 1000 years ago.

We are the longest established and most popular Camino operator in Australia.
Find out why we are the No.1 choice
Highlights
Get Ready For
A quieter and less visited section of the trail that literally finishes at the water's edge
Enjoy great seafood and local wine while resting in Finisterre
Quiet woodland paths past Galician horreos and remote moors
Finisterre was considered to be the "End of the World" during the middle ages and was a place of sun worship by the Romans
Client experiences
What do people Say?
Hear from people about their experiences who have walked the Camino de Santiago with us in recent years. Also a blog article link here with photos. 
Best time to visit
Good time to visit
Average time to visit
Closed
Map
Explore
Santiago de Compostela
Santiago de Compostela is a wonderful historic city. At its heart is Praza do Obradoiro and the ancient Cathedral, where the remains of St James are allegedly buried. Take a stroll through the cobbled streets and discover the many enticing tapas bars and restaurants. It's from this city that many pilgrims make their way to Finisterre, literally the 'end of the world'.
CLICK ON A PIN TO REVEAL INFORMATION ABOUT THAT LOCATION
Negreira
The sleepy and beautiful village of Negreira, 22km from Santiago, is nestled in a valley, masked by hills and mountains on all sides. Its streets are wide and straight and there are plenty of bars and shops. Don't miss the imposing medieval fortress of Pazo de Coton, the Chapel of San Mauro and the arched Ponte Maceira that straddles the river Tambre.
Abeleiroas
As you make your way to the tiny hamlet of Abeleiroas you'll pass numerous granaries as the route winds its way through this rich agricultural area. You'll gently rise to the highest point of the Camino de Finisterre at Monte Aro where you can enjoy a panoramic view over the region.
Cee
The charming seaside town of Cee has a strong fishing heritage. You can often witness the daily activities of fishermen as they bring in their catches. The beautiful sandy beaches, such as Playa de Estorde and Playa de Corcubión, are popular for swimming and sunbathing.
Finisterre
Finisterre translates to 'End of the Earth' in Spanish. It was historically believed to be the westernmost point of land in Europe, giving it a certain mystique and making it an important location for pilgrims. The town is set against a backdrop of dramatic cliffs, rugged coastline, and pristine beaches. The Costa da Morte (Coast of Death) begins here, and the powerful Atlantic Ocean has shaped the landscape, creating breathtaking natural beauty. Fisterra Lighthouse (Faro de Fisterra) stands prominently on the cliffs and provides spectacular panoramic views of the surrounding area.
Inclusions
What's included?
Included
5 nights excellent accommodation including historic hotels and character country houses.
Private en suite rooms on a twin share basis
Daily breakfast
Luggage transfer each day from hotel to hotel (1 x 20kg bag per person)
RAW Travel navigation APP with maps of your hotel locations and emergency contact numbers
Local and Australian emergency contact numbers
Pre-trip Camino guidance and planning
Dedicated local support person in Spain for reassurance
Excluded
Local bus from Finisterre to Santiago
Single supplement $300
Travel insurance
Flight to/from Spain
Added Extras
For an extra indulgence, upgrade your hotel in Santiago to a Parador from $170 per person/per night twin share and $250 per person/per night single occupancy, when booked 6 months in advance (subject to availability).
For any part of your trip that falls between 31 October and 15 March there is an out of season luggage transfer surcharge cost of $30 per day.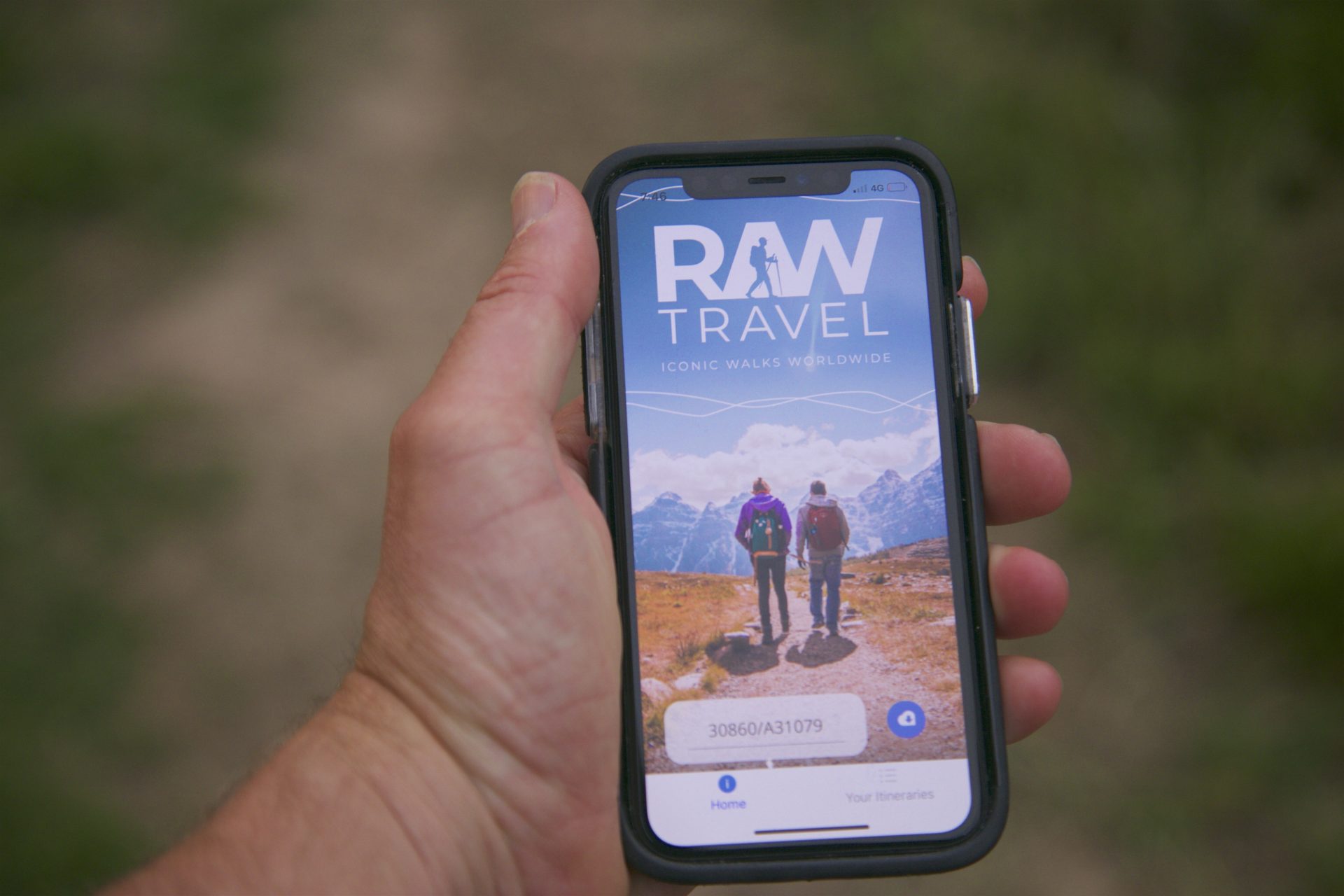 Camino resources
FINDING YOUR WAY
Our unique RAW Travel walking app has been designed to help you navigate easily on the French Way. Simply download your map with the unique link we send you and you'll be able to follow your route with ease, showing your location in real-time without any internet connection needed or cumbersome pages of notes. The app has many great features; it shows the location of each night's accommodation, and weather forecasts localised for each of your overnight stops. There is information on how and where to catch the trains you need ( if any) and there are important reminders, safety information, videos and emergency contact information for your route. It also has a unique audio feature that can tell you about places and points of interest as you approach them on the trail.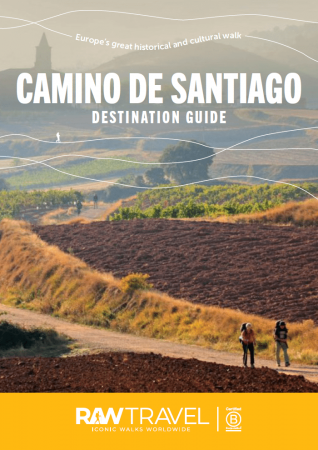 Exclusive Guide
Camino de Santiago
Discover inspiration, travel essentials, practical information and more in our free Destination Guide. All you need to know about walking the Camino de Santiago routes through Spain, Portugal and France!
Walking the Camino is an incredible journey that will immerse you not only in Europe's grand history, food and culture but most importantly the extraordinary camaraderie that exists along these routes. The spirit of the Camino de Santiago is alive and well among people from all over the world. It is a 'bucket list' experience you will never forget!
   
Customer Testimonials
My walk out to the North Atlantic was magical. At 6:00 a.m. the morning I left my room, the pitch dark and "starkers" I plunged myself into the frigid waters below my hotel. The word that came to mind was 'jubilant'.
Sally Bradford – May 2016
   
Customer Testimonials
I loved the Camino Finisterre. I enjoyed the scenery, the overall quietness and the fewer people. The baggage transfer service operated without a hitch and the accommodation was lovely.
Fiona Maclean, Ocean View (QLD) – September 2018
   
Customer Testimonials
Overall the trip was fabulous. The planning and knowledge from RAW was faultless and we were really happy with the trip. We have already recommended RAW to others. For the most part, the accommodation was fantastic and the overall itinerary was great. We did need to contact Daniel in Spain a few times and he was great.
Kelly Hawkins – September 2015
   
Customer Testimonials
This was a fantastic experience overall made easy with having everything being pre-booked and the luggage transferred. Everything was well organised and hassle free for me and the bag transfers was a seamless process. It was easy to find our hotels each day and I appreciated that most of them were on or very near to the Camino. I also want to mention how fantastic your Spanish employee Daniel is. He was approachable and helped us out with our one problem. Nothing was too much trouble and he is an asset to your team. I would travel with RAW travel again, everything was hassle free and well organised.
Rachel Symons – August 2015
   
Customer Testimonials
The accessibility of RAW Travel staff with all communication/queries before our trip was exceptional. Everything was organised/tailored to our wants and needs. I am so happy we chose RAW Travel to help us fulfil our drea
Anne Marie Manion, Belgrave (VIC) – July 2017
Similar walks
Camino de Santiago
TRIP date selection
when would you like to travel?
Please select your preferred dates for on-demand trips or select a scheduled date for group departures. If you have booked a self-guided trip please understand that because your trip date is on demand and we must check availability of all properties on your chosen dates before it can be fully confirmed