Overview
Porto to Santiago
The Portuguese Coastal Camino, sometimes referred to as the 'friendly Camino', heads north from Porto along the Atlantic coastline into Spain and is quieter but more picturesque than the traditional and more well trodden inland Camino Central (Central Way). Our 261km itinerary follows the Portuguese and Galician coastlines using the Portuguese Camino da Costa (Coastal Way) and the Portuguese Camino da Senda Litoral (Seashore Path) to Caminha where a ferry crossing leads to the border from Portugal into Spain. From here the paths merge through to Redondela, where it then converges with the Portuguese Camino Central and continues on to Santiago de Compostela.
Our Portuguese Coastal Camino itinerary includes stays in fascinating historic towns such as beautiful Viana do Castelo, A Guarda, Redondela, Baiona and Pontevedra, before finishing in magnificent Santiago de Compostela. As you journey through Portugal and into Spain you can expect to pass many fine beaches and seascapes, sand dunes and fishing ports and will walk through seaside communities, quaint fishing villages, rural landscapes and historic towns with a wealth of architectural sites to explore and amazing seafood to sample.
This trip can be taken on any departure date of your choosing. We also offer set departures on the dates listed if you would like to travel with others on a single or twin share basis.
Highlights
get ready for
Savour the slower pace of this much quieter Camino

memorable encounters with friendly locals along the way

Rest or explore with a free day in Porto, a vibrant, fascinating riverside city

Visit Tui and its cathedral on a rest day in Baiona, or make a day trip to the Cies Islands
Included
Accommodation including historic hotels and country houses with en-suite bathrooms on a twin share basis
2 nights' accommodation in the luxurious Parador in Baiona (subject to availability)
Daily breakfast
Luggage transfer each day from hotel to hotel (1 x <20kg bag per person)
RAW Travel navigation APP with maps of your hotel locations and emergency contact numbers
Local and Australian emergency contact numbers
Pre-trip Camino guidance and planning
Dedicated local support person in Spain for reassurance
Excluded
Single supplement
International airfares
Travel insurance
Added Extras
For an extra indulgence, upgrade your hotel in Santiago to a Parador from $150 per person/per night twin share and $220 per person/per night single occupancy, when booked 6 months in advance (subject to availability).
For any part of your trip that falls between 31 October and 15 March there is an 'out of season' luggage transfer surcharge cost of $30 per day
Tailor the itinerary with the addition of extra rest days or additional overnight stays to shorten longer walking distances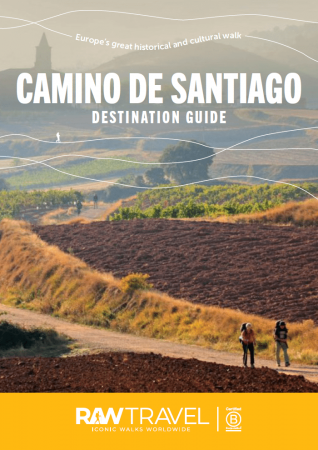 Exclusive Guide
get ins
Discover inspiration, travel essentials, practical information and more in our free Destination Guide. All you need to know about walking the Camino de Santiago routes through Spain, Portugal and France!
Walking the Camino is an incredible journey that will immerse you not only in Europe's grand history, food and culture but most importantly the extraordinary camaraderie that exists along these routes. The spirit of the Camino de Santiago is alive and well among people from all over the world. It is a 'bucket list' experience you will never forget!
TRIP date selection
when would you like to travel?
Please select your preferred dates for on-demand trips or select a scheduled date for group departures. If you have booked a self-guided trip please understand that because your trip date is on demand and we must check availability of all properties on your chosen dates before it can be fully confirmed