difficulty
Moderate - Challenging
Overview
Baiona to Finisterre
This pilgrimage route through Galicia in Spain from Baiona through to Santiago de Compostela and then onto Finisterre has a very unique place in history. Baiona, where you start your walk, dates back over 2,000 years and is known as the place where one of the ships from Christopher Columbus' expedition returned to Europe in 1493 to first advise of the discovery of the 'New World'. Now a port and a fishing village, Finisterre is said to have been a place of sun worship by the Romans and was previously thought to be the end of the world, so  finishing your walk at the Cape Finisterre Lighthouse is a fitting way to mark the end of this amazing journey.
The Celtic origins of Galicia gives this region a unique feel and the area still retains its own distinct culture, language and cuisine. This region is also famous for its seafood and this route is most suited to those who love coastal scenery but also the more adventurous walker as you will find quieter trails with less signage and fewer fellow pilgrims than on the 'Spanish Camino'.

We are the longest established and most popular Camino operator in Australia.
Find out why we are the No.1 choice
Highlights
get ready for
Explore the Portuguese Coastal Camino and Camino de Finisterre 

Solitude, mindfulness, reflection on a

210km 'Camino less travelled'

Great accommodation from quaint hotels to an impressive Parador

Free days to explore charming Baiona and atmospheric Santiago

Exceptional walking along Galicia's wild Atlantic coast

Fishing villages, beach walks, historic towns, and excellent seafood and wine
Week 3: Finisterre to Santiago
Day 15: Bus to Santiago
Local buses depart throughout the day. The trip to Santiago takes around 2½ hours (or 1½ hours on the fast bus). If you prefer, you could book a private transfer.
Meals: B
Day 16: Depart Santiago
You are free to check-out of your hotel any time before 10am. If you would like to explore Santiago further you are able to leave your bags with reception.
Meals: B
Inclusions
What's included?
Included
13 nights excellent accommodation including historic hotels and character country houses
2 nights at the Baiona Parador
Private en suite rooms on a twin share basis
Daily breakfasts
Luggage transfer each day from hotel to hotel (1 x 20kg bag per person)
RAW Travel navigation app with maps of your hotel locations and emergency contact numbers
Local and Australian emergency contact numbers
Pre-trip Camino guidance and planning
Dedicated local support person in Spain for reassurance
Excluded
Flights
Travel insurance
Local bus from Finisterre to Santiago
Single supplement $1145
Added Extras
For an extra indulgence, upgrade your hotel in Santiago to a Parador from $170 per person/per night twin share and $250 per person/per night single occupancy, when booked 6 months in advance (subject to availability).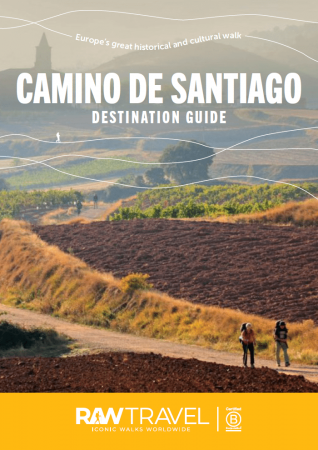 Exclusive Guide
get inspired
Discover inspiration, travel essentials, practical information and more in our free Destination Guide. All you need to know about walking the Camino de Santiago routes through Spain, Portugal and France!
Walking the Camino is an incredible journey that will immerse you not only in Europe's grand history, food and culture but most importantly the extraordinary camaraderie that exists along these routes. The spirit of the Camino de Santiago is alive and well among people from all over the world. It is a 'bucket list' experience you will never forget!
Similar walks
Camino de Santiago
TRIP date selection
when would you like to travel?
Please select your preferred dates for on-demand trips or select a scheduled date for group departures. If you have booked a self-guided trip please understand that because your trip date is on demand and we must check availability of all properties on your chosen dates before it can be fully confirmed