Overview
Baiona to Santiago
Our 10 day itinerary follows the Galician coastline using the Portuguese Camino da Costa (Coastal Way) to Redondela, and from here the route converges with the Portuguese Camino Central (Central Way) and continues through to Santiago de Compostela. This walk takes in the beautiful Galician towns and villages of Baiona, Pontevedra, Redondela (famous for the best oysters in Galicia) and Caldas de Rei (a spa town with thermal hot springs). Although you will encounter fewer other walkers and less signage than on the Camino Frances the friendly locals, fabulous scenery, fine accommodation and delicious Galician cuisine will make this journey a truly memorable experience.
Please note this particular itinerary is in Spain and does not go through Portugal, even though it is called the Portuguese Coastal Way. If you would like to start your walk in Portugal, please contact us to arrange this. There is an option to walk from Porto (Portugal) to Baiona before you join this trip or the full-length Portuguese Coastal Way Camino from Lisbon.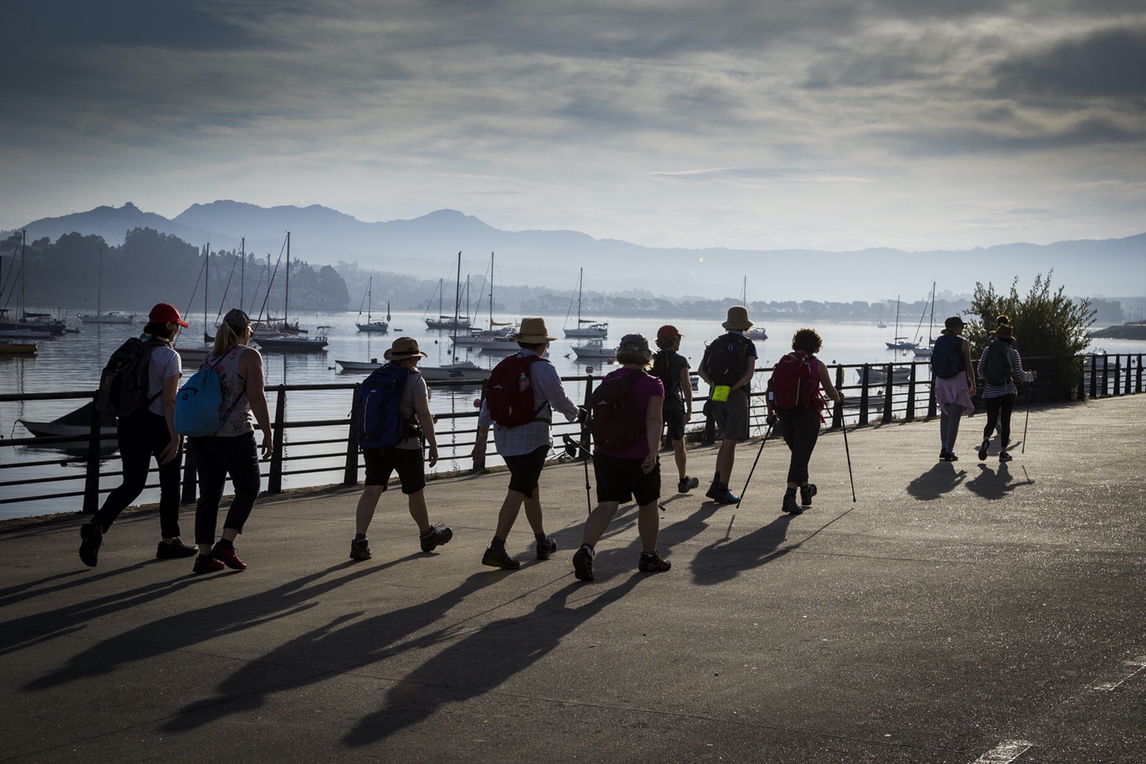 Highlights
get ready for
Beautiful Galician scenery; seascapes, vineyards and shady forests

Walk approx. 130kms enabling you to receive a Compostela

Indulge in local delicacies especially amazing seafood including oysters and pulpo (octopus)

Magnificent accommodation with complimentary upgrade to the Parador in Baiona or Pontevedra*
Itinerary
Baiona to Santiago
Week 2
Day 8
PADRÓN TO SANTIAGO DE COMPOSTELA (26KM)
Your final walking day on the Camino Portuguese will provide some variety through woodlands and on increasingly busy roads. You will pass through a number of small villages and the suburbs of Santiago de Compostela. After making your way to the historic sanctuary of A Escravitude, continue to Faramello and the Chapel of San Martino where you can see one of the oldest wayside crosses (cruceiro) in Galicia. After passing through Milladoiro and the tiny town of Agro dos Monteiros, but before passing under the motorway, pilgrims now for the first time will have a view of the spires of the Cathedral of Santiago de Compostela.
After crossing the Sar River, take the left way marked option and continue through the streets of the city via Rua de Porto Faxeira, the old entrance of the Portuguese Way into Santiago de Compostela. Make your way via Rua Franco to Praza do Obradoiro and the Cathedral of Santiago de Compostela.
Meals: B
Day 9
FREE DAY IN SANTIAGO DE COMPOSTELA
Spend the whole day exploring the historical city of Santiago de Compostela. Dine at one of the many cafes or restaurants and reflect on your Portuguese Coastal Camino experience. Attend the pilgrim's midday mass and spend some time exploring the famous Cathedral or sit and watch the steady flow of pilgrims arriving into the square finishing their epic journey.
Meals: B
Day 10
DEPART SANTIAGO DE COMPOSTELA
You are free to check out of your hotel any time before 10am. If you would like to explore Santiago further you are able to leave your bags with reception.
Meals: B
Included
Daily breakfast
2 nights at the Parador De Baiona
7 nights excellent accommodation in Casa Rurales and Hotels
Luggage transfer each day from hotel to hotel (1 x 20kg bag per person)
RAW Travel navigation APP with maps of your hotel locations and emergency contact numbers
Local and Australian emergency contact numbers
Pre-trip Camino guidance and planning
Dedicated local support person in Spain for reassurance

Magnificent accommodation with complimentary upgrade to the Parador in Baiona* (subject to availability)
Excluded
Airfares
Travel insurance
Single supplement $860
Added Extras
For an extra indulgence, upgrade your hotel in Santiago to a Parador from $150 per person/per night twin share and $220 per person/per night single occupancy, when booked 6 months in advance (subject to availability).
For any part of your trip that falls between 31 October and 15 March there is an 'out of season' luggage transfer surcharge cost of $30 per day.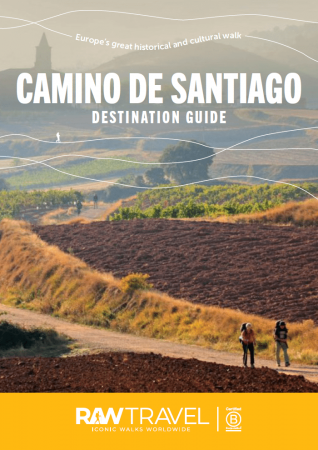 Exclusive Guide
Portuguese Camino
Discover inspiration, travel essentials, practical information and more in our free Destination Guide. All you need to know about walking the Camino de Santiago routes through Spain, Portugal and France!
Walking the Camino is an incredible journey that will immerse you not only in Europe's grand history, food and culture but most importantly the extraordinary camaraderie that exists along these routes. The spirit of the Camino de Santiago is alive and well among people from all over the world. It is a 'bucket list' experience you will never forget!
Similar walks
Camino de Santiago
TRIP date selection
when would you like to travel?
Please select your preferred dates for on-demand trips or select a scheduled date for group departures. If you have booked a self-guided trip please understand that because your trip date is on demand and we must check availability of all properties on your chosen dates before it can be fully confirmed