Overview
St Jean Pied de Port to Logrono
Walk the first section of the 800km long Camino, starting in the beautiful French Pyrenees from where you walk through the hills to Pamplona then on through Navarra and Rioja to finish at Logrono. Enjoy the excellent food and wine this region is known for as well as the leafy green surroundings and stay in historical accommodation that will delight you. This section of the Camino Trail is undoubtedly the hardest but one of the most beautiful and diverse sections of the trail as it crosses the Pyrenees but there are untold rewards with mountain vistas, fantastic food and wine and wonderful accommodation en route.

We are the longest established and most popular Camino operator in Australia.
Find out why we are the No.1 choice
Highlights
Get Ready For
Cross the imposing and beautiful Pyrenees from France into Spain
Enjoy a sip of wine at the famous wine fountain of Irache
Soak up the history and vibrant basque culture in Pamplona
Join a tapas or pincho tour in the streets of Pamplona and Logrono
Walk through vineyards and olive groves; enjoy the world famous Tempranillos of the Rioja region
Best time to visit
Good time to visit
Average time to visit
Closed
Map
Explore
Saint-Jean-Pied-de-Port
This delightful mountain town at the foothills of the Pyrenees is the traditional starting point for pilgrims walking the Camino Francés. You will see many people arriving and preparing for the challenging crossing. Decide if you will take the Napoleon route (very scenic but more difficult) or the Valcarlos route (for bad weather).
CLICK ON A PIN TO REVEAL INFORMATION ABOUT THAT LOCATION
Roncesvalles
Roncesvalles ('the valley of thorns') is a beautiful spot still cloaked in a medieval atmosphere. Make sure you visit the beautiful 12th-century church, cloisters and museum.
Akerreta
In the small village of Akerreta, about 6km past Zubiri and 17km before Pamplona, there is a beautiful converted country house (casa rurale) that featured in the movie 'The Way'.
Pamplona
This vibrant Spanish city is bursting with artistic, historical and gastronomical highlights! We recommend dining in the city's award-winning restaurants that specialise in elaborately prepared 'pinchos' (finger foods) and doing a foodie tour.
Puenta de la Reina
The small town of Puenta de la Reina (translated as 'Bridge of the Queen) is famous for its perfectly balanced 11th century stone bridge; it's one of the most famous photos of the Camino. It is the point where the Camino Francés meets the Aragonese Route. As a result of the two paths crossing, Puente la Reina has been a major meeting point along the Camino for hundreds of years.
Estella
Estella is a lovely small town split in two by the Ega River and surrounded by conic, wooded hills topped with castles (or their ruins) and churches attesting to its long history as a crucial centre of commerce. Just outside of Estella you will find the famous Irache fountain that dispenses free red wine to thirsty pilgrims (courtesy of the Bodegas)!
Los Arcos
Los Arcos is another charming village situated along the Camino. It is a classical pilgrim halt that is known for its old town, with cobbled streets and well-preserved buildings. The village offers a range of services for pilgrims, including restaurants, grocery stores, pharmacies and medical facilities.
Logroño
The capital of the La Rioja region is home to some of Spain's most celebrated red wines. It has one of the most distinguished culinary traditions in Spain. There are over 50 taperías (tapas restaurants) located within a four-block area close to the town centre. The traditional tapas restaurants often serve only one tapa (such as mushroom), served as pincho (pintxo in Basque), meaning one serving.
Inclusions
What's included?
Included
10 nights excellent accommodation including historic hotels and character country houses.
Twin share en suite rooms on a twin share basis
Daily breakfast
Luggage transfer each day from hotel to hotel (1 x 20kg bag per person)
RAW Travel navigation app with maps of your hotel locations and emergency contact numbers
Local and Australian emergency contact numbers
Pre-trip Camino guidance and planning
Dedicated local support person in Spain for reassurance
Excluded
Single supplement $800
Travel insurance
Flights
Added Extras
We can include transfers to and from Barcelona by train, additional rest days as required and reduce the kilometres walked over the Pyrenees. If you would like to do a food or wine excursion in Pamplona or Logrono let us know.
For any part of your trip that falls before 15 March or after 31 October there is an out-of-season luggage transfer surcharge cost of $30 per day.

Customer Testimonials
We walked 11 days from Estella to Burgos. Worthwhile experience; loved the sense of achievement. Highlights included passing through old Spanish towns, beautiful scenery and meeting fellow peregrinos along the way. The variety of accommodation was appreciated, from farmhouses to Paradors – all lovely Spanish character properties.
Cheryl French, West Midlands (UK) - September 2023

Customer Testimonials
Exceeded our expectations. The spirit of the Camino, the scenery, accommodation and food were all amazing.
Tracy Elkins, Farrer (ACT) - July 2023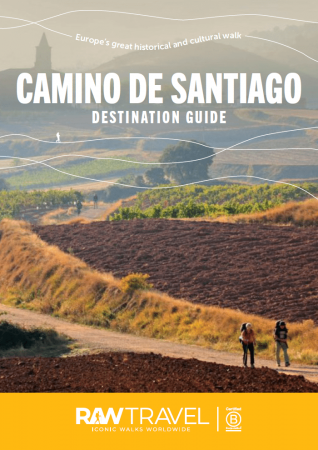 Exclusive Guide
Camino de Santiago
Walking the Camino is an incredible journey that will immerse you not only in Europe's grand history, food and culture but most importantly the extraordinary camaraderie that exists along these routes. The spirit of the Camino de Santiago is alive and well among people from all over the world. It is a bucket list experience you will never forget! Discover inspiration, travel essentials, practical information and more in our free Destination Guide. All you need to know about walking the Camino de Santiago routes through Spain, Portugal and France!
Similar Walks
Camino De Santiago
TRIP date selection
when would you like to travel?
Please select your preferred dates for on-demand trips or select a scheduled date for group departures. If you have booked a self-guided trip please understand that because your trip date is on demand and we must check availability of all properties on your chosen dates before it can be fully confirmed