Overview
Pamplona to Santiago: Mountain Bike
Travel over 700km along the Camino trail to the famed end point at Santiago, taking in all that the Camino has to offer, and do it by bike. While most people choose to walk the trail it is possible to cycle (or ride a horse) along the ancient pilgrimage trail. We supply a top quality mountain bike and look after your luggage and accommodation, while you enjoy the ride.
Cycling the Camino will take you over ancient bridges, through tiny hamlets and across a large part of the Spanish landscape. The trail is full of variety with sections on sealed road, track, rocky paths and everything from long flat days to long climbs and short sharp ascents. In most cases, it is possible to get off the trail and use roads that run parallel to the Camino. Enjoy the wonderful food, stay in interesting and tasteful accommodation, and feel the history of the millions of pilgrims who have traversed the trail over the centuries.

We are the longest established and most popular Camino operator in Australia.
Find out why we are the No.1 choice
Highlights
Get Ready For
Mountain Bike Pamplona to Santiago
Bring a pebble or memento to leave at the Cruz de Ferro
Indulge the tastebuds; visit the Museo del Chocolate in Astorga
Finish your pilgrimage walking into the city of Santiago de Compostela
Inclusions
What's included?
Included
Specialized Carve Comp 29 mountain bike (15"-21" frame sizes)
Ortlieb rear panniers
Toolkit, lock, and pump
Drop off and collection of bike
18 nights excellent accommodation including historic hotels and character country houses.
Private en-suite rooms on a twin share basis
Daily breakfast
Luggage transfer each day from hotel to hotel (1 x 20kg bag per person)
RAW Travel navigation APP with maps of your hotel locations and emergency contact numbers
Local and Australian emergency contact numbers
Pre-trip Camino guidance and planning
Dedicated local support person in Spain for reassurance
Excluded
Single supplement ($1260)
Cycling helmet
Travel insurance
Flight to/from Spain
Added Extras
RAW Travel also offers tailor-made arrangements and can adapt this itinerary to suit your needs. Please note that tailor-made arrangements incur higher costs due to the extra work involved.
For an extra indulgence, upgrade your hotel in Santiago to a Parador from $170 per person/per night twin share and $250 per person/per night single occupancy, when booked 6 months in advance (subject to availability).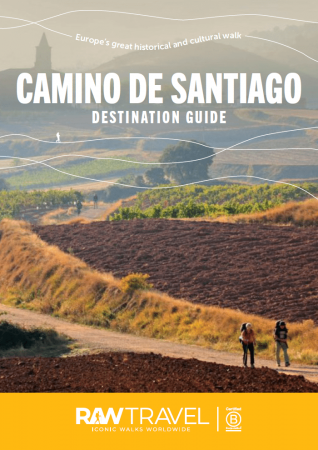 Exclusive Guide
Camino de Santiago
Discover inspiration, travel essentials, practical information and more in our free Destination Guide. All you need to know about walking the Camino de Santiago routes through Spain, Portugal and France!
Walking the Camino is an incredible journey that will immerse you not only in Europe's grand history, food and culture but most importantly the extraordinary camaraderie that exists along these routes. The spirit of the Camino de Santiago is alive and well among people from all over the world. It is a 'bucket list' experience you will never forget!
Similar Rides and Walks
Camino De Santiago
TRIP date selection
when would you like to travel?
Please select your preferred dates for on-demand trips or select a scheduled date for group departures. If you have booked a self-guided trip please understand that because your trip date is on demand and we must check availability of all properties on your chosen dates before it can be fully confirmed