difficulty
Moderate - Challenging
Overview
The Full Le Puy Camino
The Le Puy Camino is deservedly one of the most popular walks in France, though it has far less walkers than you'd encounter on its Spanish cousin. Also known as the Via Podiensis, it is a beautiful route that crosses rugged central France and 745km later joins with the Spanish Camino in St-Jean-de-Pied-Port to continue all the way to Santiago de Compostela.
From the historic town of Le Puy-en-Velay, the Camino crosses the Central Massif, through the volcanic terrain of the Velay, the almost treeless high plateau of the Aubrec, the medieval villages and rich agricultural lands of the Lot, limestone valleys of the Quercy, rolling hills of the Gascony, beautiful vineyards of Armagnac before arriving in the Basque country in the foothills of the Pyrenees at the picturesque village of St-Jean-Pied-de-Port.
Follow in the footsteps of thousands of pilgrims and traverse the ages of living French history as you walk through beautiful, medieval French villages, pass by historic churches and cathedrals and over centuries-old pilgrim bridges, many of which are UNESCO World Heritage listed. Immerse yourself in the local and changing cultures, gastronomy and dialects throughout the journey.
The Le Puy Camino way is well marked with the red and white markings of GR65, and the familiar scallop shell of the Camino. The terrain is varied but rarely strenuous. A few shorter days are included to manage the walk at an enjoyable pace.

We are the longest established and most popular Camino operator in Australia.
Find out why we are the No.1 choice
Highlights
Get Ready For
Walk the full length of the most beautiful of all the Camino routes in Europe

Explore 8 of the most beautiful villages in France

Admire the impressive architecture and historic UNESCO world heritage sites 

Meander through stunning, ever-changing landscapes from rolling green hills and wooded mountains to moors of heather and limestone plateaus

Soak up the rugged volcanic scenery of the Massif Central

Cross the mythic and desolate Aubrac high plateau with its wildflowers and contentedly grazing cows

Share trails and tales with friendly French walkers

Immerse yourself in French history, architecture, art and food
Inclusions
What's included?
Included
39 nights' accommodation in simple guesthouses or hotels with private facilities on a twin share basis
39 breakfasts
Luggage transfer each day from hotel to hotel (1 x 13kg bag per person)
RAW Travel navigation app with maps of your hotel locations and emergency contact numbers
Pre-trip guidance and planning for your Le Puy Camino trip
Excluded
Travel insurance
Single supplement
All items of a personal nature
Flights
Food & Wine
GASTRONOMY
Food and wine are exceptional highlights of this trip. Breakfast will be provided at your hotel. Once you're on the trail, it's common to find a boulangerie or patisserie for pastries and coffee. A fresh baguette with cheese, sausage or paté and a tomato makes a great picnic lunch. Items can be bought from the fromageries and other stores along the route. In the early evening, enjoy an apéritif in an atmospheric village square then sample the abundant local wines and rich and varied cuisine for which France is famous, including delicacies like black truffles and the irresistible Rocamadour cheese.
ACCOMMODATION
WHERE YOU STAY
Memorable accommodation is a hallmark of our trips on Le Puy Camino. We have long-standing relationships with hoteliers and have hand-selected the most beautiful, unique and character-filled properties on the trail and in the surrounding villages. We want you to enjoy each overnight stay as much as the walking. Our hosts enjoy sharing their knowledge of the local area and history and are accustomed to welcoming RAW Travellers into their establishments.
On the trail
TERRAIN UNDERFOOT
The Le Puy route is a picturesque trail through rural south-west France. It's dotted with tiny hamlets, isolated farmsteads and intact medieval villages. It takes on average 5 weeks to walk the full 750km. The terrain is varied, sometimes strenuous and rarely flat, especially in the beginning. At times, there are descents and ascents from river valleys. Some sections are on single-track paths that can often be rocky in places, sometimes with steps but mostly just bare earth. Gravel forest roads, walking tracks and unsealed roads are common. Many of the long paths are dotted with crosses and chapels, which make good rest stops. 
Camaraderie
A QUIETER CAMINO
Experience the solitude of this quieter Camino and the camaraderie of the predominantly French walkers. The Le Puy route has far fewer walkers that you'd encounter on the Camino Francés through Spain. You'll have days with only three or four other people in sight. The overwhelming majority of walkers on this route are French nationals who do a week or two on the route each year. They are effortlessly friendly and helpful. To enhance your time on the trail, we recommend you invest some time learning some basic conversational French.
NAVIGATION
FIND YOUR WAY
The trail is very well-marked with the frequent horizontal red-and-white stripes of the French Grande Randonée network. 'Wrong direction' signs (red-and-white crosses) are nailed to trees or painted on rocks. To help you navigate easily, we'll provide you with our exclusive RAW Travel walking app. Your unique route map will show your location in real-time without any internet connection needed. The app also has a host of other great features, including points and places of interest on the trail, accommodation details, weather forecasts and safety information.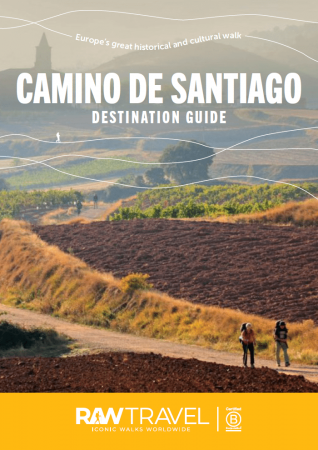 Exclusive Guide
Le Puy Camino
Discover inspiration, travel essentials, practical information and more in our free Destination Guide. All you need to know about walking the Camino de Santiago routes through Spain, Portugal and France!
Walking the Camino is an incredible journey that will immerse you not only in Europe's grand history, food and culture but most importantly the extraordinary camaraderie that exists along these routes. The spirit of the Camino de Santiago is alive and well among people from all over the world. It is a 'bucket list' experience you will never forget!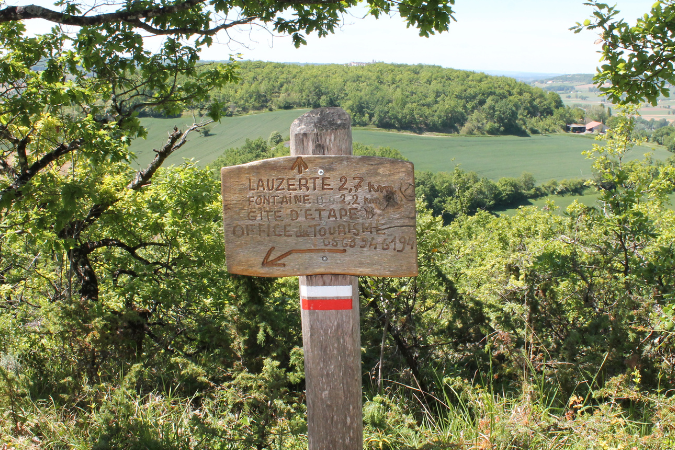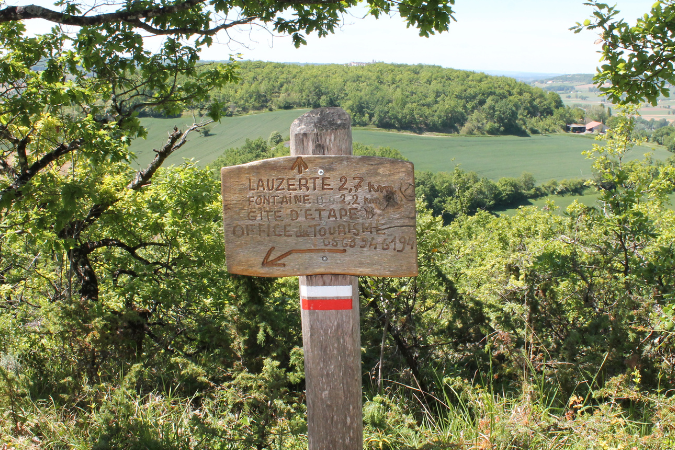 Customer Testimonials
Excellent experience – beautiful scenery, superb food. Loved the variety of accommodation, from luxury to simple. Some hosts went to great lengths to make us feel welcome and look after us.
Rosemary Sewell, Mount Eliza (VIC) - May 2023
   
Customer Testimonials
The food was amazing and the accommodation very good. The support from Daniel was invaluable!
Rob Taylor, Mount Eliza (VIC) - May 2023
   
Customer Testimonials
From Le Puy to Roncesvalles I immersed myself in the beauty of southern France. The myriad villages, all beautifully preserved, are truly unique and a wonderful complement to the experience. All the bookings, accommodation and support material were taken care of by RAW. On-ground support with Daniel was a phone call away and he was very helpful. I will do more pilgrimages with RAW Travel – they make the experience so enjoyable.
Bryan Mears, Melbourne (VIC) - August 2022
   
Customer Testimonials
Fabulous, varied accommodation and hosts made for a wonderful experience. The walking distances were perfect. Our main baggage was sent to our accommodation each day. Our worries were reduced to our short and shirt selection for that day and the restaurant we were going to eat at that night. A brilliant, stress-free holiday!
Brian Goy, Harkaway (VIC) - August 2019
   
Customer Testimonials
An amazing experience walking through the old villages of France. My expectations were definitely met. Conques, where I finished and stayed two nights, was definitely the highlight of the walk. An amazing town with its huge abbey.
Jeanette Rogers, Terrigal (NSW) - May 2019
   
Customer Testimonials
A truly memorable way to experience the scenery, culture and architecture of provincial southern France. A special thank you to your local representative Daniel who provided invaluable assistance during the trip.
Alan Flowers, Warrnambool (VIC) - April 2018
   
Customer Testimonials
Having RAW do all the organising takes the hassle out of planning a trip and we got the benefit of local knowledge about where to stay and what to do. Five weeks of daily walking was a real expedition – great to be immersed in a different culture and be challenged physically at the same time.
Frances Diver, Anglesea (VIC) - April 2018
   
Customer Testimonials
This is the second time we have used RAW Travel. Everything was well organised and the accommodation was amazing. We were fortunate to have Daniel on the ground who made sure everything went smoothly. He went above and beyond to ensure we had a great holiday and all issues were taken care of promptly.
Christine Strickland, Holmesville (NSW) - September 2018
   
Customer Testimonials
A well-organised trip with no real hiccups. Loved the whole experience. Estaing and Conques were the highlights!
Graeme Brown, Warnambool (VIC) - August 2018
TRIP date selection
when would you like to travel?
Please select your preferred dates for on-demand trips or select a scheduled date for group departures. If you have booked a self-guided trip please understand that because your trip date is on demand and we must check availability of all properties on your chosen dates before it can be fully confirmed