difficulty
Moderate - Challenging
Overview
The Full Camino Womens Trip
This is a self-guided walking trip that is for people who prefer the company on their walk. The friendly nature of the Camino means it's ideal for single travellers who would like the details of their trip well planned but do not want a fully guided walk.
Follow in the footsteps of millions of pilgrims and over 1,000 years of history on the world's greatest historical trail. Following scenic country roads and forest tracks crossing old villages and cities born from the Camino trail, it is difficult to imagine a better way to enjoy Spain's rich legacy of history, culture, food and art than to follow your own Camino.
Join people from all walks and life and nationalities as they embark on this great adventure, you don't have to be religious just a keen walker!

We are the longest established and most popular Camino operator in Australia.
Find out why we are the No.1 choice
Highlights
Get Ready For
Follow in the footsteps of millions of pilgrims
Walk the full 790km of the Camino Frances
1,000 years of history on the world's greatest historical trail
Pamplona – former centre of a fiercely independent kingdom
Santiago – finish in this historic city and visit the final end point of your walk at the Cathedral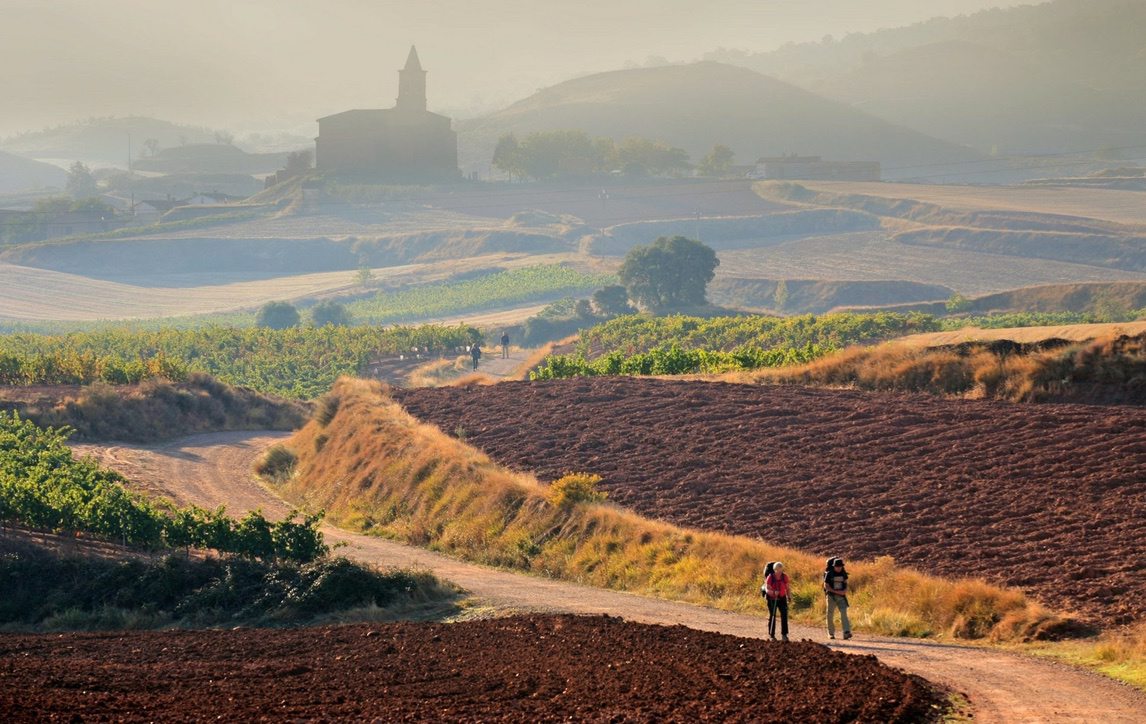 On the trail
The experience
The Camino Frances covers a lot of different terrain over its 790km. Sometimes you will walk on shepherd's tracks through mountains, dirt paths through a forest or more commonly gravel tracks and roads. As you approach towns and cities you will follow roads more and footpaths in the cities. There are three significant sets of mountains to cross with passes up to 1500m and, in the middle of the route, the great open expanse of the Meseta. Often you'll walk through rolling hills particularly in Galicia.
Client experiences
What do people Say?
Hear from people about their experiences who have walked the Camino de Santiago with us in recent years. Also a blog article link here with photos. 
Inclusions
What's included?
Included
40 nights excellent accommodation including historic hotels and character country houses
Private en suite rooms on a twin share basis
Daily breakfast
Pre-trip group briefing in St Jean with RAW Travel representative
Luggage transfer each day from hotel to hotel (1 x 20kg bag per person)
RAW Travel navigation app with maps of your hotel locations and emergency contact numbers
Local and Australian emergency contact numbers
Pre-trip Camino guidance and planning
Dedicated local support person in Spain for reassurance
Excluded
Single supplement
Travel insurance
Flights
Added Extras
For an extra indulgence, upgrade your hotel in Santiago to a Parador from $150 per person/per night twin share and $220 per person/per night single occupancy, when booked 6 months in advance (subject to availability).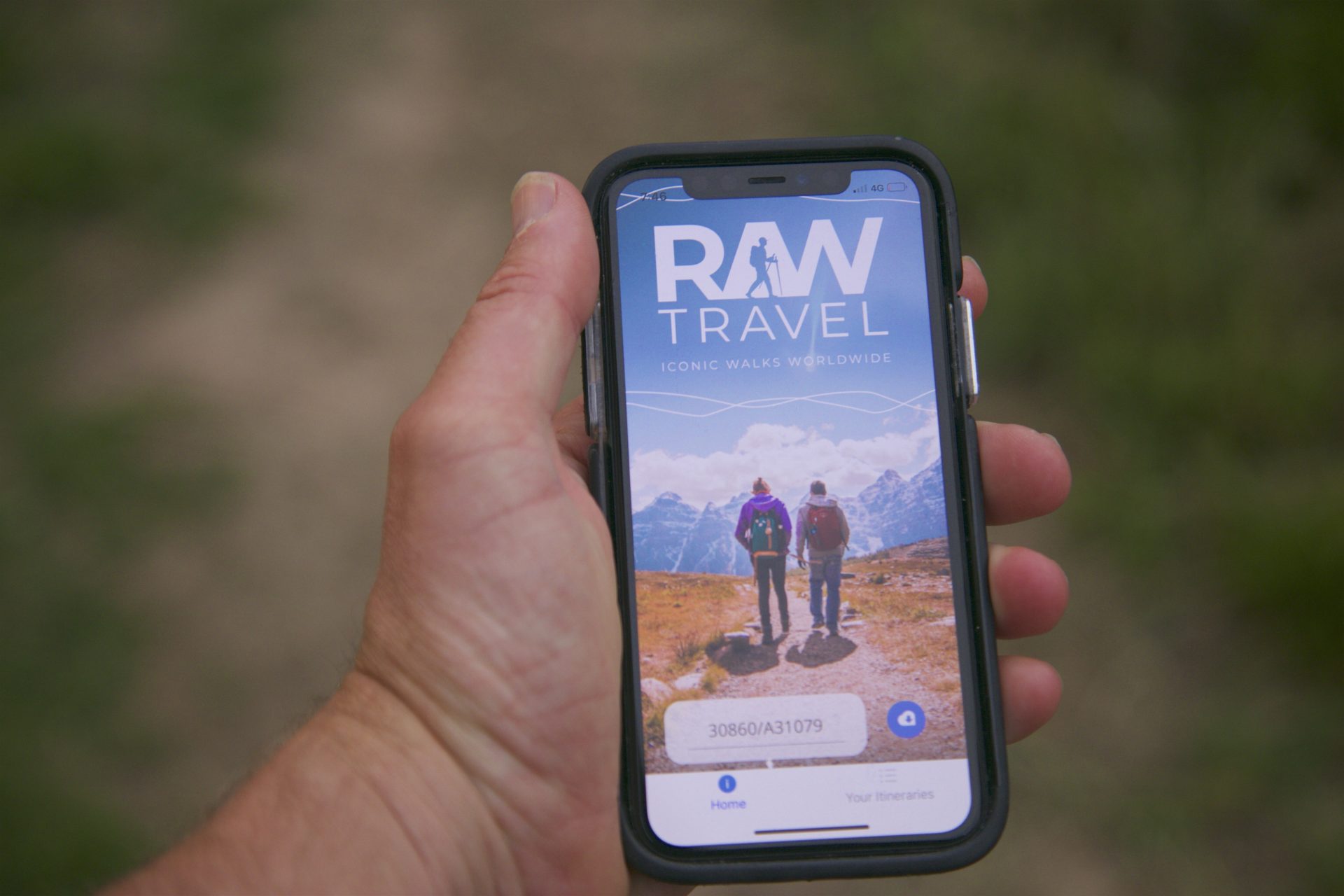 Camino resources
Finding your way
Our unique RAW Travel walking app has been designed to help you navigate easily on the French Way. Simply download your map with the unique link we send you and you'll be able to follow your route with ease, showing your location in real-time without any internet connection needed or cumbersome pages of notes. The app has many great features; it shows the location of each night's accommodation, and weather forecasts localised for each of your overnight stops. There is information on how and where to catch the trains you need ( if any) and there are important reminders, safety information, videos and emergency contact information for your route. It also has a unique audio feature that can tell you about places and points of interest as you approach them on the trail.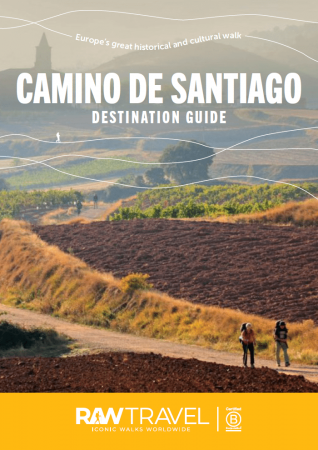 Exclusive Guide
get inspired
Discover inspiration, travel essentials, practical information and more in our free Destination Guide. All you need to know about walking the Camino de Santiago routes through Spain, Portugal and France!
Walking the Camino is an incredible journey that will immerse you not only in Europe's grand history, food and culture but most importantly the extraordinary camaraderie that exists along these routes. The spirit of the Camino de Santiago is alive and well among people from all over the world. It is a 'bucket list' experience you will never forget!
   
Customer Testimonials
Thoroughly had the best holiday on the Camino Frances thanks to you all! Everything you organised was perfect, no luggage late or misplaced. Food was great and we met some wonderful people along the way. Some of the accommodation, like the monastery, was unbelievably good.
Debbie Cowell, Wynnum (QLD) – October 2022
   
Customer Testimonials
Just completed the Camino de Santiago and it's my second outing with RAW Travel. Lilia organised everything so well. Our accommodation all went without a hitch, the bag pick-up and drop off was flawless and we had the most amazing time. It was great knowing that our accommodation was sorted each night as we were doing the Camino at a busy time (started on Good Friday so the Holy Week meant it was super busy) and there were quite a few villages in the first days that were completely booked out. In fact, on the second night, there were apparently 50 people sleeping on a church floor due to lack of accommodation. Loved the hotels and there were some great hosts and meals along the way. It was also great to meet other RAW Travel pilgrims and spend time with them. Only advice I would have is book early. The Camino is getting busier every year and if you want the really good accommodation it does book out early. I can't recommend RAW Travel highly enough. Wonderful to have knowledgeable and organised people sorting the trip for us.
Donna Fyfe, Parnell (New Zealand) – April 2019
   
Customer Testimonials
RAW took out the logistics labour for me. As I had already decided that I would not be trying to get a bunk bed at the end of each day it was a no brainer to go ahead with RAW and have their experts source and manage my accommodation for me. My only job in the whole wide world whilst enjoying my Camino experience was to get myself out of bed, pull on my gear and get walking. All the tedious stuff was sorted by RAW. I thoroughly enjoyed my experience with both RAW and on Camino Francés. Having 'on the ground' RAW team members in Spain was also a plus. Both Daniel and Germán were fantastic; in particular Daniel. He went above and beyond the call of duty for our little band of pilgrims. Such a delight when we got to spend some time with him, too.
Kellie-Anne Briggs, Rutherglen (VIC) – September 2018
   
Customer Testimonials
We absolutely loved our RAW Travel self-guided trek across Spain. The accommodation was fantastic. One of the highlights each day was to see where we would be staying. The mix of rustic country houses to renovated monasteries was great. The organisation of moving luggage worked like clockwork. I would highly recommend RAW to other travellers and look forward to my next trekking holiday with them.
Julie Fitzsimmons, Avoca Beach (NSW) – April 2017
   
Customer Testimonials
What an amazing trip we all had with RAW Travel. Your organisation, choice of accommodation and handling of the luggage was flawless. We sang your praises throughout Spain and wish to congratulate you and your company. Thank you for our amazing adventure!
Ruth Thompson, NSW – April 2017
   
Customer Testimonials
I think it is quite unique as a walking experience. As always it depends very much on the individual and your perspective. I would recommend this to all people who love walking and meeting people from all over the world.
Lani Van Dalsen, Brisbane – August 2016
   
Customer Testimonials
I loved all of it! The mountains, the scenery, churches and of course the company of the other ladies. I enjoyed the challenge that presented itself everyday and the great satisfaction of walking into Santiago de Compostella knowing I had walked every kilometre.
Brenda, NSW – May 2016
   
Customer Testimonials
The hotels were wonderful. An awesome journey. I loved every minute, even with my new daily blisters. Have been on such a 'high' since I got home.
Julie Jaques, Safety Beach (VIC) – May 2017
   
Customer Testimonials
Seamless service before and during my entire Camino experience.
Caroline Austin, Havelock North (New Zealand) – April 2019
Similar walks
Camino de Santiago
TRIP date selection
when would you like to travel?
Please select your preferred dates for on-demand trips or select a scheduled date for group departures. If you have booked a self-guided trip please understand that because your trip date is on demand and we must check availability of all properties on your chosen dates before it can be fully confirmed