difficulty
Moderate - Challenging
Overview
France to Cahors
The Le Puy to Cahors walk is one of the best-loved walks in France. Also, known as the Via Podienis, it is one of the four traditional pilgrim routes that cross France and converge in Spain to continue their way to Santiago de Compostela.
Starting from Le Puy, the 350-km trail wends its way westwards across the Central Massif and ends at Cahors, an old pilgrimage centre. The French countryside is picturesque and there are some steeper sections to cross. This is easily the most popular way to Compostela and is the one commonly referred to in English as the Way of Saint James (who translates as Saint Jacques in French and Santiago in Spanish).
The Via Podiensis gets its name from Le Puy-en-Velay city, from where the bishop Godescalc started his pilgrimage to Santiago de Compostela in 950 after JC, with a joyful group of troubadours, jugglers, barons and of course archers to protect them. The bishop was the first non-Spanish pilgrim to achieve the pilgrimage to Santiago de Compostela.
The traditional route has been approximately replicated by a marked pathway or Grande Randonnée (GR). The Way of Le Puy is the GR65, and there are three accompanying guidebooks put out by the French Walking Club, the Fédération Française de la Randonnée Pédestre, commonly known as the FFRP.
Highlights
Get Ready For
Discover historic UNESCO World Heritage sites
Make your way through fairytale villages and beautiful countryside
Indulge in the local cuisine that is ever changing as you pass through different regions
Explore and be awed by the 'Les plus beaux villages de France'
Included
19 nights' accommodation (twin share) in simple guesthouses or hotels with private facilities
19 breakfasts
Luggage transfer each day from hotel to hotel (1 x 13kg bag per person)
Local and Australian emergency contact numbers
RAW Travel navigation APP with maps of your hotel locations and emergency contact numbers
Local and Australian emergency contact numbers
Pre-trip guidance and planning for your French Camino trip
Excluded
Travel insurance
Single supplement from $1470
All items of a personal nature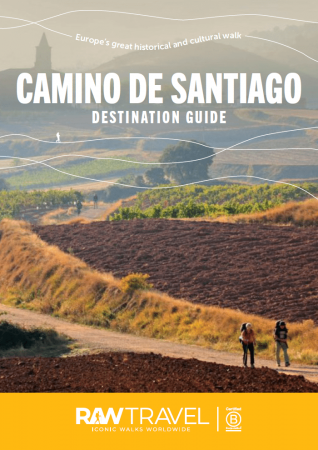 Exclusive Guide
Le Puy Camino
Discover inspiration, travel essentials, practical information and more in our free Destination Guide. All you need to know about walking the Camino de Santiago routes through Spain, Portugal and France!
Walking the Camino is an incredible journey that will immerse you not only in Europe's grand history, food and culture but most importantly the extraordinary camaraderie that exists along these routes. The spirit of the Camino de Santiago is alive and well among people from all over the world. It is a 'bucket list' experience you will never forget!
Similar Walks
camino de santiago
TRIP date selection
when would you like to travel?
Please select your preferred dates for on-demand trips or select a scheduled date for group departures. If you have booked a self-guided trip please understand that because your trip date is on demand and we must check availability of all properties on your chosen dates before it can be fully confirmed