difficulty
Moderate - Challenging
Overview
K'gari (Fraser Island) Great Walk
Hike through ancient forests, over stunning sand blows and swim in perched lakes—formed by depressions in the coastal dune landscape—on the world's largest sand island.
The K'gari Great Walk on Fraser Island takes you through an incredible range of environments: from clear sandy beaches to perched lakes and through forests with thousand-year-old trees that have somehow stayed strong in the sand. This walk is a delight for anyone seeking encounters with wildlife (the island is famous for its dingoes) and to stand next to massive trees, and on mountains of moving sand, in awe.
The K'gari Great Walk takes around six days to complete, though add on two days if you plan to hike the first two days to the starting point. Most hikers stay in camping areas run by the Queensland Parks and Wildlife Service, and the facilities are kept to a good standard. It's a true bush experience!
Just need the food?
If you prefer to order just the food from us then  no problem! We have a separate website with full details on our food range that you can order individually at  rawtucker.com.au
Highlights
Get ready for
Towering rainforests and forests of eucalypts

Crystal clear lakes to take a refreshing dip in including Lake Boomanjin, the world's highest perched lake

Sharing Fraser Island with the wongari (dingo)

Possibly catching sight of migrating humpback whales

Rainbow-coloured sands and vast sand dunes

Pristine stretches of beach

Camping under the stars in nature
On the trail
The Experience
The Fraser Island Great Walk track is predominantly solid paths made of compact sand with leaf coverage, with a few sections of soft sand. There are a few steepish sections but mostly it is quite flat. The tracks are well marked and generally easy to follow if you are just doing the main trail. There are some extra sections for experienced hikers that aren't as well signed. There are some parts where you will encounter sandy roads built for 4WDs. While the trail itself is reasonably well marked there are a few points at which a
map is invaluable to make sense of the listed trails. RAW Travel's app will be provided to you as a navigation app for when you're on
the main track, showing your position in real-time on the trail and the position of huts and campsites.
Itinerary
K'gari (Fraser Island) Great Walk
Best time to visit
Good time to visit
Average time to visit
Closed
Map
K'gari (Fraser Island) Great Walk
Fast Facts

Length: 75km / 100km
Duration: 6 days  / 8 day option 
Grade: 3
Route type: Linear trail, from A to B
Start: Dilli Village (or from Hook Point to add two days)
End: Happy Valley
Location: Fraser Island
Closest towns: Rainbow Beach or Hervey Bay
Fast Facts

Length: 75km / 100km
Duration: 6 days  / 8 days option 
Grade: 3
Route type: Linear trail, from A to B
Start: Dilli Village (or from Hook Point to add two days)
End: Happy Valley
Location: Fraser Island
Closest towns: Rainbow Beach or Hervey Bay
Inclusions
What's Included?
Included
Our detailed guide to hiking Fraser Island's K'gari Great Walk – contains all the essential information you need to know in advance
6 days worth of food for your adventure; breakfast, lunch and dinner each day – delivered straight to your home
Our own range of Lightweight, highly nutritious meals that are locally sourced, delicious and easy to carry & cook ( freeze dried and dehydrated)
Our 'state of the art' Navigation app to guide you on the track; showing huts, campsites and all points of Interest along the way
Delivery to your door* of our 'Adventure in a box' food parcel
Our 'Get fit for hiking' e-guide for backpacking adventures
10% GST included
* Additional $35 delivery charge for locations in NT, WA and Northern Queensland
Not Included
Transfers or transport, ferries to Hervey Bay / Fraser Island
6 nights campsites fees which includes your National Park entrance
No equipment included
4 WD taxis to Dilli village are paid locally as are the foot passenger ferry fees
The Essentials
Information Guides
Our essential information guides give you everything you need to know – and none of the information you don't – to prepare well for one of these hikes. We cover off all transport and transfers with contacts, full equipment lists tailored to each walk, and safety factors to consider that can be unique to each track. We give you the information you need to know about water and where the best accommodation is before and after your trip, plus overviews of Aboriginal & European history and wildlife you can expect to encounter.
It saves countless hours of trawling through websites, guidebooks and forums to get to the essential information you need to know, so you don't forget to factor in anything for your adventure.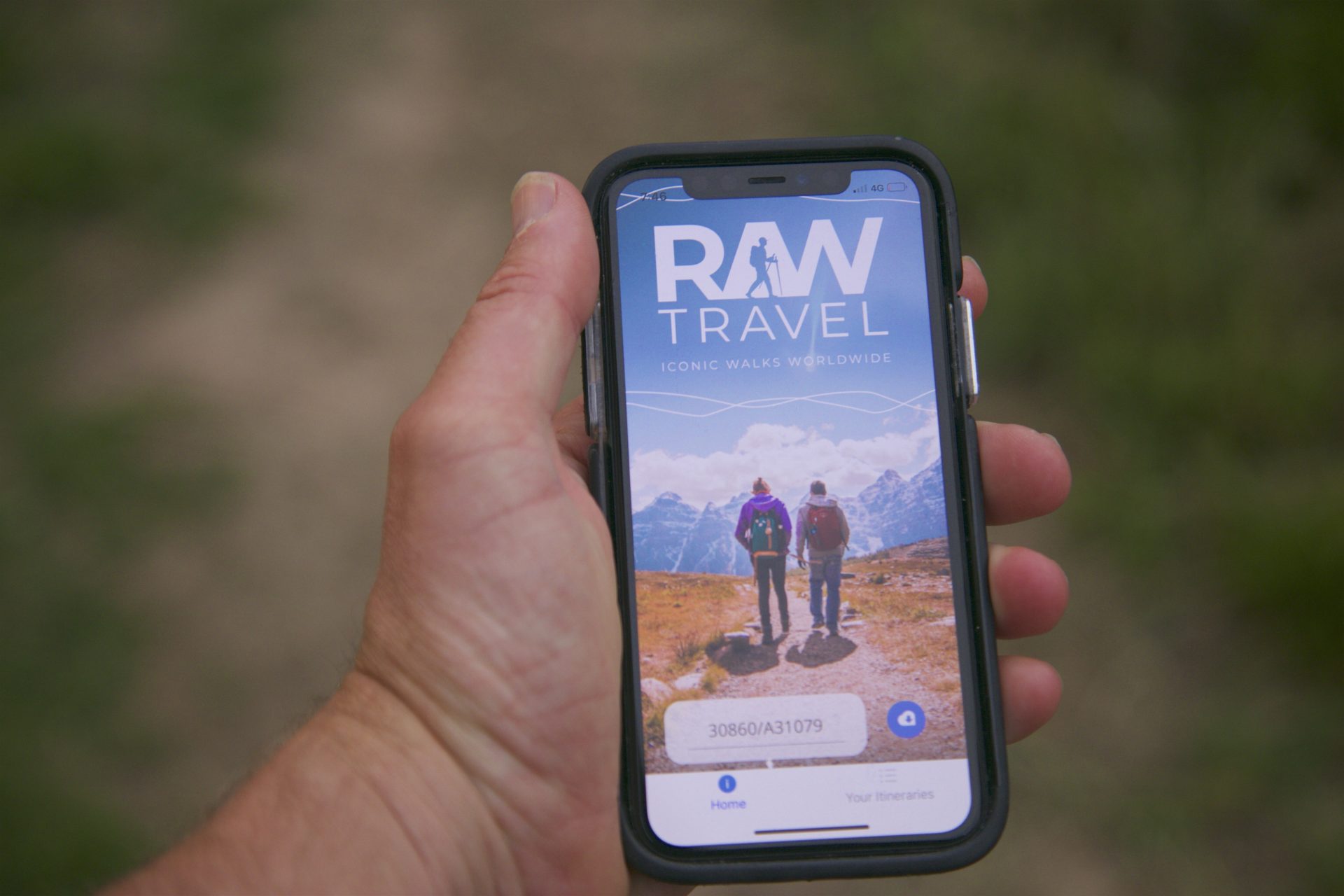 Walking App
Finding your way
Our unique RAW Travel walking app has been designed to help you navigate easily on the trail. Simply download your map with the link we send you and you'll be able to follow your route with ease, showing your location in real time without any internet connection needed. The app has many great features; it shows you weather forecasts localised for each of your overnight stops, detailed information on each campsite/ hut and what facilities are available there so you don't need to carry our trail guide. There are important reminders, safety information, videos and emergency contact information for your route. It also has a unique audio feature that can tell you about places and points of interest as you approach them on the trail.
Positive impacts
Social and environmental
All our adventures are fully carbon offset so that you know your travel has minimal impacts. Hiking itself is a low impact activity but we offset the cost of all our office operations and food production as well, so you can be satisfied that you have chosen a form of travel that is both good for you and good for the planet. Each year we also plant trees on behalf of every customer who has travelled with us, aiming to build towards a carbon positive effect with our operations.
As a B-Corp a focus on local community is an important part of who we are. We are committed to buying locally and source our produce from growers here on the Mornington Peninsula. We care about people in our community and for every meal pack you buy with us we donate a meal to a homeless support charity, to spread some love and share good food with those who need it most.
TRIP date selection
when would you like to travel?
Please select your preferred dates for on-demand trips or select a scheduled date for group departures. If you have booked a self-guided trip please understand that because your trip date is on demand and we must check availability of all properties on your chosen dates before it can be fully confirmed