Freedom & adventure awaits...
Australia's best hikes
Independent Adventures place you at the centre of the experience, giving you the confidence to be a self-reliant walker on the trail. We take care of the research needed and give you all the essential information relating to the trip (a task that seasoned walkers can tell you often takes many hours to get the correct information) so you can be thoroughly prepared and confident that you have everything you need for your adventure. We give you all the contacts and details for campsites ( or Huts) nearby transportation, accommodation and hire services, highlight any risks to be aware of and how to mitigate them. 
The food prep is a major hassle of many hikers trips and we solve that for you. We prepare all the food that you need for your trip, all pre-measured and dehydrated / freeze dried to take away the weight but keep the freshness. Our meals are nutritionally reviewed for the demands of the walk. Our ingredients are prepared from the best local ingredients here on the Mornington Peninsula, cooked to order and freeze dried fresh – not sitting on a shelf for years at a time.
Once you arrive at the trail it's all over to you, the adventure begins!  You are free and independent to create your own experience the way you want it. We provide you with an app to help you navigate in real time on the trail and give you the campsite locations and points of interest but you are completely autonomous and self-supporting on the walk. These trips are best suited to people who relish that sense of liberation and freedom that comes with being self-reliant and don't need the back up of a leader or group travel. Independent Adventures are different from our other self – guided walking trips as there are no briefings, transfers, or local support from RAW Travel staff. It's just you and nature out on the trail! 
Just need the food?
If you prefer to order just the food from us then  no problem! We have a separate website with full details on our food range that you can order individually at  rawtucker.com.au
Just add hiking boots...
'Adventure in a box'
Our new 'adventure in a box' concept is for Independent souls who enjoy the great feeling of freedom and self-reliance that comes with self -sufficient adventures in the outdoors. We have taken the hassles out of research, food preparation and navigation – traditionally the time-related obstacles that deter many would-be adventurers from venturing on multi-day trails. And at an affordable price point that puts these adventures within everyone's reach. So with the work done for you, your biggest decision is which one of Australia's iconic trails do you want to walk next!
Our Independent Adventures range with RAW Tucker food is shipping now!
RAW Tucker
Your trail food
We understand how important it is to start the day well fuelled and finish it with a rewarding meal. We understand you won't just want meals that meet basic energy or tastebud needs. We know you will be walking up and down hills often over rugged terrain and that you deserve something that tastes great at the end of the day. So we have consulted with chefs, veteran hikers and nutritionists to produce meals that can satisfy big appetites after a hard day's hiking. For flavours we've looked far and wide, using superfoods from the Australian bush and drawing inspiration from our favourite travels & cultures around the world.
Positive impact
Locally produced
Our home-cooked meals are sourced primarily from suppliers here on the bountiful Mornington Peninsula, renowned for its food culture. So we are working with fresh produce that supports local growers and our community. Our meal range is predominantly plant based so as to be both healthy and tread lightly on the planet's resources.
We will be calculating and carbon offsetting all the food production and the accompanying RAW Travel trip. We support the philosophy of "re-wilding" the planet and plant a native Australian tree locally for every Independent adventure booking, so your adventure can have a positive impact.
Everything you need to know
All the essentials
Our essential information guides give you everything you need to know – and none of the information you don't – to prepare well for one of these hikes. We cover off all bookings needed, transport and transfers with contacts, full equipment lists tailored to each walk, and safety factors to consider that can be unique to each track. We give you the information you need to know about water and where the best accommodation is before and after your trip, plus overviews of Aboriginal & European history and wildlife you can expect to encounter.
It saves countless hours of trawling through websites, guidebooks and forums to get to the essential information you need to know, so you don't forget to factor in anything for your adventure.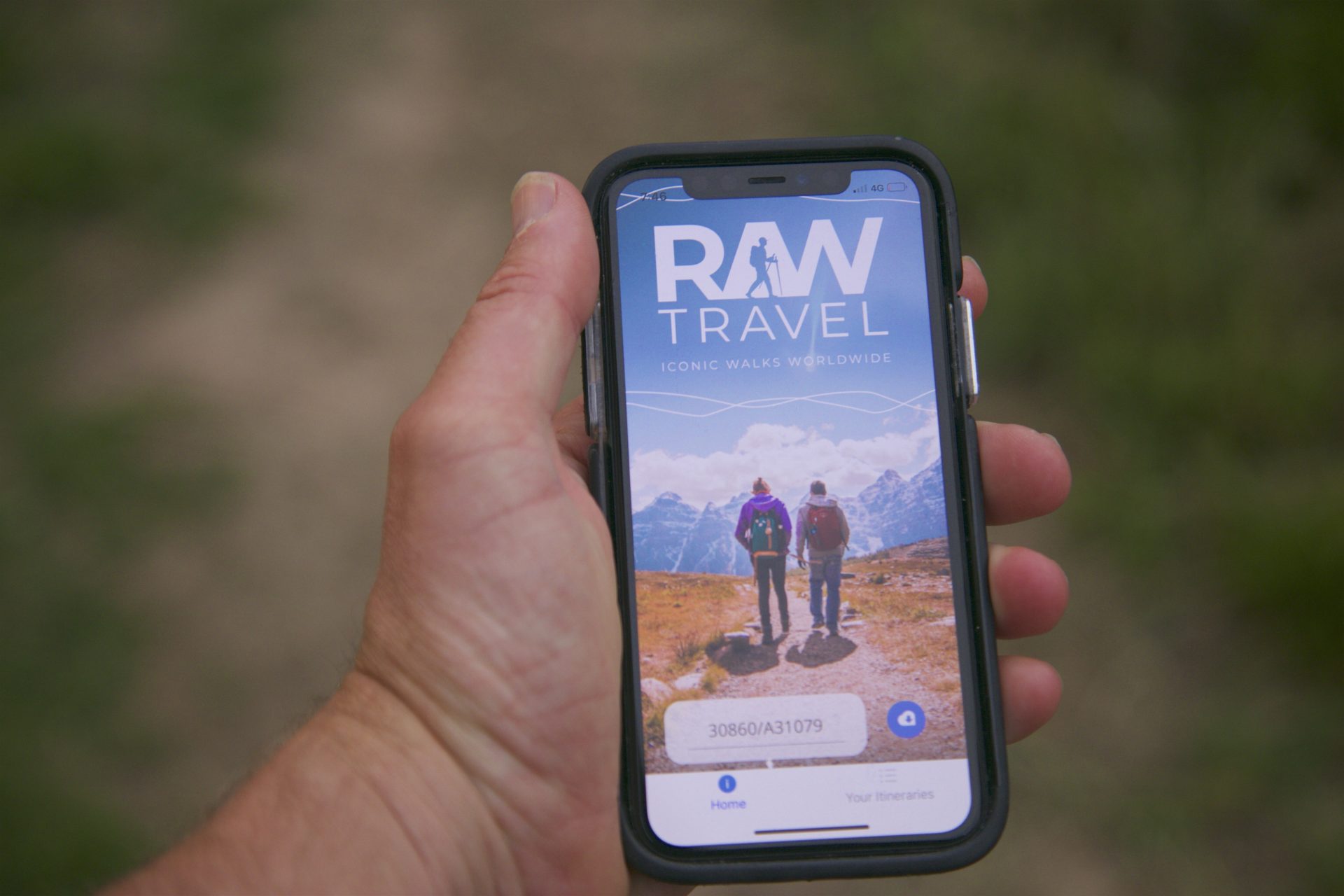 Finding your way
Walking app
Our unique RAW Travel walking app has been designed to help keep you safe & navigate easily on the trail. Simply download your map with the unique link we send you and you'll be able to follow your route with ease, showing your location in real time without any internet connection needed. The app has many great features; it shows you weather forecasts localised for each of your overnight stops, detailed information on each campsite/ hut and what facilities are available there so you don't need to carry our trail guide. There is important reminders, safety information, videos and emergency contact information for your route. It also has a unique audio feature that can tell you about places and points of interest as you approach them on the trail.