Overview
Sarria to Santiago Group Trip
Walk a section of the world famous Camino de Santiago walking trail or 'The Way'. Start in Sarria and walk through the hills of Galicia to finish at the Pilgrim's goal of Santiago De Compostela.
Follow in the footsteps of millions of pilgrims and over 1,000 years of history on the world's greatest historical trail. Following scenic country roads and forest tracks crossing old villages and cities born from the Camino trail, it is difficult to imagine a better way to enjoy Spain's rich legacy of history, culture, food and art than to follow your own Camino.
Join people from all walks and life and nationalities as they embark on this great adventure, you don't have to be religious just a keen walker!
This trip is a self-guided group trip with a set departure date, which is ideal for people who enjoy company on their walk. You can also choose your own dates – see our Sarria to Santiago 11 day trip.

We are the longest established and most popular Camino operator in Australia.
Find out why we are the No.1 choice
Highlights
Get Ready For
Walk the final 100km of the Camino Trail
Qualify for your Compostela
Finish in this historic city of Santiago
Visit the final end point of your walk at the Cathedral
The self-guided trip allows you to set your own pace
We look after your accommodation and luggage transfers
Dedicated local support person in Spain for reassurance
Best time to visit
Good time to visit
Average time to visit
Closed
Map
Explore
Sarria
Sarria is a busy, modern town with plenty of shops, hotels, restaurants and bars. It is bustling with pilgrims – those who began their Camino hundreds of kilometres back as well as the large number that walk the final 100km to Santiago de Compostela to qualify for their Compostela.
CLICK ON A PIN TO REVEAL INFORMATION ABOUT THAT LOCATION
Portomarín
The lovely small village of Portomarín on the Rio Miño has a remarkable history and significant sites, including the castle-like 12th-century Romanesque Church of San Nicolás in the centre of town. It is an unusual combination of a church and a fortress. This twofold purpose originated with the Order of Knights of the Hospital of St John of Jerusalem, who built it to provide protection for pilgrims and traders.
Palas de Rei
The small and pretty town of Palas de Rei was a favourite place of residence of the Galician nobility. The name comes from Pallatium regis (royal palace). The Castle of Pambre is one of the greatest examples of medieval military architecture to in Galicia. The importance of the Jacobean pilgrimage in this village goes back to time immemorial.
Melide
Melide is a busy town founded in the 13th century. It has many historic buildings and churches including the Capilla de San Pedro and San Roque next to which stands a 14th century stone cross said to be the oldest in Galicia. The museum and the buildings around the Plaza de Convento are well worth a visit. Melide is famous for Pulpo Gallego, octopus cooked Galician style and reputed to be the best in Spain.
Arzúa
This is the last large town before you reach Santiago. It has plenty of restaurants bars and cafes and a few ATMs. The 14th century Capilla de la Magdelena is the town's main monument. Arzúa is most famous for its local cheese, Queixo, a smooth creamy cheese made from cow's milk which most restaurants feature in some way and is definitely worth trying.
O Pedrouzo
The charming village of O Pedrouzo has plenty of shops, restaurants and bars. For many pilgrims, it is the last stage of the Camino before finishing their journey in Santiago de Compostela. Its main attractions include the Roman bridge over the Rio Mera, the parish Church of Santa Eulalia de Arca, and the baroque church of Lardeiros, which stands out for its size and beauty.
Santiago de Compostela
The wonderful and historic city of Santiago is the end of the Camino journey for most pilgrims. Praza do Obradoiro and the wonderful ancient Cathedral form the city's heart. Attend the midday pilgrims mass and watch the steady stream of pilgrims arriving into the square as they finish their epic journey. There are many enticing tapas bars and restaurants in which to celebrate your journey.
Inclusions
What's included?
Included
10 nights excellent accommodation including historic hotels and character country houses
Private ensuite rooms on a twin share basis
Daily breakfast
Luggage transfer each day from hotel to hotel (1 x 20kg bag per person)
RAW Travel navigation APP with maps of your hotel locations and emergency contact numbers
Local and Australian emergency contact numbers
Pre-trip Camino guidance and planning
Dedicated local support person in Spain for reassurance
Excluded
Single supplement $700
Travel insurance
Flights to/from Spain
Added Extras
Take a private transfer from Santiago airport to your hotel in Sarria at an additional cost from $320 per vehicle (based on 4 people or less), so that you can start your trip as smoothly as possible.
For an extra indulgence, upgrade your hotel in Santiago to a Parador from $170 per person/per night twin share and $250 per person/per night single occupancy, when booked 6 months in advance (subject to availability).
For any part of your trip that falls before 15 March or after 31 October there is an out of season luggage transfer surcharge cost of $30 per day.
RAW Travel also offers tailormade arrangements and can adapt this itinerary to suit your needs – just ask us about this and we can advise on how to best vary the itinerary to suit your needs. Please note that tailormade arrangements incur higher costs due to the extra work involved.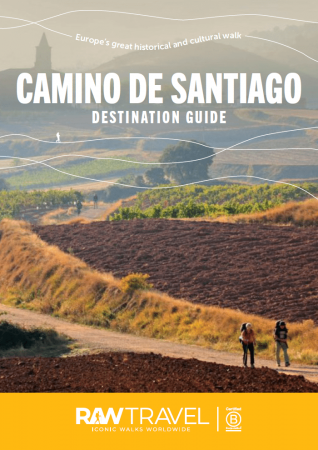 Exclusive Guide
get inspired
Discover inspiration, travel essentials, practical information and more in our free Destination Guide. All you need to know about walking the Camino de Santiago routes through Spain, Portugal and France!
Walking the Camino is an incredible journey that will immerse you not only in Europe's grand history, food and culture but most importantly the extraordinary camaraderie that exists along these routes. The spirit of the Camino de Santiago is alive and well among people from all over the world. It is a 'bucket list' experience you will never forget!
Similar walks
camino de santiago
TRIP date selection
when would you like to travel?
Please select your preferred dates for on-demand trips or select a scheduled date for group departures. If you have booked a self-guided trip please understand that because your trip date is on demand and we must check availability of all properties on your chosen dates before it can be fully confirmed