difficulty
Moderate - Challenging
Overview
The Bibbulmun Track
A world-renowned 1000km walking trail showing off Australia's west coast wilderness at its best! The Bibbulmun Track, also referred to as 'the Bib' is considered one of Australia's best long-distance hikes and offers a world-class walking experience.
If you don't think Australia has iconic multi-day walks (and we're talking up to eight weeks!) think again. The Bibbulmun Track covers some 1000km of Western Australia, launching some 24km east of Perth, and introducing walkers to the Jarrah, Karri and Wandoo forests that will punctuate this walk. It's a walk along rivers, through small towns, down to the ocean, with wind farms, swimming spots and stunning west coast scenery.
The name 'Bibbulmun' originates from a subgroup of the Indigenous Noongar people of the area who used to walk long distances throughout the region for ceremonial purposes.  Covering an official length of 1003km, the track begins in the town of Kalamunda, an eastern suburb of Perth, and finishes in the historic town of Albany, on the southern tip of Western Australia. The trail winds its way through the South West region of Western Australia, taking hikers through more than 20 national parks and reserves. What better way to discover Western Australia than walking it.
Just need the food?
If you prefer to order just the food from us then  no problem! We have a separate website with full details on our food range that you can order individually at  rawtucker.com.au
Highlights
Get ready for
Exposure to the world's most important biodiversity hotspots

Towering Jarrah, Karri and Tingle forests

A plethora of native mammals, reptiles and birdlife

Well-equipped campsites with shelters, toilets and water facilities

Sweeping cliff top vistas of the wild Southern Ocean and some of the finest coastal walking in the country

Wonderful wildflower displays

Good old-fashioned country hospitality from locals at the charming, historical track towns along the way

Southern right whale sightings from June to September

Giving yourself a massive pat on the back when you make it to Albany!
Our Independent Adventures range begins with trip departures from 4th January 2021
On the trail
The Experience
Being a long distance track covering just over 1000km the terrain you will experience is varied but mostly not difficult for the average hiker. You can expect some big hills (though no mountains), lots of forest walking, long beach stretches as well as a few inlets to negotiate. There are triangular trail markers  along the way to show the route.
Triangle yellow signs displaying the Waugal, a depiction of rainbow serpent of Aboriginal Dreaming, are the track markers along the Bibbulmun Track. Waugual means soul, spirit or breath – an apt name. Markers can be found at least every 500m, even more at junction points or where the track is passing over a different trail.  Navigation on the track is fairly straight-forward as the trail is well marked however you should be able to read a map and be comfortable using a compass.
Itinerary
The Bibbulmun Track
Best time to visit
Good time to visit
Average time to visit
Closed
Map
Explore the Bibbulmun Track
Length: 1003km
Duration: 56–60 days
Grade: 4
Route type: Linear trail
Start: The Northern Terminus, Kalamunda
End: The Southern Terminus, near the Albany Visitor Information Centre
Location: Kalamunda to Albany
Closest towns: Kalamunda, Dwellingup, Collie, Balingup, Donnelly River Village, Pemberton,
Northcliffe, Walpole, Peaceful Bay, Denmark, Albany
Inclusions
What's Included?
Included
Our detailed guide to hiking the entire Bibbulmun Track  – contains all the essential information you need to know in advance
60 days worth of food for your adventure; breakfast, lunch and dinner each day – delivered straight to your home and your nominated collection points such as local post offices – additional delivery charges of $35 apply for each location additional to your home.
Our own range of Lightweight, highly nutritious meals that are locally sourced, delicious and easy to carry & cook ( freeze dried and dehydrated)
Our 'state of the art' Navigation app to guide you on the track; showing huts, campsites and all points of Interest along the way
Delivery to your door* of our 'Adventure in a box' food parcel
Our 'Get fit for hiking' e-guide for backpacking adventures
10% GST included
* Additional $35 delivery charge for locations in NT, WA and Northern Queensland
Not Included
 Transfers or transport to Kalamunda / Albany
No equipment included
The Essentials
Information Guides
Our essential information guides give you everything you need to know – and none of the information you don't – to prepare well for one of these hikes. We cover off all transport and transfers with contacts, full equipment lists tailored to each walk, and safety factors to consider that can be unique to each track. We give you the information you need to know about water and where the best accommodation is before and after your trip, plus overviews of Aboriginal & European history and wildlife you can expect to encounter.
It saves countless hours of trawling through websites, guidebooks and forums to get to the essential information you need to know, so you don't forget to factor in anything for your adventure.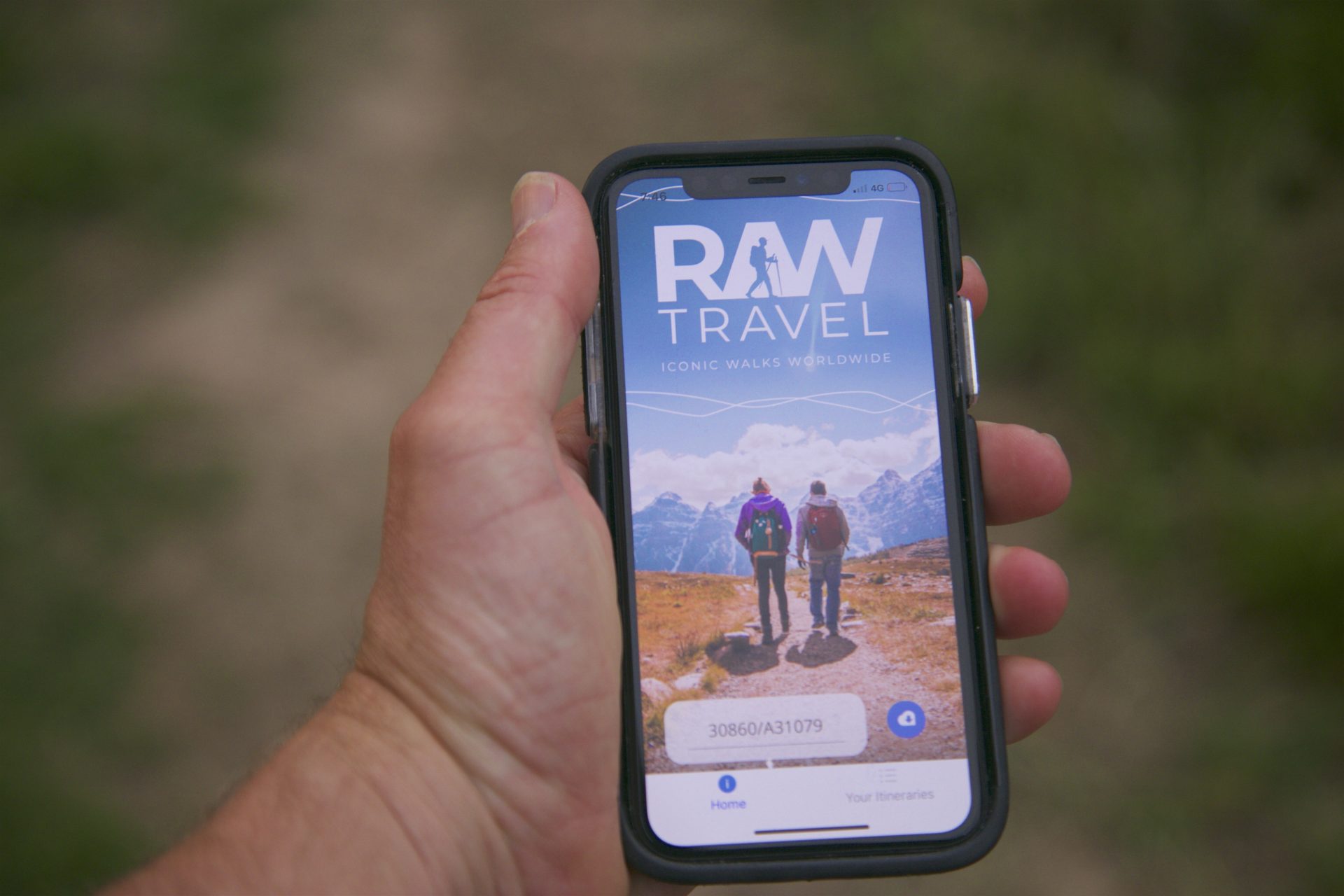 Walking App
Finding your way
Our unique RAW Travel walking app has been designed to help you navigate easily on the trail. Simply download your map with the link we send you and you'll be able to follow your route with ease, showing your location in real time without any internet connection needed. The app has many great features; it shows you weather forecasts localised for each of your overnight stops, detailed information on each campsite/ hut and what facilities are available there so you don't need to carry our trail guide. There are important reminders, safety information, videos and emergency contact information for your route. It also has a unique audio feature that can tell you about places and points of interest as you approach them on the trail.
Positive impacts
Social and environmental
All our adventures are fully carbon offset so that you know your travel has minimal impacts. Hiking itself is a low impact activity but we offset the cost of all our office operations and food production as well, so you can be satisfied that you have chosen a form of travel that is both good for you and good for the planet. Each year we also plant trees on behalf of every customer who has travelled with us, aiming to build towards a carbon positive effect with our operations.
As a B-Corp a focus on local community is an important part of who we are. We are committed to buying locally and source our produce from growers here on the Mornington Peninsula. We care about people in our community and for every meal pack you buy with us we donate a meal to a homeless support charity, to spread some love and share good food with those who need it most.
TRIP date selection
when would you like to travel?
Please select your preferred dates for on-demand trips or select a scheduled date for group departures. If you have booked a self-guided trip please understand that because your trip date is on demand and we must check availability of all properties on your chosen dates before it can be fully confirmed