difficulty
Challenging - Strenuous
Overview
Coast to Coast Part-Guided
Join us on this cracking walk across Northern England following Alfred Wainwright's much-loved Coast to Coast trail. You'll traverse glorious panoramic scenery and three of the UK's most stunning national parks: the Lake District, Yorkshire Dales and North York Moors. This epic ramble sets out from the shores of the Irish Sea in the tiny village of St Bees through the magnificent wilderness of the Lake District to cross the Pennine hills and the hauntingly beautiful Yorkshire Moors. En route you'll walk through countless small villages, experience majestic views and warm, welcoming pubs to break your journey before embracing the North Sea at Robin Hood's Bay.
Our innovative part-guided walk offers the best of both worlds. A qualified mountain guide will accompany you through the mountain sections as far as Keld and thereafter your group will then be self-guided for the easier second half. You will have built up your confidence in the hills on the first half and be guided by our on trail app, making navigation each day easy.
Our route breaks the route down into 16 manageable stages. We also include rest days in the tiny village of Grasmere and the market town of Richmond. The first section of the walk is arguably the most dramatic as you pass over the high peaks of the fabled Lake District but each stage of the Coast to Coast Path offers something different and many love the North York Moors and Yorkshire Dales equally. It is an exceptional way to enjoy the culture and history of rural England including literary connections, centuries old pubs and colourful local characters.

We are Australia's most trusted company for walking the Coast to Coast Path. We have always booked our arrangements directly and selected the best accommodation.
Highlights
Get Ready For
Join our expert guide for the first half of Wainwright' famous walk across Northern England, self-guided thereafter 

Savour the rich diversity of scenery including dramatic Lakeland panoramas

Explore the delights of Grasmere on your rest day 

Hike three national parks: Lake District, Yorkshire Dales and North York Moors

Fabulous celebratory group dinner at Keld

Connect with nature and like-minded people on one of the world's best walks
Inclusions
WHAT'S INCLUDED?
Included
10 day f

ully guided walk with our qualified UK

 mountain 

guide to Keld
9 days self-guided walking from Keld to Robin's Hood Bay
19 full

cooked 

English

 

breakfasts

 or lighter options including 

cereals, yoghurts, fruits and toast 

19 nights accommodation in

small 

hand-selected hotels, inns and B&Bs

Traditional 

English 

morning or 

afternoon cream tea
Daily luggage transfer (not exceeding 17kg)
RAW Travel's proprietary walking app for on-trail navigation and information

RAW Travel l

uggage tags
Carbon offset for your trip and a native tree planted for every walker
Excluded
Single supplement
Flights
Travel insurance
Optional Extras
Ullswater Steamer Cruise (weather/time permitting)

Visit 

Sarah Nelson's Gingerbread Shop – Grasmere

Explore 

Wordsworth Museum – Grasmere

Visit 

William Wordsworth's grave – Grasmere

Sample the delicacies at 

Kennedy's Chocolate Shop – Orton

Tour 

Richmond Castle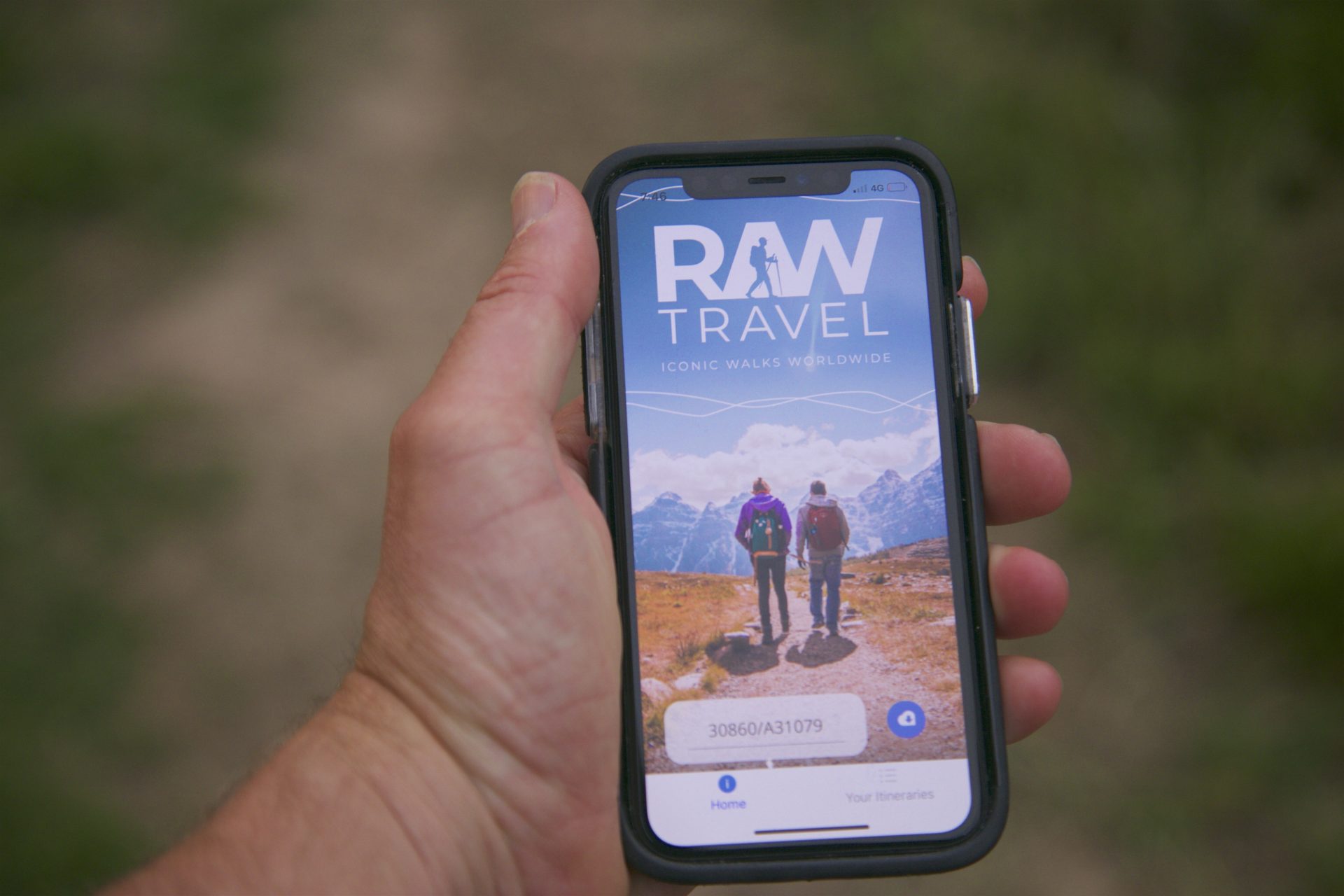 navigation app
finding your way
Our unique RAW Travel walking app has been designed to help you navigate easily on the Coast to Coast Path. Simply download your map with the unique link we send you and you'll be able to follow your route with ease, showing your location in real-time without any internet connection needed or cumbersome pages of notes. The app has many great features: it shows the location of each night's accommodation, weather forecasts localised for your overnight stops, plus important reminders, safety information, videos and emergency contact details. It also has a unique audio feature that can tell you about places and points of interest as you approach them on the trail.
Exclusive Guide
get inspired
Wainwright's iconic Coast to Coast Path passes through glorious scenery in three of England's best national parks – the Lake District, Yorkshire Dales and North York Moors. There are countless small villages, majestic views and warm, welcoming pubs to break your journey. Find out all you need to know in our free Destination Guide bursting with inspiration, travel essentials, practical information and more!

Customer Testimonials
An exhilarating experience! Loved the variety of the countryside and the professionalism of our guide.
Lorraine Cosgriff, Murroon (VIC) - August 2023

Customer Testimonials
Very enjoyable trip. Neil our guide was excellent – extremely knowledgeable. Really enjoyed the contrast between the three different national parks and all the different accommodations.
Anne Hayes, Glen Iris (VIC) - June 2023

Customer Testimonials
A fabulous challenging adventure that took head heart and guts. Extraordinary array of scenarios and physical challenges. Enjoyed getting into a daily rhythm of walking. Our guide was outstanding and really enhanced our experience.
Colin Pidd, Yanakie (VIC) - June 2023

Customer Testimonials
Thoroughly enjoyed it. More challenging then I had thought. The scenery was outstanding.
Patricia Love, Mount Barker (SA) - June 2023

Customer Testimonials
Outstanding trip. The weather! The companionship. The route. Excellent guide.
Marg Garvie, Greytown (New Zealand) - June 2023

Customer Testimonials
Great trail, excellent guide, perfect weather, great group. Loved the changing landscapes.
Helen Lucas, Paddington (QLD) - June 2023
Similar walks
Coast to Coast
TRIP date selection
when would you like to travel?
Please select your preferred dates for on-demand trips or select a scheduled date for group departures. If you have booked a self-guided trip please understand that because your trip date is on demand and we must check availability of all properties on your chosen dates before it can be fully confirmed