Overview
Padstow to Falmouth
The 1015km South West Coast Path is the longest, long-distance footpath in the UK. Long before it was used by ramblers and walkers like you, the path was frequented by coastguards on the lookout for smugglers and lawbreakers. Fisherman also tread the paths, using the high cliffs as a good vantage point to check sea conditions and spot shoals of fish.
This is an area that is remarkably rich and diverse with its history and natural beauty; from ancient stone circles & burial sites, tiny fishing ports, surf beaches, cliff top theatres and art galleries, seals and basking sharks. This corner of Britain offers so many unique experiences in a compact area. All along the SWCP you will discover reminders of its prosperous industrial heritage of mining, fishing, quarrying and boat building. Celtic Saints also had a large influence on the area and they left behind chapels, holy wells and crosses that still mark the region today.
This adventurous route hosts a multitude of hilly terrain that, while challenging at times, gives you amazing vantage points to witness the theatrical ocean and breathtaking coastline. Tread a path amongst bright purple heather that sprawls across the ground above aquamarine smugglers coves to long stretches of wind-blown beaches.
This route passes through many delightful fishing villages and seaside towns such as Padstow, St Ives, Mousehole and Coverack. Here you can enjoy art galleries, boutiques, and cafes or sample hand-made fudge while taking in the activity at the harbour.
Highlights
Get Ready For
Explore the thriving fishing village and seafood mecca of Padstow 

Enjoy rare wildflowers in the Lizard National Nature Reserve 

Marvel at sweeping ocean views, pretty bays and secluded smugglers coves

Experience the warm friendly hospitality of quality Cornish B&B's 

Discover the history of the tin mining industry and Celtic church ruins

Love  St Ives – home to a rich art scene with galleries and museums galore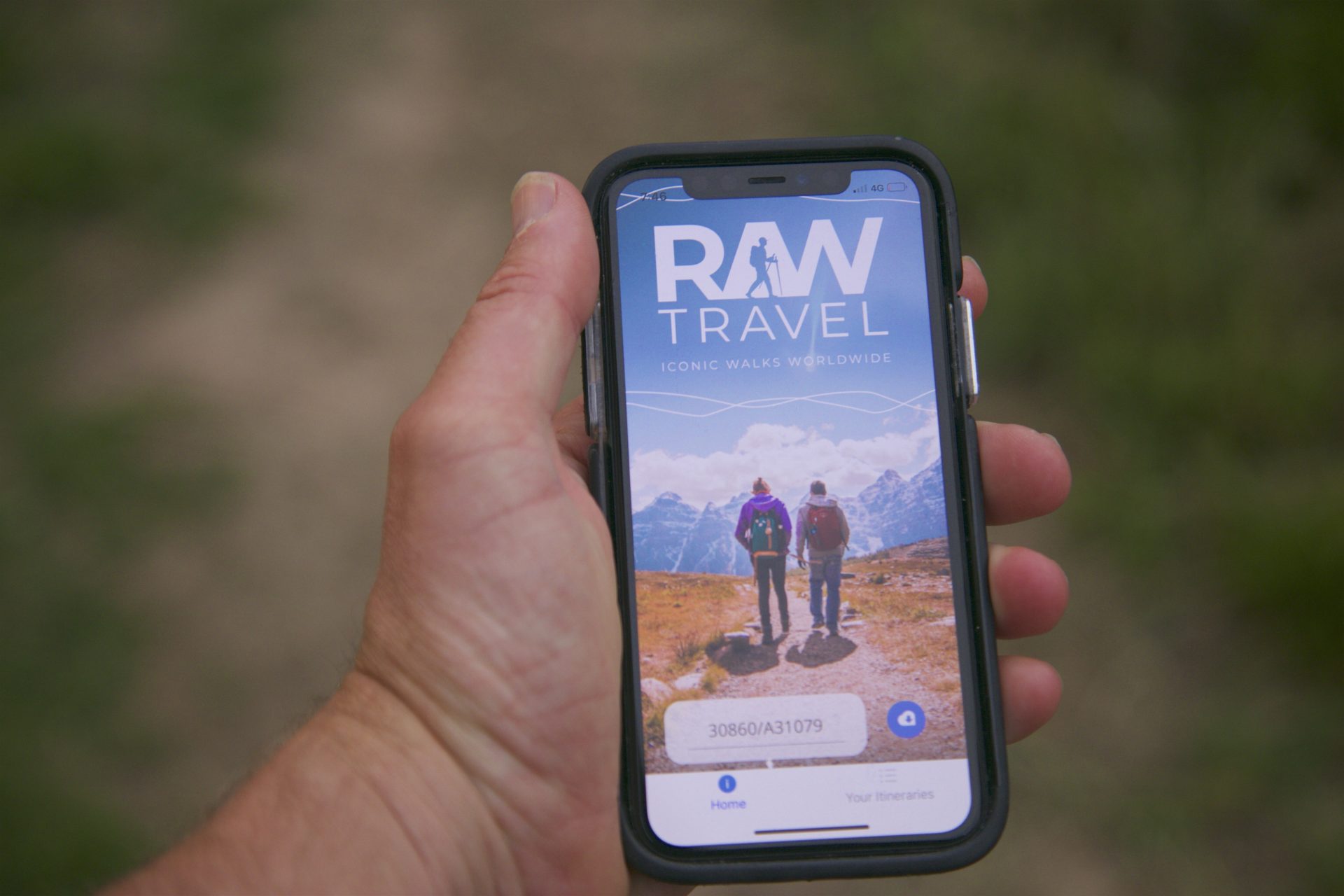 navigation app
finding your way
Our unique RAW Travel walking app has been designed to help you navigate easily through Cornwall. Simply download your map with the unique link we send you and you'll be able to follow your route with ease, showing your location in real-time without any internet connection needed or cumbersome pages of notes. The app has many great features: it shows the location of each night's accommodation, weather forecasts localised for your overnight stops, plus important reminders, safety information, videos and emergency contact details. It also has a unique audio feature that can tell you about places and points of interest as you approach them on the trail.
On the trail
The walking experience
The South West Coast path in this area is quite rugged and you are often following a narrow but spectacular trail which hugs the coastline tightly. The trail roller coasters up and down as it crosses various headlands, so there is quite a bit of descent and ascent each day. Sometimes you walk through open heathland, at other times rocky ledges with exposed boulders, so some care has to be shown. The video shows a selection of trail around Land's End.
Inclusions
What's included?
Included
Hassle-free walking with exclusive use of RAW Travel's specifically designed navigational hiking app
21 nights comfortable accommodation including historic B&Bs, guest houses and small hotels
Daily breakfast of fresh fruits, yoghurt, cereals and/or a hearty, cooked English breakfast to support your day on the trail
Pack free walking with luggage transfers on each hiking day (1 x 20kg bag per person)
Pre-trip guidance and planning from experienced and dedicated RAW Travel staff
Carbon offset for your trip and a native tree planted for every walker
Excluded
Single supplement $1750
Travel insurance
Flights
Train/ferry/bus tickets
Lunch and dinners
Exclusive Guide
get inspired
Cornwall – a romantic county on England's rugged southwestern tip – has much to offer the adventurous hiker. This place is home to the iconic South West Coast Path, England's longest waymarked trail, and the lesser-known but no less compelling routes of The Saints Way and Saint Michael's Way. Find out everything you need to know in our free destination guide.
TRIP date selection
when would you like to travel?
Please select your preferred dates for on-demand trips or select a scheduled date for group departures. If you have booked a self-guided trip please understand that because your trip date is on demand and we must check availability of all properties on your chosen dates before it can be fully confirmed