Overview
End to End Guided Trip
Experience one of Australia's most stunning sections of coastline on a full week's hike while enjoying great accommodation, specialist talks with locals, incredible food and the company of new friends. Each day is stunning in terms of terrain and spectacular views. Breathtaking coastal scenery, deserted wild beaches, sheer cliffs, historic lighthouses and shipwrecks, giant Mountain Ash forests, pristine river estuaries, abundant wildlife, dunes and coastal heathlands all await the intrepid hiker on this exciting adventure.
.
Best time to visit
Good time to visit
Average time to visit
Closed
Map
Great Ocean Walk
Apollo Bay
This popular coastal town is the gateway to Victoria's stunning Great Ocean Walk. Get ready for a walk of ever-changing landscapes, from giant rainforests and deserted wild beaches to rocky cliffs and coastal heathlands.
Cape Otway
This is the southern tip of Victoria's western coast, where the Southern Ocean collides with Bass Strait. To get here you'll need to walk through the magical towering forests of mountain ash that characterise the Great Otway National Park. Perched on towering sea cliffs, the Cape Otway Lightstation is Australia's oldest and most important lighthouse.
Johanna Beach
After walking along the cliff tops through heathland and forests you'll emerge onto the broad expanse of beautiful Johanna Beach – one of Australia's best beaches for views and surf. The walk from here to Ryan's Den is one of the wildest and most challenging sections of the Great Ocean Walk.
Wreck Beach
The challenging descent to Wreck Beach brings you to the anchors of the shipwrecks Marie Gabrielle (1870) and Fiji (1890), embedded in the reef and visible at low tide. These are a real highlight of the Great Ocean Walk. Watch out for large waves!
Twelve Apostles
This famous collection of limestone stacks off the shore of the Port Campbell National Park is the end of the wild and wonderful Great Ocean Walk. Descend the stone staircase of the Gibson Steps for unique views of Gog and Magog.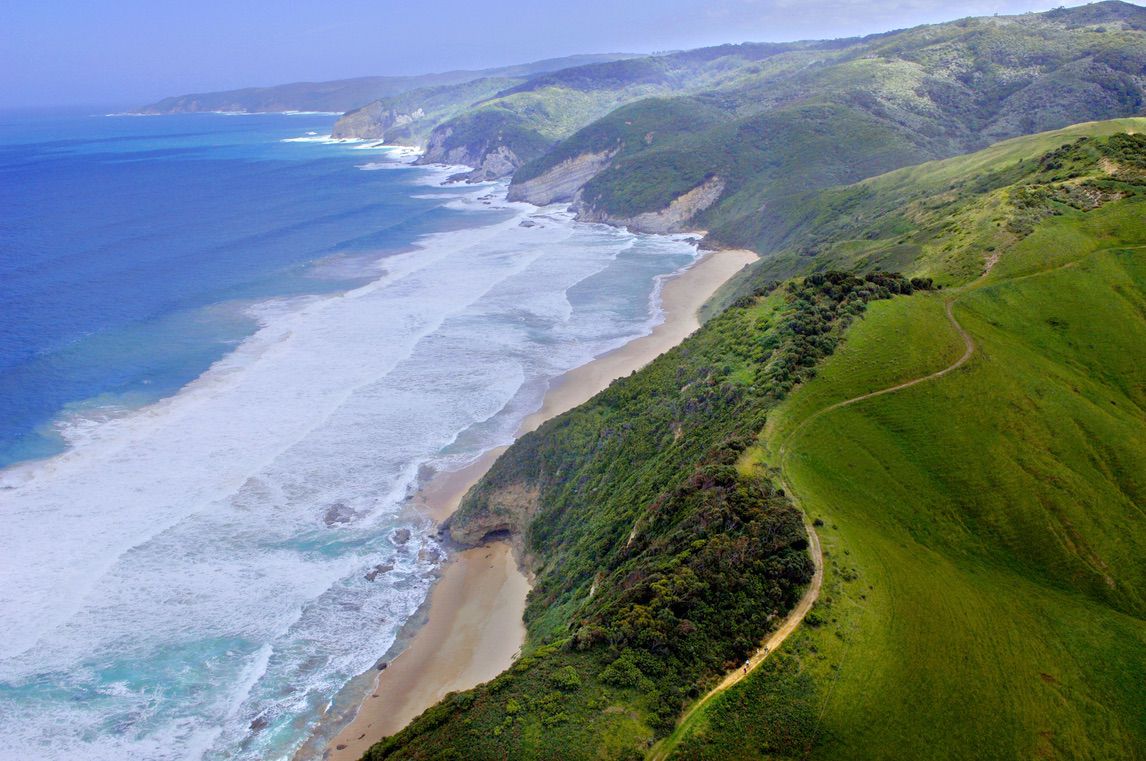 Highlights
Get Ready For
Two experienced local hiking guides
Walk options to suit less experienced walkers
Exclusive talks by our local historian and Indigenous Elder
Fascinating insights into the history and culture of this region
Breathtaking landscapes and friendly wildlife encounters
Comfortable well-appointed accommodation
Local Guides
Unique Insights
A local Indigenous Elder will join us on a section of the walk and present to us on the culture and traditions of the Aboriginal people who occupied this area for thousands of years. You will also gain incredible insights into the history from a local specialist. Both presentations are fascinating. At the end of the week, you will leave with a much richer understanding of the natural and man-made history that makes this area so unique.
On the trail
the experience
The Great Ocean Walk is along a well-marked track that has been constructed and managed with your safety in mind and follows the contours around the coastal headlands. At times we will access soft sand beaches and walk through forested areas where the track is firm underfoot, while other sections can be muddy during periods of wet weather. The track progresses from 'mild to wild' as you draw closer to cliffs of the western section with more climbing on the latter sections of headlands. Expect to walk between 4 and 8 hours a day with regular stops to take in the natural beauty, and for snacks and lunch.
Inclusions
What's included?
Included
2 nights in twin share accommodation in Apollo Bay (single supplement option)
2 nights in twin share accommodation in Moonlight Head (single supplement not available)
2 nights twin share accommodation in Port Campbell with private ensuite (single supplement option)
Most meals (excluding dinner on day 2 and lunch and dinner on day 7; a surcharge may apply for complex dietary requirements)
All transfers while on tour and return transport from Melbourne
Refreshment stops during walks
2 experienced hiking guides
'Walk and talk' with local historian at Cape Otway Light Station
'Walk and talk' with Indigenous Elder at Johanna Beach
Driver and support vehicle for duration of tour
National park fees
RAW Travel carbon offset for your trip and an Australian tree planted on your behalf
Excluded
Travel insurance
Meals not listed above
Single supplement – please enquire, limited single rooms available
Surcharge for complex dietary requirements (may apply)
Private group tour
With friends and family
This trip can be run as your own private tour! Get a group of friends or family together and share a memorable pack-free adventure. Private tours are the perfect way to celebrate special events and special people. And they are so much fun! Contact us to get started. It's that's easy.
Exclusive Guide
get inspired
Discover Australia's best coastal walk! Our comprehensive destination guide is bursting with inspiration, travel essentials, practical advice and more to help you prepare for a memorable journey along this breathtaking trail.
TRIP date selection
when would you like to travel?
Please select your preferred dates for on-demand trips or select a scheduled date for group departures. If you have booked a self-guided trip please understand that because your trip date is on demand and we must check availability of all properties on your chosen dates before it can be fully confirmed