difficulty
Moderate - Challenging
Overview
Great Ocean Walk
The Great Ocean Walk has earned a reputation as one of Australia's best multi-day hikes. The trail takes you along a 104km ocean side trail through the Victorian coastline, starting in Apollo Bay and ending at the World famous Twelve Apostles.  It's a unique hike with an incredible variety of landscapes squeezed into a short distance taking in shipwrecks, sea cliffs, towering Mountain Ash trees, beautiful wild beaches and rugged scenery.
This area is unique as you can feel so remote however you are just out from earshot of one of the world's most famous roads. It's peaceful and wonderful and a completely  different experience and environment to what you might know already of this area.
Highlights
Great Ocean Walk
Crashing waves and the many moods of the Southern Ocean
A captivating immersion into the region's seafaring history
Making first footprints on a secluded beach
Encounters with curious native wildlife; spying whales in winter
World-famous limestone cliffs and spectacular natural wonders
Picturesque coves and postcard-worthy inlets
Estuaries brimming with birdlife and soaring eagles in the skies above
Itinerary
Great Ocean Walk - 8 day itinerary
Best time to visit
Good time to visit
Average time to visit
Closed
Map
Great Ocean Walk
Apollo Bay
This popular coastal town is the gateway to Victoria's stunning Great Ocean Walk. Get ready for a walk of ever-changing landscapes, from giant rainforests and deserted wild beaches to rocky cliffs and coastal heathlands.
Parker Inlet
The secluded and postcard-worthy Parker Inlet on the Great Ocean Walk offers amazing geology and wildlife. Two lookouts along the way provide wonderful views into the estuary
and over the ocean.
Cape Otway
This is the southern tip of Victoria's western coast, where the Southern Ocean collides with Bass Strait. To get here you'll need to walk through the magical towering forests of mountain ash that characterise the Great Otway National Park. Perched on towering sea cliffs, the Cape Otway Lightstation is Australia's oldest and most important lighthouse.
JOHANNA BEACH
After walking along the cliff tops through heathland and forests you'll emerge onto the broad expanse of beautiful Johanna Beach – one of Australia's best beaches for views and surf. The walk from here to Ryan's Den is one of the wildest and most challenging sections of the Great Ocean Walk.
WRECK BEACH
The challenging descent to Wreck Beach brings you to the anchors of the shipwrecks Marie Gabrielle (1870) and Fiji (1890), embedded in the reef and visible at low tide. These are a real highlight of the Great Ocean Walk. Watch out for large waves!
TWELVE APOSTLES
This famous collection of limestone stacks off the shore of the Port Campbell National Park is the end of the wild and wonderful Great Ocean Walk. Descend the stone staircase of the Gibson Steps for unique views of Gog and Magog.
On the trail
The Experience
The Great Ocean Walk is extremely varied, with soft sand, cliff tops, eucalyptus forest, river estuaries and tall rainforest. The trail is a real mix of walking. You will encounter vehicle tracks, sandy beaches, steep man made stairways, sand dunes, board walks, hard cliff tops and small river crossings. The track gets progressively more challenging as you move westwards, going from "mild to wild" as you get to the remote headlands near Ryan's Den and Moonlight head.
Inclusions
What's Included?
Included
Our detailed guide to hiking the Great Ocean walk – contains all the essential information you need to know in advance
8 days worth of food for your adventure; breakfast, lunch and dinner each day – delivered straight to your home
Our own range of lightweight, highly nutritious meals that are locally sourced, delicious and easy to carry & cook ( freeze dried and dehydrated)
Our 'state of the art' Navigation app to guide you on the track; showing huts, campsites and all points of Interest along the way
Delivery to your door* of our 'Adventure in a box' food parcel
Our 'Get fit for hiking' e-guide for backpacking adventures
10% GST included
* Additional $35 delivery charge for locations in NT, WA and Northern Queensland
Not Included
Bookings for your campsites & overnight hiking permit – required
Transfers or transport to trailhead at Apollo bay or return from 12 Apostles
No camping or other equipment is included
The Essentials
Information Guides
Our essential information guides give you everything you need to know – and none of the information you don't – to prepare well for one of these hikes. We cover off all transport and transfers with contacts, full equipment lists tailored to each walk, and safety factors to consider that can be unique to each track. We give you the information you need to know about water and where the best accommodation is before and after your trip, plus overviews of Aboriginal & European history and wildlife you can expect to encounter.
It saves countless hours of trawling through websites, guidebooks and forums to get to the essential information you need to know, so you don't forget to factor in anything for your adventure.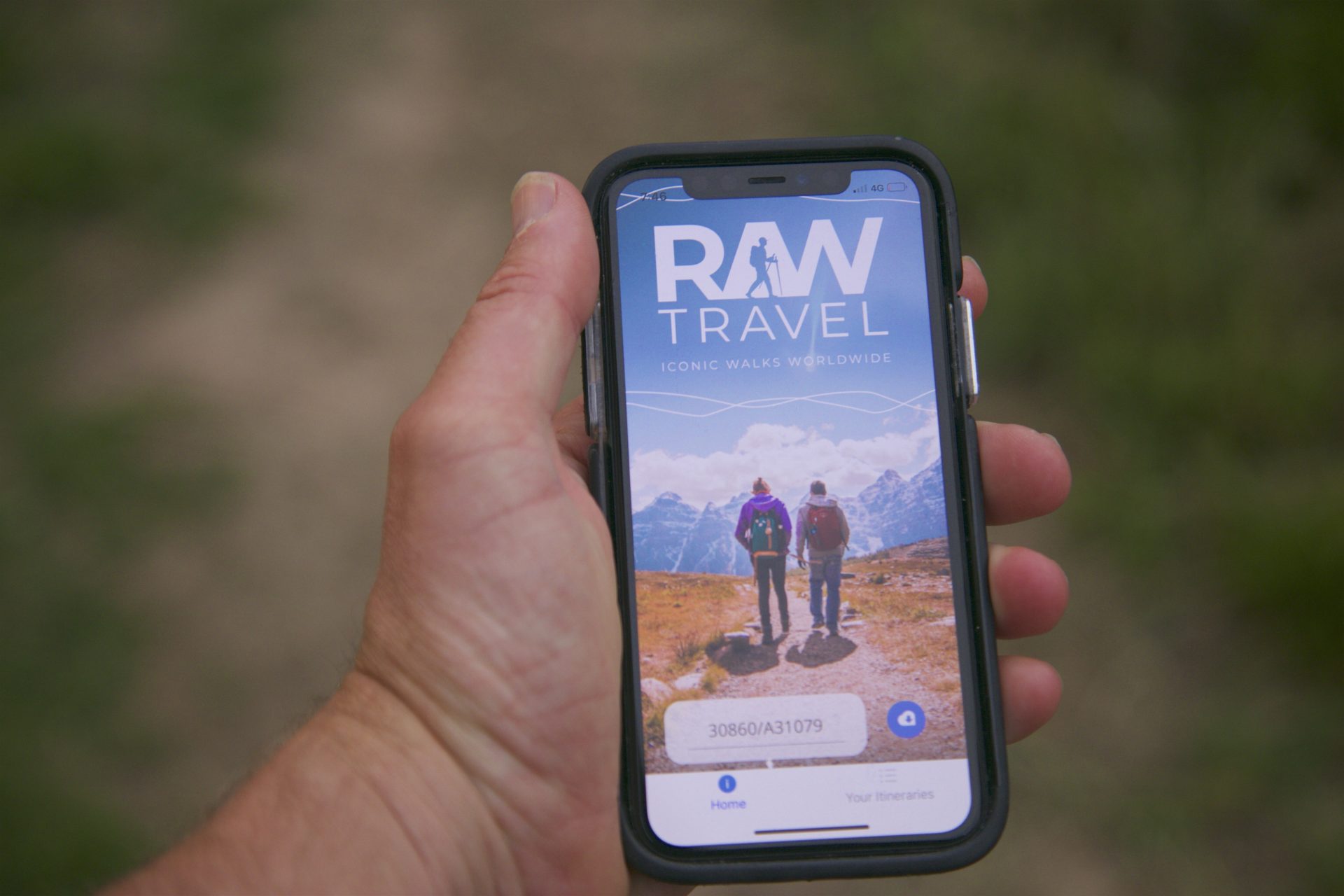 Walking App
Finding your way
Our unique RAW Travel walking app has been designed to help you navigate easily on the trail. Simply download your map with the link we send you and you'll be able to follow your route with ease, showing your location in real time without any internet connection needed. The app has many great features; it shows you weather forecasts localised for each of your overnight stops, detailed information on each campsite/ hut and what facilities are available there so you don't need to carry our trail guide. There are important reminders, safety information, videos and emergency contact information for your route. It also has a unique audio feature that can tell you about places and points of interest as you approach them on the trail.
Positive impacts
Social and environmental
All our adventures are fully carbon offset so that you know your travel has minimal impacts. Hiking itself is a low impact activity but we offset the cost of all our office operations and food production as well, so you can be satisfied that you have chosen a form of travel that is both good for you and good for the planet. Each year we also plant trees on behalf of every customer who has travelled with us, aiming to build towards a carbon positive effect with our operations.
As a B-Corp a focus on local community is an important part of who we are. We are committed to buying locally and source our produce from growers here on the Mornington Peninsula. We care about people in our community and for every meal pack you buy with us we donate a meal to a homeless support charity, to spread some love and share good food with those who need it most.
TRIP date selection
when would you like to travel?
Please select your preferred dates for on-demand trips or select a scheduled date for group departures. If you have booked a self-guided trip please understand that because your trip date is on demand and we must check availability of all properties on your chosen dates before it can be fully confirmed