Overview
Cooloola Great Walk
Uncover amazing trails from Noosa to Rainbow Beach, via rainforest and vast, awe-inspiring sand blows.This adventure takes you along 88kms of varied trail along the entire length of Cooloola Recreation Area.
Take to the trail that links Noosa North Shore to Rainbow Beach, and be transported through natural beauty from secluded rainforests to vast sand blows and past lakes. Start your day witnessing a by pink dawn on the Noosa River, and dip your toes in the ocean at Queensland's iconic sandy beaches. Witness the long, sweeping landscapes of the Cooloola coastline.n It's a beautiful trek with an incredible variety of landscapes squeezed into a short distance – traverse giant sandhills, find hidden forests, coastal woodland and heath plains, which bustle with beautiful spring wildflowers from August to October — as well as the long sandy beaches that Queensland is famous for. Don't miss the different colour palates of the upper Noosa River and lakes.
Just need the food?
If you prefer to order just the food from us then  no problem! We have a separate website with full details on our food range that you can order individually at  rawtucker.com.au
Highlights
Get ready for
● Exploring Queensland's first biosphere area
● Witnessing the spectacular wildflower displays from late winter to spring
● Hiking along the beach highway that is Noosa North Shore
● Insta-ready sunsets from your campsite
● Golden sunsets from the glistening sand dunes of Carlo Sand Blow
● Long sweeping landscapes of the Cooloola coastline, upper Noosa River & Hinterland Ranges
● Vibrant open forests of predominantly blackbutt and coastal wattle
● Visiting the perched (coastal dune) lake, Lake Poona
Itinerary
Cooloola Great Walk
Best time to visit
Good time to visit
Average time to visit
Closed
Map
Explore Cooloola Great Walk
Length: 88km
Duration: 5 days
Grade: 4
Route type: Linear trail, from A to B
Start: Arthur Harrold Nature Refuge, Noosa North Shore
End: Carlo Sandblow car park near Rainbow Beach
Location: Great Sandy National Park
Closest Towns: Tewantin and Rainbow Beach
On the trail
The Experience
The Cooloola Great Walk landscape is extremely varied and the walking trail — marked with orange trail markers — will see you walking beaches, through dry coastal woodland and heath plains, over vast sand masses, to winding through rainforest, along the upper Noosa River and past iconic and unusual perched lakes.
Most of the walk is flat and well graded, however the width of the track can vary. Very soft sand sections can be wet under foot at times, and include steep grades and steps. There are steep sections from Dutgee walkers' camp to Litoria walkers' camp. Walking on the sand mass will test your stamina and give your legs a good workout!In some of the more remote sections, heavy rain can make tracks harder to find. Fast-growing vines may hide the tracks and expect hazards such as fallen trees and branches. Junctions are signposted.
Inclusions
What's Included?
Included
Our detailed guide to hiking the Cooloola Great Walk
5 days worth of food for your adventure; breakfast, lunch and dinner each day – delivered straight to your home
Our own range of Lightweight, highly nutritious meals that are locally sourced, delicious and easy to carry & cook ( freeze dried and dehydrated)
Our 'state of the art' Navigation app to guide you on the track; showing huts, campsites and all points of Interest along the way
Delivery to your door* of our 'Adventure in a box' food parcel
Our 'Get fit for hiking' e-guide for backpacking adventures
10% GST included
* Additional $35 delivery charge for locations in NT, WA and Northern Queensland
Not Included
 Campsite bookings required prior to walk
Transfers or transport to trailheads in Noosa/ Rainbow Beach
Ferry at Tewantin – paid locally $1
No equipment included
The Essentials
Information Guides
Our essential information guides give you everything you need to know – and none of the information you don't – to prepare well for one of these hikes. We cover off all transport and transfers with contacts, full equipment lists tailored to each walk, and safety factors to consider that can be unique to each track. We give you the information you need to know about water and where the best accommodation is before and after your trip, plus overviews of Aboriginal & European history and wildlife you can expect to encounter.
It saves countless hours of trawling through websites, guidebooks and forums to get to the essential information you need to know, so you don't forget to factor in anything for your adventure.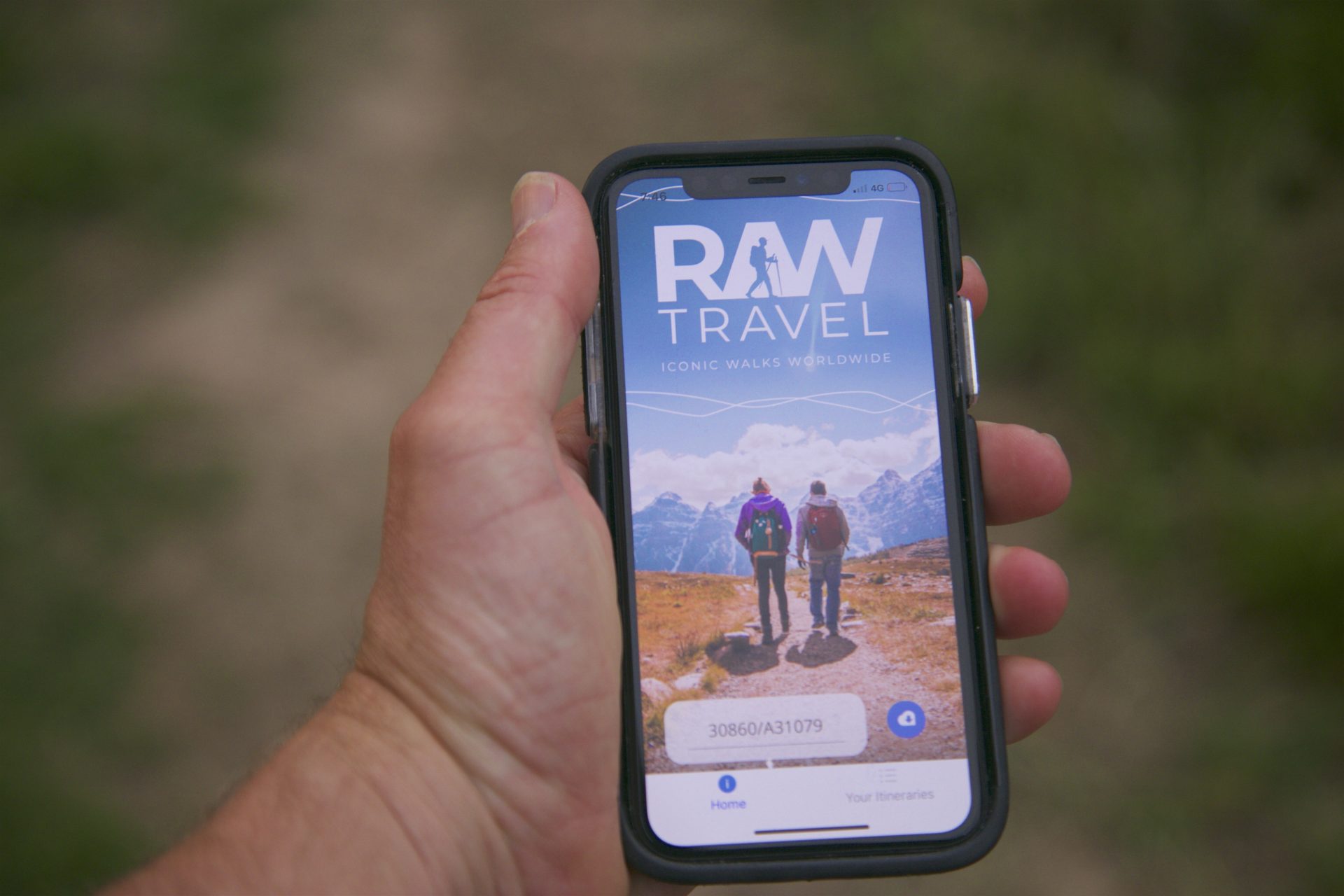 Walking App
Finding your way
Our unique RAW Travel walking app has been designed to help you navigate easily on the trail. Simply download your map with the link we send you and you'll be able to follow your route with ease, showing your location in real time without any internet connection needed. The app has many great features; it shows you weather forecasts localised for each of your overnight stops, detailed information on each campsite/ hut and what facilities are available there so you don't need to carry our trail guide. There are important reminders, safety information, videos and emergency contact information for your route. It also has a unique audio feature that can tell you about places and points of interest as you approach them on the trail.
Positive impacts
Social and environmental
All our adventures are fully carbon offset so that you know your travel has minimal impacts. Hiking itself is a low impact activity but we offset the cost of all our office operations and food production as well, so you can be satisfied that you have chosen a form of travel that is both good for you and good for the planet. Each year we also plant trees on behalf of every customer who has travelled with us, aiming to build towards a carbon positive effect with our operations.
As a B-Corp a focus on local community is an important part of who we are. We are committed to buying locally and source our produce from growers here on the Mornington Peninsula. We care about people in our community and for every meal pack you buy with us we donate a meal to a homeless support charity, to spread some love and share good food with those who need it most.
TRIP date selection
when would you like to travel?
Please select your preferred dates for on-demand trips or select a scheduled date for group departures. If you have booked a self-guided trip please understand that because your trip date is on demand and we must check availability of all properties on your chosen dates before it can be fully confirmed