Overview
Cape to Cape Track
Experience the wild coastal beauty, ancient granite landscapes and towering Karri forests of the magnificent Margaret River region
The gorgeous Cape to Cape Track embraces the beautiful West Australian coastline following the protected Ngari Capes Marine Park before diverting inland through the spectacular Boranup Karri forest to finish at mainland Australia's tallest lighthouse. 
The 135km trail is usually walked from north to south following the Leeuwin-Naturaliste Ridge. The ridge has a fascinating geology including soft Tamala Limestone that over millions of years has formed a massive network of caves, cliffs and shelves. This landform combined with dramatic outcrops of ancient granite rocks defines the trail creating a spectacular showcase of natural beauty. 
As awesome as the Cape to Cape Track is, it is not to be underestimated. A hike like this demands respect and preparation. That's where we come in! We are self-guided, long-distance walking experts. For more than 20 years we have been operating walking trips all around the world, including right here in Australia. We know you just want to get out there – to train and hit the trails – not be stuck trawling through endless website pages and blogs to piece it all together. We've walked this trail many times and have sifted through the overwhelming amount of information available to compile the ultimate guide with the best advice so that you can safely and successfully undertake this hike.
IMPORTANT NOTE: Autumn 2022 departures- In December 2021, a large bushfire swept through the Boranup Forest in the Margaret River region, from Redgate Road in the north to Deepdene Campground in the south, affecting two day sections of the Cape to Cape Walk. This has temporarily closed approximately 38km of the Track. Work has been progressing on re-opening the track and restoring signage, clearing trees that may pose an obstacle or danger to walkers but is not expected to be completed in time for for Autumn. Along with our local suppliers we have been monitoring the continued and updated information provided to us by the WA Department of Parks and Wildlife (DPAW), who determine the safety and suitability of when this section of the Cape to Cape can be re-opened.  As we enter the March – May walking season alternative arrangements should be made for skipping this section of trail, days 5 & 6 of this itinerary.
Just need the food?
If you prefer to order just the food from us then  no problem! We have a separate website with full details on our food range that you can order individually at  rawtucker.com.au
Highlights
Get ready for
Dramatic granite outcrops and s

tunning coastal scenery

A forest of towering Karri trees – some of the tallest trees in the world

Walking along pristine white beaches

Migrating humpback whales (between May and December)

Playful dolphins sharing waves with the surfers 

Swimming at Injidup natural spa

A fun photo opportunity straddling the imaginary line separating the Southern and Indian Oceans at Cape Leeuwin Lighthouse
Itinerary
Cape to Cape Track
Best time to visit
Good time to visit
Average time to visit
Closed
Map
Explore the Cape to Cape
Length: 135km 
Duration: 5 -7 days  
Grade: 4
Route type: Linear trail; walked from north to south
Start: Cape Naturaliste Lighthouse 
End: Cape Leeuwin Lighthouse
Walk in reverse: Yes
Location: Leeuwin-Naturaliste National Park
Closest towns: Dunsborough, Yallingup, Margaret River, Augusta
Yallingup  is a tiny coastal hamlet famous for its world-class surfing and cool surfie vibe.
Gracetown is situated along the sweeping curve of Cowaramup Bay, this quiet coastal town of beach shacks is the halfway rest stop along the 123 kilometre Cape to Cape Track. It offers good shallows for safe swimming.
Boranup Forest – Be amazed by soaring Karri trees within Western Australia's global biodiversity hotspot.
Hamelin Bay is presents a stunning beach of turquoise water, white sand and friendly stingray population who feed close to the shore.
Cape Leeuwin Lighthouse straddles both the Indian and Southern Oceans. Cape Leeuwin also is mainland Australia's tallest lighthouse.
On the trail
The Experience
The South West region of Western Australia, including the Cape to Cape Track, is nestled within a global biodiversity hotspot. The entire area stretching from Shark Bay to Esperance is home to approximately 12,000 different plant species. And nearly 80% of these plants are endemic to the area and found nowhere else in the world – which makes this walk very special.
The diverse landscape combined with the fascinating flora and fauna including native orchids such as fairy, snail, donkey and spider make this walk a joy. The trail is well sign-posted and the campsites are easy to find and well maintained. The path never diverts far from the stunning Indian Ocean where you can enjoy white sandy beaches and fabulous swimming. Not to mention for the most part the walk falls within the world-renowned Margaret River wine-growing region. 
Inclusions
What's Included?
Included
Our detailed guide to hiking the Cape to Cape track – contains all the essential information you need to know in advance
7 days worth of food for your adventure; breakfast, lunch and dinner each day – delivered straight to your home
Our own range of Lightweight, highly nutritious meals that are locally sourced, delicious and easy to carry & cook ( freeze dried and dehydrated)
Our 'state of the art' Navigation app to guide you on the track; showing huts, campsites and all points of Interest along the way
Delivery to your door* of our 'Adventure in a box' food parcel
Our 'Get fit for hiking' e-guide for backpacking adventures
10% GST included
* Additional $35 delivery charge for locations in NT, WA and Northern Queensland
Not Included
Transfers from Dunborough to Cape Naturaliste
Transfers from  Cape Leeuwin to Augusta
Any equipment needed
Bookings and fees for 3  x campsites at

Hamelin Bay & Prevelly Caravan Parks, Conto Campsite
The Essentials
Information Guides
Our essential information guides give you everything you need to know – and none of the information you don't – to prepare well for one of these hikes. We cover off all transport and transfers with contacts, full equipment lists tailored to each walk, and safety factors to consider that can be unique to each track. We give you the information you need to know about water and where the best accommodation is before and after your trip, plus overviews of Aboriginal & European history and wildlife you can expect to encounter.
It saves countless hours of trawling through websites, guidebooks and forums to get to the essential information you need to know, so you don't forget to factor in anything for your adventure.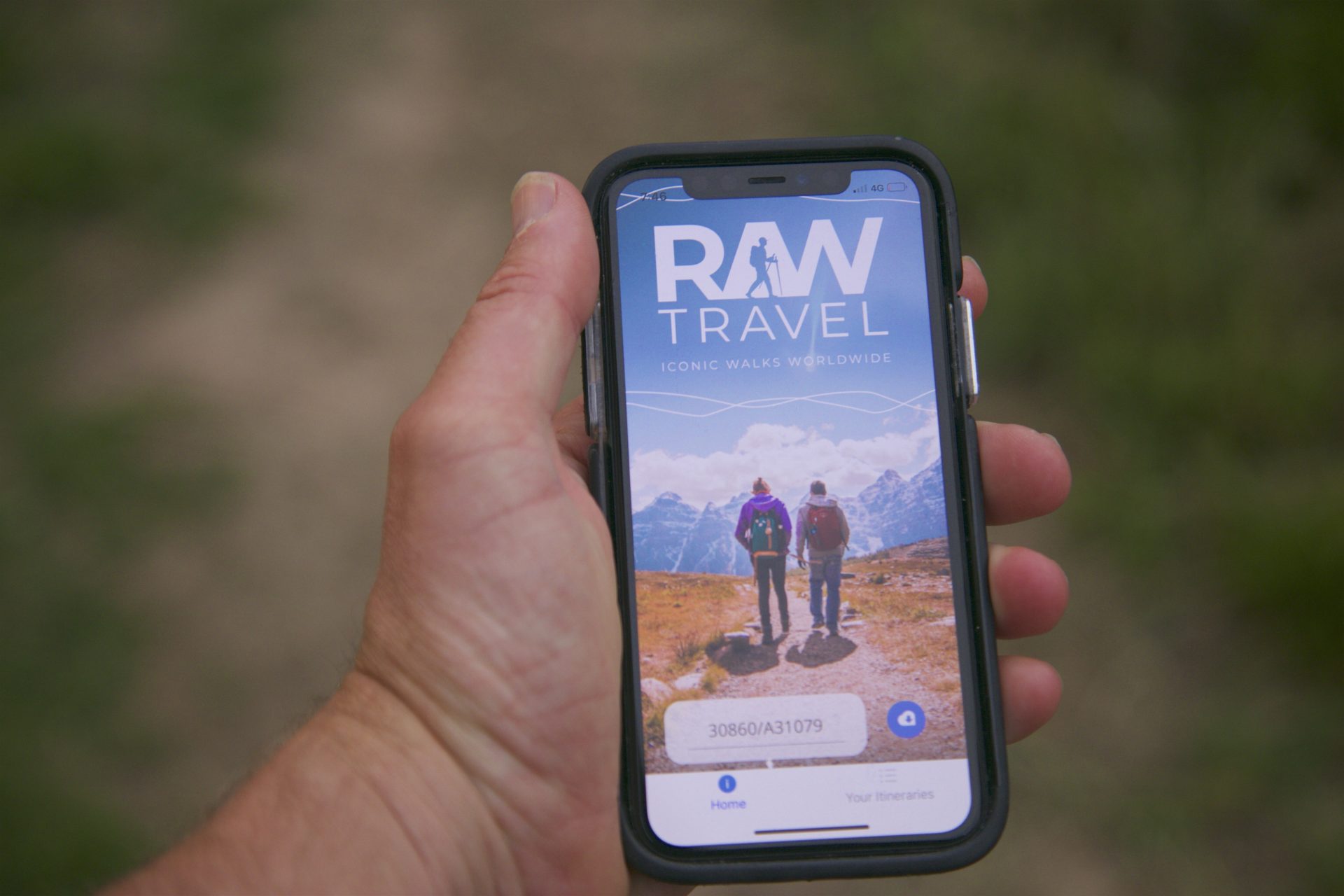 Walking App
Finding your way
Our unique RAW Travel walking app has been designed to help you navigate easily on the trail. Simply download your map with the link we send you and you'll be able to follow your route with ease, showing your location in real time without any internet connection needed. The app has many great features; it shows you weather forecasts localised for each of your overnight stops, detailed information on each campsite/ hut and what facilities are available there so you don't need to carry our trail guide. There are important reminders, safety information, videos and emergency contact information for your route. It also has a unique audio feature that can tell you about places and points of interest as you approach them on the trail.
Positive impacts
Social and environmental
All our adventures are fully carbon offset so that you know your travel has minimal impacts. Hiking itself is a low impact activity but we offset the cost of all our office operations and food production as well, so you can be satisfied that you have chosen a form of travel that is both good for you and good for the planet. Each year we also plant trees on behalf of every customer who has travelled with us, aiming to build towards a carbon positive effect with our operations.
As a B-Corp a focus on local community is an important part of who we are. We are committed to buying locally and source our produce from growers here on the Mornington Peninsula. We care about people in our community and for every meal pack you buy with us we donate a meal to a homeless support charity, to spread some love and share good food with those who need it most.
TRIP date selection
when would you like to travel?
Please select your preferred dates for on-demand trips or select a scheduled date for group departures. If you have booked a self-guided trip please understand that because your trip date is on demand and we must check availability of all properties on your chosen dates before it can be fully confirmed